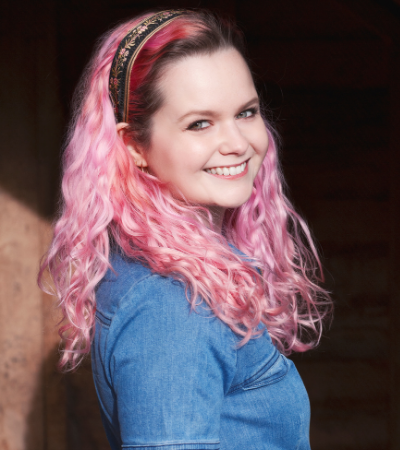 Lily is the picture of health. She has beautiful clear skin, bright eyes and a loud, full-of-life laugh. She is also the daughter of leading health advocate Liz Earle, so you might understand why I was surprised to discover she is living with a chronic and debilitating illness, which nothing – including prayer – has healed.
Lily explains: "I had my first migraine when I was 19, but it started very gradually." According to the NHS website, a migraine is "usually a moderate or severe headache felt as a throbbing pain on 1 side of the head". Reading that definition, Lily says she didn't think too much of it.
"I was at university and a very active cheerleader with a busy social life. The GP said it was a migraine. Then when I came back during the holidays to see my home GP, they said it was a tension headache. From then on, I had them occasionally, but they weren't really a big part of my life until I was about 25, when they started happening maybe once or twice every couple of months."
A diagnosis – and continued struggle
At this point Lily was working full time back in London, heading up the art and design team for Liz Earle Wellbeing magazine. Lily was newly married, loving her work and life in London, but the debilitating migraines kept coming. They sometimes rendered her unconscious and were always accompanied by extreme pain. Eventually she was referred to a neurologist, diagnosed with what is known as episodic migraines (defined by having up to 14 migraines a month), and given acute medication to take when the migraines struck. But, to her dismay, they not only continued, but got much worse.
From a family of good health
Lily's mum Susan Elizabeth Earle MBE is a British writer, TV presenter and entrepreneur. She has written over 35 books on beauty, nutrition and wellbeing and is regularly seen on ITV's This Morning. She is the founder of Liz Earle Wellbeing, a bi-monthly magazine, and Liz Earle Fair and Fine, a Fairtrade jewellery brand.
"Very soon after that, I went over the threshold and began to need preventative medication because the migraines were causing me to lose work days."
I tell Lily of my only personal experience of migraines, which involved watching one of the smartest girls in my school being half carried out of a GCSE exam, and it was terrifying. I recall afterwards she received over-the-counter painkillers but nothing seemed to help.
Lily smiles knowingly: "I think the migrant trope is this hysterical housewife with a headache. But it's a neurological disease that affects your entire body. It just happens to give you head pain as well. Migraine and headache specialists actually borrow a lot of medication from other disciplines because no drug has been yet specifically formulated to prevent migraines. One of the really common ones is a beta blocker and they've found that when people take these the headaches and migraines reduce.
"That worked for a few years, but then it got to a point where I was having a migraine every single day – and I really couldn't function at work anymore. I was signed off for four weeks; that turned into eight weeks and that turned into three months. I barely got out of bed for three months from January to March 2018. I was trying all these preventative medications and other therapies to find something that worked, but my GP had to sign me off in three-month blocks. Eventually, I decided to leave my job."
'Betrayed' by her body
I ask Lily about one of her recent Instagram posts, a throwback photo that shows her doing a perfect 'plank' across two bars in a park. How has she coped going from this insane display of athleticism to being bed bound for months at a time?
"Badly. I was really fit and healthy. I was doing a parallel bar press up in that picture and I could do 50 press ups; I could do 50 jumping squats without even thinking about it. I could run a sub seven-minute mile. I was on the hockey team at school, on the cheerleading team at university; I used to dance and worked with a personal trainer right up until I got signed off work. I was also involved in church, running small groups etc. I was super fit and healthy."
And as the daughter of one of the UK's most well-known authority figures on health, with all the tools to know how to live her best life, how has that affected her?
"Yeah, this is something that I've been mulling over recently. No one is immune to illness, chronic illness and disability. When I said in my wedding vows: 'in sickness and in health', I naively imagined Harry and I having to accompany each other to hospital in our 70s or something, not our 20s. And I know my mum finds it difficult – she's spoken openly about this. She finds it very frustrating because she has access to so many researchers and experts – and yet, she can't fix me.
"For me, personally, there is a sense of feeling betrayed by my body because, other than maybe a slight chocolate habit and occasionally burning the candle at both ends at times, I was doing everything right. I was looking after myself, I ate well and did all the stuff you're told to do. And yet I still got sick."
The struggle to keep connected to God
Our conversation turns to faith. I ask Lily if she has ever felt angry at God or blamed him for what has happened to her body and, consequently, her life.
"That's a biggie. Losing your health is a type of grief. So yes, there definitely has been anger directed at God. I'd say to him: 'Well, if you knitted me together in my mother's womb, then how does that add up?'"
Last year, Lily shared her testimony with Woman Alive about how God grew back her leg after prayer (you can watch the video on our Instagram page @WomanAliveUK). She says: "I had my leg lengthened, which, while it has made a wonderful difference to my back and my physio bill, it's actually not a very big deal, whereas my chronic illness is. I would ask God: 'Why are you working in that area and not in this area?'
"I would still go to church but I did find it incredibly hard to worship. Our church meets in a school and there's a stairwell, which is one of my favourite spots because the music comes through and reverberates around the concrete, so you feel fully enveloped in it. I would sit there and worship just looking at my legs, remembering that God is real and God heals."
She pauses: "God is good and my leg is testament to that, no matter what I'm going through at the moment. But I know the church community held me together when I was so deeply questioning the goodness of God.
"I had a recent realisation in the process of all of this; that I had closed my heart to hope. It says in Proverbs to guard your heart above all else, because all things flow from it [Proverbs 4:23]. I'm only understanding now that if I'm bitter and twisted and angry, then that's what's going to flow from me. Hope is one of the keys to opening the heart back up and letting Jesus flow through you. Despite everything, I've just got to try and keep my heart open."
Follow Lily on Instagram @Amaryllis.earle
WHAT HAS HELPED LILY DEAL WITH THIS CHRONIC CONDITION?
My spiritual director – I recommend everyone should see one. Mine encourages me to invite Jesus into exactly where I am. We've done exercises where I've experienced the whole Trinity in such powerful ways.
My friends and family – my friends have been really good about supporting and understanding my limitations with this illness and my family are the biggest advocates for getting me back to full health. My husband naturally worries when we're not together, but he is also really good at encouraging me to do small things when I do have the energy, and making sure I don't wallow in self-pity.
My dog – Basil is a Battersea rescue dog; I've had her since she was a puppy and she's very in tune with me. When I get sick, she gets it immediately. She is an amazing, untrained therapy dog and has been an immense comfort to me, especially when Harry is at work.
The LED face mask – I got involved with South Korean company Cell Return because of my illness. It was initially for aesthetic reasons, because my eye sockets were sallow and sunken and my skin was grey. Their face mask uses near infra-red lights and works to combine pain relief and to reduce inflammation, which were the two things I needed. I approach everything with a healthy dose of skepticism but their technology really does work. I thought: the UK market needs this, so I founded Cell Return UK. The company is now the official distributor of their platinum LED face masks.
DID YOU KNOW?
• Migraine is the most common and disabling neurological disorder in the UK
• It affects 1 in 7 people, and is more prevalent than diabetes, epilepsy and asthma combined
• There are 190,000 migraine attacks in the UK every day For more information see migrainetrust.org
Image: Leni Syndica-Drummond

Tola-Doll Fisher is the creative director and editor of the Premier Woman Alive brand. Tola is also the author of 'Still Standing -100 Lessons From An 'Unsuccessful' Life' (SPCK).
View full Profile