Claire Musters, mum to two teenagers, considers how we can all – whether parents/carers or not - support young people this summer and beyond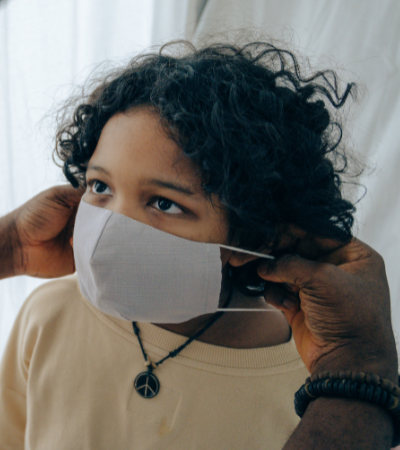 The past 15 months have affected us all; from the first, devastating news of COVID-19 reaching our shores, to a third lockdown announced just before Christmas. Emotions have swung back and forth like a pendulum as we have tried to cope with so many changes.
While our children and young people are more adaptable to change than we are, they have been affected too. In July 2017 one in nine children in the UK had some sort of mental health issue – by July 2020 this had risen to one in six. Surveys have shown that those with additional needs, children living in difficult home situations, those who have been bereaved and those from minority ethnic communities have been particularly impacted.
The landscape for children changed so much, particularly when schools were forced to close down. For really young children, the restrictions became their normal, as they couldn't remember much of life before. But healthcare workers have been concerned that the lack of social stimulation early on in their lives could have a far-reaching impact.
For older children, teenagers and younger adults, the 'rites of passage' that mark so many of the important phases of their lives were taken away, such as exams, leavers' trips and celebrations and fresher's week. Counsellor Stacy Gacheru comments: "There's an increase in anxiety and depression amongst children as they not only fear for themselves and family members but also for their future, whether they can adjust socially, whether they will achieve the grades they hoped for or find the job they desired."
Many experienced isolation and loneliness while in lockdown (a recent survey indicates 87 per cent), sleep problems rose and there was a lack of exercise as children's sports were closed down. And since schools reopened, there has been increased anxiety for some about friendships and being around people.
Recognise your own need
For parents, the most important thing, as Stacy Gacheru says is to: "Look after your own mental health. Children often learn from copying what they see around them. If you are taking care of your own mental health, it's easier for them to see what good habits look like. You are also less likely to become overwhelmed while supporting them."
In my personal experience, it helps to take time to do things that help you to unwind, and also that feed your soul (I find the Lectio365 app really helpful, as well as online worship). Don't beat yourself up when you get things wrong – we all do.
Creative counsellor Angie Petrie, who is also a parent of older teenagers, agrees: "I know there is no such thing as a perfect mother or father; my faith allows me to trust in the 'good enough' principle, as I know Jesus is perfect and he will enable me to grow in understanding and lead and guide me through the storms."
What can we do?
Try to take each day at a time, and create a safe place where your children are able to simply be. Recognise that challenging behaviour is often their way of trying to process the difficult emotions they are feeling and isn't a personal attack to you.
We can learn to recognise exhaustion and overwhelm in our kids. Angie Petrie has found the illustration of 'social batteries' helpful: "As adults we know that some people drain our energy, some people level it and some refuel us. If your child comes in drained and wants to immediately go to their room their batteries may be empty. Being aware of their battery levels and your own will help you interact better."
Regarding overwhelm psychologist Dr Kate Middleton explains: "if your child is panicking or frustrated and losing it, recognise their thinking rational mind is shut down so it's not the time to rationalise. Get them to take some time out to drop their stress level – and find quieter times to talk things through. Look for the emotions underneath the ones that present and help your kids learn to show themselves compassion and self-nurture on rough days."
Angie Petrie also recognises that our children need plenty of affirmation and a sense of safety right now. She says: "I paint stones to use in my counselling and have found great comfort in carrying one in my pocket with a positive text, psalm or word on it. In counselling terms we would call it a transitional object, something which enables us to leave a safe space and feel we still are safe."
Her own children have utilised this idea, but she says often we feel older children should have grown out of this need. However, this can end up with them creating an internal safe space through a habit such as biting nails. "Using transitional objects to encourage our children to feel safe and secure can be hugely beneficial."
Don't try and tackle it all by yourself
If you are concerned about your children at all, do speak to your GP and their school to see what help is available, but try to avoid seeing this as a lifelong label or limitation. We all have to manage our own mental health and the pandemic has pushed many people into a space where they need a bit of extra support.
You can also check out what other support is available in your area – there are a growing number of charities started by Christians that are offering support to both parents and children and young people, as well as youth leaders. Online forums are a good opportunity to ask questions to parents who have been through what you are now experiencing and expert podcasts can be helpful too.
What if you're not a parent and want to help?
It may be that you are a family friend, a youth or church leader, or a grandparent. How can you support a family that may be experiencing heightened mental health problems, or navigating them for the first time? Above all, pray. If you feel able, do reach out and see what practical help you can provide but please do not judge, as there may well be times when parents, children or the whole family are unable to be at church, or are not able to do other things they normally do.
Hope for the future
It may take some time for us all to navigate our responses to this current situation. But be encouraged! Jesus is with you every step of the way, even when it feels bewildering: "surely I am with you always, to the very end of the age" (Matthew 28:20).
It is also reassuring to be aware that our children and young people will be learning new skills and resilience, which will help them in their future lives as adults. I've heard more than one psychologist comment recently that when we think of the generation that grew up in the Second World War we don't regard them as 'damaged' or 'lost' but as one of the most resourceful and resilient. That is because they learned so much from the challenges they faced in their youth.
As Dr Kate Middleton comments: "This season will always be remembered as one of unprecedented challenge and disruption. But the long-term legacy is still being shaped. We can all play our part in equipping and encouraging the rising generations as they look to the future, to see the promise even in pressured times and to remember that the hope of God's bigger story is always present."
USEFUL RESOURCES
Helpful resources for adults and young people
• A Mind of their Own by Katharine Hill (Muddy Pearl) – Focused on: "Building your child's emotional wellbeing in a post-pandemic world"
• Angel Army – Website of counsellor Angie Petrie, where you can find details of her counselling, as well as items that can be used as transitional objects.
• Anxiety UK - Charity offering resources for young people on anxiety but also lots of support for adults and families, links to support etc.
• Care for the Family – National charity promoting family life and helping those facing difficulties. The website provides a wealth of resources for parents, including articles, podcasts and courses.
• Deepen: A Christian mother-daughter journal by Andrea Gardiner – Resource that helps mothers and daughters communicate more deeply.
• I Am So Many Things – Sells a range of items, such as mugs and colouring books, that provide biblically based declarations for daily positive affirmation.
• Kids Matter – Focused on helping churches to run their parenting programmes, but also includes a resource page with ideas for parents.
• Kintsugi Hope – Christian charity seeking to break down stigma around mental health. Runs a youth course, which churches and schools alike are picking up on.
• Kitchen Table project – Run by Care for the Family, this site has a blog, resources, tips for parents and the Facebook page is "a movement of mums, dads, carers and churches learning from each other and sharing ideas".
• Mind – Advice and support for anyone experiencing a mental health problem.
• Mind and Soul Foundation – Christian mental health charity. Their YouTube channel provides helpful videos on mental health issues, but also Peace Practices, which aid moments of relaxation.
• Parenting for Faith – Offers a free course and podcast, and there is an interactive Facebook page.
• Talk Through – Christian charity resourcing parents, churches, schools and youth workers to help support young people.
• Talking Teenagers – Podcast series of inter views with experts to help parents and pastoral leaders with the key issues of raising teenagers today.
• Young Minds – Lots of information and support for young people and parents on specific mental health issues as well as practical suggestions. There is also a text help service for young people and helpline for parents.
• Youthscape – Christian-based charity that offers resources for youth workers and churches on wellbeing.
Books for younger children
• God, You Make Me Feel: Safe by Katie Kenny Phillips (Authentic Media, for ages 1–4)
• The Huge Bag of Worries by Virginia Ironsides (Hodder Children's Books, for ages 2–5)
• Tapestry: A story of love, loss and hope by Bob Hartman (Authentic Media, for ages 4–7)
• The Good Thing About Bad Days by Margaret McAllister (Lion, for ages 5–9)
• God Cares series by Debbie Duncan (Candle Books, picture books for ages 6–8; chapter titles 8+). These books provide a biblical approach to discussing emotions and behaviour with children.
• Jesus & Emotions: a creative journal for families (Engage worship, for use with younger children)
Books and websites for older children and teens
• When I Loved Myself Enough by Kim McMillan (Sidgwick & Jackson). A little book of affirmations for teens and adults.
• Why Do I Feel Like This? by Rachel Lane (Christian Focus, for young teenagers). The author struggled with depression herself as a teenager and shares honestly about her own experiences.
• Alumina – Online groups for young people struggling with self-harm specifically.
• Headstrong – Website set up as a joint project between Youthscape and the Mind and Soul Foundation, with a team of contributors headed up by Dr Kate Middleton. It is an online space created for teens and young people to equip and support them and their mental wellbeing through lockdown and beyond.
• The Mix – UK's leading support service for young people under the age of 25. They have an online community, as well as a free, confidential helpline and a counselling service.
Helpful apps for older teens
• DistrACT – An app for those self-harming (for 17+). It has information on what to do in an emergency, self-help time, how to support someone and also has lots of distractions for those experiencing urges to self-harm.
• Headspace – A meditation app. You pay for the premium but there are also free mediations. The three-minute SOS meditation can help young people if they need to calm down quickly.
• Messageofhope – An app that sends a daily notification of hope (visit your app store)
• MindDoc – A mood-tracking app that asks different questions three times a day. It analyses answers over 14 days and then gives advice on how to improve emotional health.
• Soultime – A Christian meditation app with more than 200 guided meditations on subjects like stress, anxiety, sleep and much more (much of the content for 18+ and some requires payment).
• Wysa – An app that has an AI buddy who will talk to you about how you're feeling and provide skills to help you cope. There is also an option to pay and get a professional coach to talk to.
For parents and carers
Please remember that you can speak to someone at Premier Lifeline from 9am to midnight every day on 0300 111 0101 You are not alone.