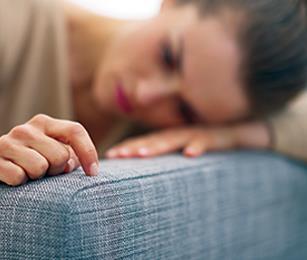 A broken dream, hurt inflicted by someone close, pain in our bodies, difficult circumstances … There is so much that can cause disappointment in our lives, so how are we meant to deal with the sense of bewilderment, confusion, loss and sadness that can sometimes overwhelm us?
We can feel guilty if we experience disappointment, as if it is somehow wrong to do so. As a result, we squash it down rather than dealing with it. But we cannot live faith-filled lives without working through our disappointment. Leaving it unprocessed causes us to find the truths about God difficult to accept; they reach as far as the disappointment and then get stuck. We end up feeling that we cannot expect too much from him, or his people, because we don't want to be disappointed again.

The truth is, suffering and disappointment often go hand in hand.
Jesus explained, "In this world you will have trouble. But take heart! I have overcome the world" (John 16:33). Jesus did not avoid suffering, and must have experienced disappointment when his disciples let him down. In the midst of our own difficulties, we can so easily forget that he understands how we are feeling (see Hebrews 4:15).

Sometimes our disappointment can flow out of assumptions we have made about how things should be – and how God should act. But both the Old and New Testaments reveal that God often works in ways that seem mysterious. Think of Job – he of all people surely had the right to feel disappointed?

And yet, when God speaks, Job's response is telling: "Surely I spoke of things I did not understand, things too wonderful for me to know" (Job 42:3).

Jesus must have frustrated his disciples when he spoke about giving up control of their lives, turning the other cheek and so on. Sometimes he left them hanging when they asked for explanations, simply saying: "It is not for you to know" (Acts 1:7). Having left all they had to follow him, they too must have wrestled with disappointment.

While there have been many things that have hurt and disappointed me, watching my mum suffer year after year with 14 different physical conditions that wracked her body with pain has been my biggest cause of disappointment. But I have learned over the years that, however much we may want to avoid it, disappointment can be viewed as an invitation. When faced with it we have a choice: either to embrace despair or to walk towards new depths of faith.

I find the story of Shadrach, Meshach and Abednego so helpful. They were about to be thrown into the fiery furnace for refusing to worship the golden image King Nebuchadnezzar had made. As they faced what looked like certain death, their response was to declare that they believed their God could save them but, even if he did not, they would never bow down to idols (see Daniel 3:17–18). They clung to what they knew about God.

Understanding more about the character of God helps to sustain us, even when we face severe disappointment and we don't understand his ways.

When we experience disappointment, I believe we need to acknowledge rather than ignore it. We should then give ourselves time and space to work through it; something I don't think we do well as individuals or churches. I've included some practical suggestions on how to do this, which have helped me, but please don't view this as a 'how to' list – our journeys with God are all individual and processing disappointment will look different for all of us.

You may find you only begin to touch the surface of disappointment that happened in the past. Don't be frustrated if so. God sometimes allows us not to feel things when they are too traumatic. Rather, he may be taking you on a journey so that you work through them as you are able to cope with the associated emotions. He is ever gracious and patient, and his ultimate desire is to see us free from anything that hinders our walk with him – including disappointment.

+ Claire explores disappointment further, as well as the other reasons she believes we hide our real selves from each other, in her forthcoming book Taking Off the Mask (publishing in November). Look out for a chance to win a copy of Claire's book later in the year.

Processing disappointment

• Talk to God

While this may seem over-simplistic, many of us can feel ashamed to admit our disappointment to God. And yet he already knows us inside out and is waiting for us to open up to him. So you can be brutally honest because God will continue to love you, however you express yourself.

I find that my journal is a safe place for me to write down my anguish. I have learned that God does not mind me asking 'Why?' or crying out 'How long Lord?' because it draws me closer to him while I am still experiencing despair. I may not always get the answers I seek and I have come to accept that that is up to God (see Isaiah 55:8), but he still graciously meets me in the midst of my questions.

Sometimes, simply speaking out or writing down how we feel can reveal to us that we have blamed God for our disappointment. If so, we need to repent of wrong thinking because, while it may feel like God doesn't love us when he allows us to go through difficulties, that simply isn't the truth. God's character doesn't change; it is our circumstances that we are disappointed with, or the fact that he hasn't done things the way we wanted or expected him to.

• Spend time reading the Psalms

The Psalms are full of raw emotion. I am so grateful that they are a part of the Bible because they often validate how I am feeling. Take some time to read through the Psalms until you find one that expresses the emotion that you would use to describe your own disappointment. Stay with that Psalm, quietly reading it over again until you feel you have connected with it. This will help you to feel the pain, bringing it to the surface if you have buried it.

• Focus your attention towards God

After the psalmists had expressed their deepest emotions, they often reminded themselves of the truth about who God is. For example, in Psalm 42 David shares how desperate he is for a touch from God. His soul is panting for God, tears have been his constant companion and others have taunted him. He seems to be in utter despair, and yet he keeps reminding himself to put his trust in God because he knows that he is the source of hope.

• Accept that you may never understand fully

You may find yourself trying to analyse your processing, as your brain seeks to understand it. Remind yourself that Proverbs 3:5–6 talks about not leaning on your own understanding. We often say to ourselves: "If only I could understand what is going on, I could have peace." However, the truth is that the peace of God "transcends all understanding" (Philippians 4:7).

The key to receiving peace from God is laying down our right to understand. This can be so hard, but by surrendering our rights we are acknowledging God's sovereignty. Jesus did the same at the Garden of Gethsemane when he poured out his anguish, but ultimately submitted to God, "Yet not as I will, but as you will" (Matthew 26:39).

Claire Musters is a writer, speaker and editor. Her recent books include Grace-Filled Marriage and Every Day Insights: Disappointment and Loss. Claire is also the host of the Woman Alive book club and blogs at clairemusters.com
View full Profile