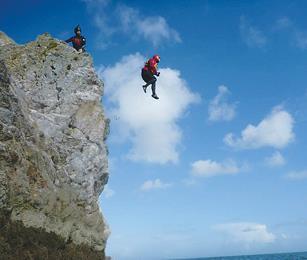 Ruth Flynn had always been scared of water, but a new job meant she had to face her fear head on ...

I became scared of water when I was quite young. Someone held my head under the water when I was about eight years old because I was wearing a swimming hat and was therefore considered "posh". I was very scared and couldn't breathe and I panicked.

This may not have been the only unpleasant incident, but by the time I was in my twenties, I avoided being in the water.

In my thirties, I took a position as a trainee outdoor education instructor at a Christian activity centre. This included gaining qualifications in many areas including kayaking. I was not a natural at moving a boat through water, but I did become very good at brace strokes. These are the paddle strokes you do to keep the boat upright when it is trying to tip over and into the water.

I figured that God could help me overcome my fear, but I struggled and never did gain much in the way of kayaking qualifications. I was disappointed with myself and I guess a bit with God.

Looking back now, I don't think I ever really gave God a chance to be God in that situation. I was still trying to do things in my own strength, whilst stating that God could take away my fear and help me to succeed. I managed to avoid all water activities, though I did enjoy a bit of canoeing. On the water became OK. Under it was still scary.

Time passed: I gained more qualifications and experience, life circumstances changed and I became self-employed as a freelance activity provider.

Six months into this new venture and a client had a change to their booking. A day that was scheduled as bushcraft with rabbit skinning and wild cooking became coasteering.

For those who don't know, coasteering involves spending time along the coast. Both scrambling along the shore, swimming in the sea and jumping off rocks and cliffs into the sea. Something I had chosen to avoid up until then. I was only required to assist, but still, it meant a whole day of water.

The morning of the coasteering day dawned. I got up, had breakfast, read my Bible, all as usual. Then I started to pray.

Recent reading of various Christian writers had been challenging me on the truth of the Bible. I mean, all Christians know that the Bible is true, don't they? But do we really live as if it's true? And what difference would it make if we did live as though we believed every word?

As I was praying and drying up the breakfast things, I was reminded of one of my favourite verses of Scripture: "The Lord your God is with you, he is mighty to save, he will take great delight in you, he will quiet you with his love, he will rejoice over you with singing" (Zephaniah 3:17). "That's me!" I thought. I changed the pronouns: "The Lord my God is with me, he is mighty to save, he will take great delight in me, he will quiet me with his love, he will rejoice over me with singing."

I turned to other scriptures: the promise that God knows how to give good gifts to his children (Luke 11:13), that we have only to ask and we will receive (Matthew 7:7) and that we must believe in our hearts that we have received (Mark 11:23). Challenged and inspired, I prayed: "Dear Lord I would really like to enjoy today. Not just to get through today, but at the end of the day to be able to say, 'I really enjoyed that'. Amen." Great. Now how does one start to believe it?

Even now I cannot answer that question. All I can say is that every time that little voice in my head went "But" or "Oh dear", I repeated to myself that I was choosing to believe that God wanted to give me this good gift and that the Lord my God is with me, he is mighty to save, he will take great delight in me, he will quiet me with his love and he rejoices over me with singing.

I went to the rendezvous point very early and I prayed: "OK God, you are with me. I trust you. There's still a bit of doubt trying to squeeze in but I trust you."

My client, Rosie, arrived and we chatted about the fact that I hadn't done coasteering before and what I needed to do as an assistant. No problem, still praying, still claiming that I trusted God, today, for this.

The tide was low in the morning, which meant more scrambling than swimming. I had a few encounters with being doused by the waves slapping the rocks and, although a little scary, I survived. Next came the jumps. I was nervous. Rosie went off the first one to demonstrate. I then encouraged all the other participants off the jump. Then it was my turn. I held my nose, looked at the water about three feet below me and started quoting my verse of Scripture. I got almost to the end of the verse before I jumped ... and survived!

For the next jump I had to either go first, or go off the higher of the two. I went first, reciting my verse of Scripture before, and during jumping. And so I got through the morning.

At lunchtime, I felt as though I had merely survived. I was very pleased with that, but I wanted the really nervous, sick feeling to go away and to enjoy my afternoon. It didn't help that Rosie told me the east winds were making a lot of swell and it wasn't nearly as bad as this usually. Great!

The afternoon was better. Looking after a group does help you to forget your fears a little and, by the end of the day, I was just getting as far as "The Lord my God is with me" before jumping.

In the car park at the end of the day, I suddenly realised that I had enjoyed my day. God had answered my prayers. God loved me enough to do that, just for me. How thrilling! I was amazed and overwhelmed. I told everyone I spoke to who knew about my difficulty with water. They were thrilled for me.

Since that time I have been coasteering a further seven times. I can now jump off something approximately 12 feet high. I still use my verse of Scripture every time.

On a recent coasteering trip I met Poppy. She told me: "I don't mind the swimming, but I can't do the jumps. Someone tried to drown me when I was a little girl and I just can't stand being underwater." I was able to tell her that I also had a similar experience when I was young, but now I was able to do the jumps. Unfortunately we had no further chance to chat just then. Later, at one of the jumps, she asked me how I had managed to overcome my fear. I explained briefly that I was a Christian and recite scripture verses as I jump off.

I was really pleased to have had an opportunity to share my story, however briefly, with Poppy. I hope she has the chance to think about it. I wonder how many other people will be able to benefit from this one piece of God's loving kindness towards me?

If you have also had an experience of taking the Word of God at face value and being forever changed by it, I would love to hear your story too. Please e-mail me at changedbythebible@outlook.com with more details. At this stage I don't know what I might do with these stories, but I believe we are called to encourage one another and these stories may be a launch pad into another writing project.