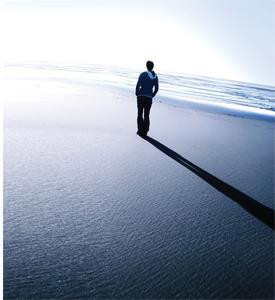 The tragedy of suicide
Lorraine Wylie talks to two women whose loved ones have taken their own lives
'My husband walked into a river and drowned'
Suzanne Mattingley is a facilitator of the Beaconsfield and Henley-on-Thames groups of SOBS (Survivors Of Bereavement By Suicide)
My husband Ron and I were both members of the Church of England and were actively involved in church activities. In fact Ron, a cost accountant, had agreed to act as treasurer. He was a lovely man who hated to disappoint people, so when a few other organisations invited him to handle their finances, he accepted. Looking back, the additional roles combined with his full-time job, placed my husband under enormous stress.
I didn't realise there was a problem until the morning of his 52nd birthday. Initially, Ron appeared to be suffering from some kind of flu and our GP prescribed a course of antibiotics. I simply assumed he was run down and that, within a week or two, he'd be back on his feet and things would return to normal. I'd no idea that life would never be the same again.
One morning, Ron woke up, jumped out of bed and began ranting incoherently. I didn't know what was happening. As he careered blindly round our bungalow, I tried asking him what was wrong. When he eventually said that God was telling him what to do, I knew I needed to get help and rang for an ambulance.
Ron was diagnosed as having suffered a 'hyper manic' episode and spent several weeks in a psychiatric unit. When he came home, he was heavily medicated. His moods swayed between subdued and highly agitated. I felt as though I had a stranger in our home.
Eventually, Ron was re-admitted to hospital but, six weeks later, he decided to leave. I'm not certain of the exact sequence of events, but I do know that at some point he took a train and bus journey. His body was discovered early on a Tuesday morning by a night watchman at the local leisure complex.
Ron's death triggered a kaleidoscope of emotion. I was heartbroken by the loss of my husband. There was also a sense of shock, but in a way I was relieved. Ron's illness had changed him from the man I'd known and loved, to a stranger who frightened me.
I was disappointed by the attitude of the parish clergy and some members of our congregation. They showed little understanding or sympathy for Ron's condition or circumstances. I think in a way they blamed him. The greatest comfort for me was my faith. I never felt that God had let me down and, throughout the darkest days following Ron's suicide, I knew he was with me and Ron was at peace.
I feel very strongly that the term 'committed suicide' implies some kind of crime and causes great offence and distress to surviving families. Suicide was decriminalised in 1961 and has been erased from the terminology of most leading support groups. Using terms like 'took his or her life', is more accurate and much kinder. At the end of the day, losing a loved one through suicide is incredibly painful, but life is precious and, with the right support, it will go on. It can even be good.

'My son died from carbon monoxide poisoning in his car'
Vivien Culpan was so desperate to talk to someone after her son's suicide 13 years ago that she made the 150-mile trip to the SOBS group in Hull, which had been recommended by a local vicar. She now helps to run the group in Bradford
My son Richard was 27 and should have had his whole life before him. But, when trouble at work combined with relationship issues got on top of him, he rapidly spiralled into deep depression. I knew he was getting worse and did my best to get help. But, the medical profession, quoting the issue of 'confidentiality' wouldn't discuss my fears. It was incredibly frustrating as well as frightening.
I worried about him, but was powerless to do anything. When I hadn't heard from Richard, I decided to report him as missing. The next day, a young policeman arrived at our home. I thought he'd come about filling in some forms. I'd no idea that he was going to tell me our son's body had been found. There are no words to describe my feelings – my world simply imploded.
The policeman walked into our home and curtly announced, "I'm sorry to say, your son is dead." He didn't even ask if I was alone! I understand that this kind of news is always difficult, but I'm convinced that all professionals, including coroners, police and media, need to be able to handle it with sensitivity and diplomacy.
In the days following Richard's death I was numb with grief. I don't know what I would have done without the prayers of my friends and family. They really comforted and supported me. Despite our loss, my faith never failed me and continues to be a great comfort.
Unfortunately, not everyone in the church family was supportive. I was desperate to understand God's view about suicide and, in the early days, I couldn't find any answers. Some people in the church offered me neither comfort nor hope. But over time, I have come to appreciate that Richard took his life when the balance of his mind was disturbed. My comfort lies in the fact that God is full of compassion and mercy for those who are ill. He understands completely.
Everyone is different but, at some point, we all need support. I'd advise anyone, whenever they feel ready, to contact an organisation such as SOBS. Friends and family can also play a role by simply being there without being too intrusive, as the family needs time and space to grieve. The passing of time does soften, rather than heal. I have learned to accommodate Richard's death in my life. By helping others, I try to bring something positive from the experience.
Britain has one of the highest suicide rates in Europe with over 5000 deaths per year. The Samaritans estimate that someone in the UK decides life is no longer worth living and brings it to an abrupt end every 82 minutes.
The reasons for suicide are both complex and varied, but studies reveal that mental health issues, financial and relationship difficulties, as well as drug abuse are major contributing factors. In the case of young people, school bullying is also a major factor.
For more information about Survivors of Bereavement by Suicide, visit ?www.uk-sobs.org.uk or call 0115 944 1117.
Lorraine Wylie is a freelance writer based in Northern Ireland