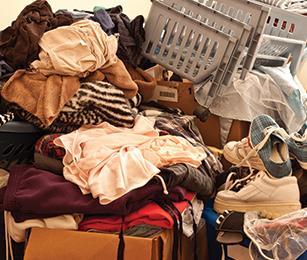 There are lots of books about dealing with clutter in our homes, but what about other kinds of stuff that clogs up our lives? Lucy Mills tackles hoarding of a different kind
"These are my friends," the old man says, clutching at a damp wodge of books and magazines. They're damp because they're stored in his garden – there's no room in the house. Every room is packed full of 'stuff': boxes and boxes of memorabilia, things that may yet be 'useful'… and simple rubbish.
I'm watching a television programme about hoarding. This excessive hoarding is increasingly recognised as an illness, and hoarders need to be treated with a lot of patience and compassion. But if left to their own devices, their hoarding habits become a threat to the safety and wellbeing of themselves and others. Something has to be done. Intervention is required.
Many of us might claim to be hoarders of one kind or another – even if our houses are nowhere near as bad as this. But there is a point when the need to keep hold of things becomes unhealthy; when we're defined by the 'stuff' we accumulate and refuse to throw away.
I can't help but wonder if many of us are hoarders of a different kind – clinging on to experiences and emotions which are deeply unhelpful, and yet so hard to release. The clutter of our hearts: old disappointments carefully nurtured, thwarted ambitions stacked on the shelf, a little pile of petty jealousies shoved into the corner.
We can nurse our hurts and feed them – not realising that they are old and rotten, soaked through and enemies of healthy living. We become blind to their condition; they are part of the structure of our lives. We feel a little threatened by the idea of letting them go. They have begun to define us; without them, we're not sure who we are. They distress us, but oddly the idea of losing them makes us feel vulnerable.
Sometimes we think that stuffing things into an inaccessible corner will do it – but they're still there. And we can still trip over them. Worse, these things begin to hurt others in our lives. Our smelly bundles of soul junk cause them to stumble, cause them hurt.
Whether through our unaddressed anger, stress caused by excessive busyness, distrust from old hurts – we lash out at them. They've accidentally knocked over a pile of that stuff we've been hoarding, and now look! It's all over the floor.
But we're not supposed to find our identity in the stuff we hoard, be it physical or spiritual. Our identity, Scripture tells us, is found in Christ. We are made in God's image – a bit battered, true – but redeemed and restored by what Jesus has done for us. When the Father looks at us, he sees his Son, and hears the interceding Spirit within us. The rubbish we so readily accumulate is not who we are. We are children of God and co-heirs with Christ, part of his body, a temple of his Spirit. How can we begin to realise this in a way that transforms us?
It takes time to help a hoarder. Just one clear-out won't do it, and a great deal of compassion and understanding is required. For those of us who recognise we're carrying a crippling degree of soul junk, time and care need to be taken in equal measure. For the really tough stuff, some degree of counselling may be helpful – or even the smaller things may be dealt with more quickly if we choose this route.
There may be some thorny things that will always be on that particular shelf, in that particular corner. Through the help of the Holy Spirit we manage them, soften their impact, but we may never fully be rid of them 'this side of glory', as they say. That's OK. God knows and wants to help us carry it. Like Paul we may beg the Lord to "take this from me", but instead receive that phrase, "My grace is sufficient for you, for my power is made perfect in weakness" (2 Corinthians 12:9).
This isn't a platitude or a cop-out – in fact it's a tough calling. But the one who calls us is bigger than all the junk, all the hurt of our lives, and he chooses the weak to shame the strong and the foolish to shame the wise. He is utterly trustworthy. He'll never turn away from us because of that smelly pile of soul junk. He wants to get in there with us and help us deal with it. I pray that I would learn to open the door to my house to him – even when I'm ashamed of all the clutter, even when I'm not sure where he'll find a place to sit. I want to welcome him in, let his Spirit clean me in a way no one else can.
+ Lucy Mills is a writer and editor.
Her book Forgetful Heart: remembering God in a distracted world will be published later this year by Darton, Longman and Todd (DLT). Lucy's website and blog can be found at www.lucy-mills.com
Dealing with Soul Junk
• Pray first – Ask God to search your heart and bring to mind the things you need to deal with. Pray something like the following:
Lord, come in. Come into my cluttered heart. Show me the stuff I'm holding onto and help me let it go. Help me to know – heart deep, soul deep – that you alone define me. I do not have to be the 'one with all the junk'. I'm your child. I'm not there yet, but I know you'll help me get there in the end.
In Jesus' name, Amen
• Take some time to reflect – Write down the things you're frequently tripping over – attitudes, memories, worries. You don't have to do this in one sitting – in fact, it may take a while to recognise the 'stuff' we've been hoarding. It becomes so much a part of our emotional landscapes we don't even see it properly.
• Identify areas where you need to forgive and/or release – whether this forgiveness is for others or yourself. Note any resentment, jealousies, disappointed hopes. If it helps you think more clearly, categorise them – put them on different shelves! Identify things that have been caused by others, which still have a hold on you. Recognise the factors that come from your own heart.
• Under each issue, make a note of the cause, any triggers and any action points – If any of these aren't obvious, put a question mark over them.
• One by one, pray about the issues – Again giving yourself time and again, not necessarily in one sitting. Ask God to reveal what those question marks are hiding. Be prepared to listen to him and make any changes. This won't be easy!
• Enlist the help of the Holy Spirit – The only way to clear our soul junk is with the help of the Holy Spirit. He is the one who knows us and intercedes on our behalf. Allow yourself the space you need to seek his encouragement and support.
• Take this process seriously – Ask God to change your heart. If you find yourself unwilling to let certain things go, tell him so. He already knows, after all! But this act of confiding is helpful in itself – it teaches us to be honest before God, deepening our relationship with him.
• Where appropriate, talk to a friend – Choose carefully! Again, pray first and then seek to find the friend in your life who is trustworthy and kind – but won't try to deny the problems you're having. Find someone to whom you can be accountable – not in a heavy way but more of a companion to help you in your journey.