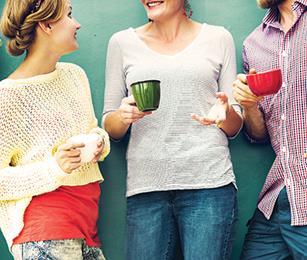 "Thanks, Rachel. You're SO lovely… I was really hoping you'd say 'Yes'."

Rachel smiles. For a moment, she allows herself to enjoy the warmth of people's appreciation and approval. She has the right gifts, skills and experience – and it's important this thing gets done. Besides, they've asked her to do it.

People regularly describe Rachel as "A Lovely Woman". And she is. But when she gets home, Rachel feels anything but 'Lovely'. She's tired and low; and frustrated (mainly with herself) that she's taken on something new, when she barely has time to do everything else she's already said "Yes" to.

Sound familiar? Know this: You're not alone.

But, surely it's impossible to be TOO lovely? There isn't nearly enough loveliness in the world. Besides, who doesn't want to be described as 'lovely'?

For many of us, our faith means we place a high value on serving others. We're committed to living sacrificially and generously.

We long to hear God say: "Well done good and faithful servant" (Matthew 25:23). So, we take these words seriously: "In humility value others above yourselves, not looking to your own interests but each of you to the interests of the others" (Philippians 2:3b–4).

We hate the thought that people might think we're selfish – and we can be tempted to disregard our own thoughts, feelings, and wisdom. We live trapped, by the weight of other people's expectations – as well as our own. We pour ourselves out, in love and service, to the point where we're running on empty.

It's good to give. But if we're living at the mercy of the desires, pressure and manipulation of others, that's not good, right?

So, what is it that drives us to say "Yes" – when it would be better to say "No"? People-pleasing? A desire to avoid conflict? A fear of disappointing others? Or a cocktail of all three?

What if we've misunderstood what matters most? Is our greatest desire to love and serve God – and get our needs met by him? Or to receive approval from other people: those we love, people at work – or our church leaders?

We worry (sometimes with good reason) that if we say "No", others may think less of us. But the first commandment makes it idolatry to put other people's opinions before God's opinion. Ouch. Our desire to be 'lovely' may be costing us dearly.

I love Nicky Gumbel's words on wisdom here: "Wisdom helps us make choices now, that we will be happy with later."

If you're experiencing an integrity gap between a public reputation for 'loveliness' – and private feelings of being overwhelmed – it's time to take action.

How can we make – and communicate – great decisions we won't regret? Here are five steps to help us get started:
Prioritise time with God

Does God's view of us matter more than what other people think? Prioritising regular time alone with God will re-shape our life and work – as we learn to "keep in step with the Holy Spirit" (Galatians 5:25).

I love the story of Mary and Martha – where Mary sits listening to Jesus, whilst Martha is focusing on doing All The Things. I relate. Jesus tells Martha: "Few things are needed — or indeed only one. Mary has chosen what is better, and it will not be taken away from her" (Luke 10:42).
Plan a regular personal review

This is about more than reviewing your diary and time management, it's about taking time with God to look at your heart. And from time to time it's a good thing to do with someone else.

What season of life are you in? What are your priorities? Does your life reflect both? The balance of your life will shift over time; but it's good to ask where there is regularly 'too much' – or 'not enough'.
I love one of Dallas Willard's favourite questions: "What's bothering you?"

Get your diary out and plan ahead – blocking out time for what matters most. Remember to include white space; each day, week, and month – to allow for unforeseen circumstances.

When Jesus said "I have come that they may have life, and have it to the full" (John 10:10); the invitation is to a wholehearted life – not a life of unbridled busyness that is secretly breaking our hearts.

Seasons of life change – and our capacity with them. In all seasons, it's important to take time to fill our 'tank' and invest in our relationships with God and others – and prioritise good rest, exercise and nutrition, so we can keep serving others well.
Ask yourself: Is this right for me, right now?

How can you make decisions that are 'good' for you – and 'good' for others? The good news is we nearly always have more choice than we think.

Not every request or opportunity is right for you – or right for now. It's useful to ask: "Is this mine?" and "Is it time?" If it's both – could you work with others, or delegate some of the load?
Think about how you communicate

Learning to communicate positively, warmly and well means we experience greater freedom. In time, we are likely to attract greater respect from others, too.

Plan in advance how to respond to requests. If you find it hard to say "No" in person – create some 'scripts' or phrases, for example, "Thanks for asking, let me get back to you", to give yourself time to take advice – and prayerfully consider. Reply by text or email if this helps (even when saying "Yes"), so you can put any boundaries in place.
Keep it real

'Keeping it real' doesn't mean you have to explain and justify your decisions to everyone who asks. But it's important that we have trusted people in our lives with whom we can be accountable – and honest about what we're carrying.

Our lives speak. Others are watching. What will they learn? If we constantly live lives defined by busyness, on the edge of exhaustion, what does that say about us – and the God we serve?
So, what's next for you? What are you willing to do so you're free to choose what matters most? This isn't about suddenly saying "No" to everything or refusing to go the extra mile. It's about staying close to God and keeping your heart soft, as you grow in self-awareness and discernment. It's about putting healthy boundaries in place and making and communicating good decisions, calmly, warmly, and clearly.

If you struggle with 'people-pleasing' or not disappointing people, start gently and take small steps forwards. Avoid making a drama out of a crisis (unless you're a screenwriter.) Making small changes helps everyone adapt to the 'new you', adjust their expectations – and doesn't suddenly leave others in the lurch.

So, as it turns out, it is possible to be too 'lovely'. Who knew?

But here's what I've noticed: There are few things as lovely or beautiful as supernatural confidence around who God is calling you to be – and knowing what matters most in this season.

As we re-order our lives, putting first things first, and gain clarity and confidence in making good decisions, we're no longer trapped. We're free. Free to become 'really lovely'. The authentic kind, that's both 'lovely' and 'real' all the way through.

And this time there's no question. It's impossible to have too much of this kind of 'lovely' in the world.
Sarah Phillips is a life and leadership coach with a heart for seeing people live life to the full. She is the founder of Away Coaching, which exists to equip followers of Jesus for their life, work and mission – and those who lead to serve others better. Connect with Sarah at www.awaycoaching.com and on Facebook and Twitter at @awaycoaching.