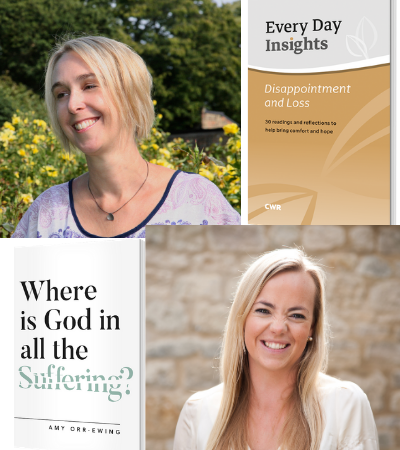 CM (Claire Musters) This year has been such a roller coaster. For me, it started in November 2019, when my grandmother died. My sister and I attended the funeral; my mum was too ill to leave her home. Then, partway through January, I got the call to go to mum. That began a ten-day journey of her going to be with Jesus. I was in the middle of writing a devotional on disappointment and loss; the book suddenly became so much more personal.
AOE (Amy Orr-Ewing) I too lost someone as I was writing Where is God in all the Suffering? – my friend Brenda, who was only 36 and left behind a husband and three children. As I walked behind her casket, I was asking God for hope. I was desperately trying to find comfort for her dear children. My husband and I have also been processing together the full extent of the abuse he experienced as a child. That is a different kind of grief, but no less traumatic.
Grief doesn't follow rules
CM I am so sorry to hear about your losses and pain. What is so unique about 2020 is that thousands of us have faced deep, heart-searing losses. My mum's funeral was held in the first week of lockdown, which meant it was nothing like the service she had planned – that hurt so much.
Once lockdown eased, I helped sort through mum's belongings. Since then, my heart has felt ripped open afresh. Last weekend my grief came crashing back and enveloped me entirely, which was exceedingly frustrating as I was trying to help my son prepare for secondary school. But the fact that mum wouldn't see him in his new uniform, and wouldn't be praying for him, simply floored me.
AOE Over many years of pastoring dear church members through losses, and facing our own grief with the loss of my father-in-law, I have learned that grief is a strange and disconcerting experience. It involves fear, sadness, tears, a sense of shock and maybe even a disconnect from the loss. Then, as life goes on, the intense feelings subside only to suddenly resurface. I too felt waves of grief when my son played cricket for his county and on his first day of secondary school. One moment life is bumbling along, and then suddenly a wave of sorrow and sadness hits, crashing over you, threatening to drown you. You realise that the person you have lost is not there and you will never see their face again.
Asking questions is natural
CM I was quite surprised that the question "Why?" haunted me so much after mum died. I had journeyed with her through years of debilitating pain, and the accompanying depression. Many times she asked "Why?", and I had no answers. But in the final years of her life, she had made peace with the suffering and believed that, while she still had many questions, they would fade when she saw her saviour. I didn't understand all she had to endure, but drew comfort from watching how she had wrestled before God and received his reassurance. However, now she has gone, the "Why?" questions have resurfaced.
AOE Asking "Why?" is a natural, instinctual response to suffering. A whole array of questions can flood into our minds, and I find it amazing that the Bible gives voice to them. Questions like: "Why would you let this happen?" and "Where are you, God?" Unlike our religious institutions and communities, where asking "Why?" can be painted as a lack of faith or a kind of disloyalty to God, instead God himself invites our questions. Questions and doubts are not dangers to be avoided or suppressed but can be companions on our journeys.
It is OK to feel angry?
CM I know that anger is one of the recognised stages of grief, and there have been times when I have felt anger way out of proportion to a situation that I've been facing. We have also felt collective anger for various reasons during lockdown, such as the horrendous daily death tolls. We were hugely shaken and angered by the horrific, unjust death of George Floyd. Knowing that Jesus demonstrated righteous anger (Matthew 21:12–13) reminds me that there are times when it is right for us to feel and express anger.
AOE Yes, I had such an intense experience of communal anger after the fire at Grenfell Tower in 2017. My husband, Frog, had been helping out on the ground afterwards; we were then invited to help run an outdoor service. More than 1,000 attended and the overriding feeling was a combination of intense sorrow and rumbling anger. Anger that this could happen in London, anger at the decision to use cheap cladding, anger that the cladding turned out to be a fire accelerant. When Frog shared from Psalm 147: "He heals the brokenhearted and binds up their wounds" there was apt silence, but when he got to verse 6: "The Lord sustains the humble but casts the wicked to the ground", the crowd spontaneously erupted into clapping and shouting.
Anger as a legitimate, even positive way of processing pain is consistent with the enormous value placed on a human life by God. Our own cries for justice and judgement actually echo what is at the heart of the Christian message.
Made in the image of God
CM Soon after mum died I remember thinking: this hurts so much because I loved her so much. She was a faithful, Bible-believing Christian – but my dad is an atheist. Having lost his wife and then his mum, I wonder whether he has questioned his beliefs. In your book, you look at the various philosophies and beliefs about humanity, explaining that, for some, dealing with suffering involves detachment – or accepting that it is random. However, we do all have an inbuilt response to suffering, whatever our belief system. Our sense of injustice at the racial violence we have seen and our mourning of this year's losses have been involuntary responses.
AOE And it is precisely these responses that point towards a vital truth: suffering hurts us as human beings in such a profound and shocking way because human beings really do matter. We are divine-image-bearers, and so our lives and wellbeing are sacred. There is an in-built connection between our bodies and the essence of who we truly are. Every human life is precious, because we bear God's image.
God does not stand far off
CM That is a truth that pierced me at mum's bedside. As the pain of seeing her slowly slip away intensified, so too did the sense of God being with me. I was drawn to biblical characters whose stories showed me that God noticed their pain and went to them, such as Hagar in Genesis 16. And Jesus' response to the death of Lazarus, in John 11, revealed to me that he was standing weeping alongside me.
AOE Yes the fact that he is willing to engage with us when we feel deep emotion is such a comfort. God is a God who is with us in pain, a suffering God, a God who is for us in pain. He is a God who is prepared to take sin, pain and evil upon himself and make a way for us to be forgiven and restored.
Scriptures that offer hope
Claire reflects on some of the scriptures both she and Amy included in their books.
John 14:1–3
"I will come back and take you to be with me" (v3)
It is comforting to know that God has already prepared a place for our loved ones, and that he comes back to accompany them there.
Revelation 21:3–4
"He will wipe every tear from their eyes" (v4)
God has promised he will one day put an end to all suffering. In the meantime, when we wrestle with sometimes seeing God's miraculous intervention and sometimes not, he is still there, tenderly caring for us.
2 Corinthians 1:3–4
"…the God of all comfort, who comforts us in all our troubles" (v3–4)
I learned from mum how, when we choose to praise despite the pain, it can open us up to a deeper capacity to receive from God. We are then able to reach out to others with the comfort we have received.
Giveaway!
The publishers of Claire's 30-day devotional, Every Day Insights: Disappointment and Loss (CWR), and Amy's book Where is God in all the Suffering? (The Good Book Company) have kindly provided five copies for Woman Alive readers.
Simply email womanalive@premier.org.uk with 'An Honest Conversation – Book giveaway' in the subject line to be in with a chance of winning a copy.
If you wish to purchase further copies, you can do so here: Every Day Insights: Disappointment and Loss (CWR) and Where is God in all the Suffering? (The Good Book Company)

Claire Musters is a writer, speaker and editor. Her recent books include Grace-Filled Marriage and Every Day Insights: Disappointment and Loss. Claire is also the host of the Woman Alive book club and blogs at clairemusters.com
View full Profile