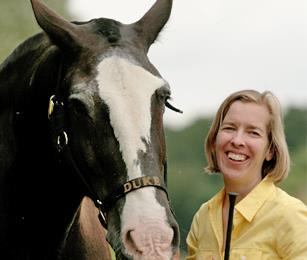 It was the most difficult year of Hazel Southam's life. Her father's dementia got worse, her mother suffered a stroke and she herself battled two tropical diseases; but through it all, a huge Irish draught horse brought her comfort and hope

Not all Christmases look like the ones in magazines. It was 2010 and I was preparing for Christmas without any sense of joy or festivity.

My father, an intelligent, practical, witty man, had suffered from dementia for six years. He was at the stage where nothing made much sense any longer. My mother, a bright, cheerful, sociable person, was run so ragged by taking care of him that, in the days before Christmas, she contracted both flu and the Norovirus.

I left her wrapped up in bed to rest and recover, and took my father to my house. We did all the things you're meant to do: ate a huge meal, gave presents, but all with such an air of confusion that I sat and wept.

Looking into the future, there seemed to be nothing to look forward to. After all, dementia isn't something from which you miraculously recover. However bad my father's condition was at this point, it was only going to get worse. And there was absolutely nothing I could do about it.

Yet, on the cusp of 2011, there was something to look forward to. I'd signed up with the local riding school to loan a big, black Irish draught horse called Duke. The time I would spend with him over not just the next year, but the five subsequent years, was to change my life, my outlook, deepen my faith and help me to survive some particularly tough times.

All this was a bit of a surprise because I was scared of horses. Though I'd grown up in the countryside, I'd spent my childhood climbing trees, riding my trusty old red bike that didn't have any brakes, and picking fruit in our large plot of land.

Friends at school had horses but, on the quiet, I thought they were a bit daft, as they could be seen at playtime trotting and cantering round the school yard rather than running like everyone else.

If that wasn't bad enough – and I really didn't want to look like that – I was also convinced that horses were stronger, bigger and faster than I was. I didn't want anything to do with them.

As a teenager I preferred sprinting, hockey and tennis. Horses simply weren't part of my world.

With time, this lack of familiarity led to suspicion, and suspicion, fear. Where were the brakes on a horse anyway, I wondered?

However, I have a tendency to confront my fears and take them on. As a reporter this has led to me travelling around the world to troubled nations at difficult points in their history. I've done some cushy assignments too, but I've done some of the tougher stuff, partly just to prove that I wasn't scared. Which I was.

So, one New Year about a decade ago I'd decided to take up horse riding. It was no good being afraid of horses, I reasoned. Better to take on the fear and overcome it. It would also, I felt, be a wonderful way to get out into Hampshire's woodlands, reconnect with nature and so, feel closer to God.

The intervening years were not my finest. I was terrified of horses and they knew it. I'd sit rigid on their backs fearing that I was about to die. They'd worry about what there was to be scared of and become tense. That would make me feel more anxious and round we'd go. It was an on-and-off experience in every sense, with the occasional tumble.

Any sensible person would have given up and taken out a gym membership. But I hate the gym, was determined not to be beaten, and very, very much wanted to be out in the woods. So I kept going.

It was then that I met Duke. We didn't seem a likely pairing. He was so enormous that I couldn't see over the lowest point of his back. I had to stand on a box to put his saddle and bridle on and an even bigger box to mount. I looked, it would be fair to say, like a pea on a drum.

But, Duke was steady, reliable, trustworthy, patient and professional. He knew his job and because of that, he was unflappable when we were passed by road-filling tractors, delivery vans and Lycra-clad groups of men on bicycles as we rode down country lanes.

All this inspired confidence. Confidence meant I could relax. And relaxation was hard to find in this particular year.
After the joyless Christmas things got worse, as I'd feared they would. One day, I was driving to work when my father began to ring me repeatedly. When I parked up at the end of my journey I called home to learn that my mother had had a stroke. I practically broke the land-speed record driving back to help out.

Three days of blurred activity followed. My mother was in hospital. I took on her role and her life, discovering just how hard it is to get a confused man with dementia out of bed in the morning. Aim for lunchtime and you might manage it.

I ran between my parents' house and the hospital. Then it was time for a serious chat with the social workers. Their view was that if my mother was to stand a chance of recovery, my father would need to go into temporary care. She couldn't regain strength and look after him.

So it was that I drove him to a very friendly local care home feeling duplicitous. Why? Because in my heart I knew he wouldn't be returning. And so it proved. His condition slowly worsened, his grasp of what was happening and why lessened; he stopped knowing who I was.

In the summer of 2011 he moved to a permanent care home about 10 miles from where I lived. The staff were kind and caring. He had a bright, sunny room. It was absolutely the best result for all of us, yet deciding to place my father there was, without doubt, the hardest thing I have ever done in my life.

All of this is easy to write and difficult to do. Work took a back seat as I tried to look after my parents' needs. Sleep was elusive. Rest and relaxation were things of the past.

But, having signed up to loan Duke I was determined to make the best of the time that I had with him. It became the thing that kept me going.

There were days when it was a pure joy to ride in Hampshire's countryside with my chums. Concentrating on three quarters of a tonne of horse takes your mind off yourself like very little else.

Being out in the countryside gave me perspective and reminded me of the everlasting nature of God's love. Something I sorely needed.

Sometimes, of course, none of this was possible. There were days when it was an achievement just to drag myself to the yard – Hampshire Riding Therapy Centre, and sit in Duke's stable. Then I'd groom him until he shone, feed him carrots, inhale the reassuring scent of warm horse and rest my head against the stable wall until it stopped aching.

As the summer wore on my mother recovered. My father was installed at the care home, if not exactly settled. I jumped on a plane and flew to Africa on a reporting assignment. There, in an ill-advised meeting with a mosquito, I picked up not one, but two, tropical diseases.

My immune system took a real hit. I was exhausted. I took to my bed like someone in a Victorian novel. There was nothing for it. For several months working, driving, even thinking were out of the question.

And so, therefore, was seeing Duke. For two months I consoled myself by riding and re-riding routes we'd taken in the past in my mind. I recalled seeing a barn owl flying low over us early one morning, on a successful hunt for mice. I remembered the series of robins that invariably accompanied us on our rides round the woods, stopping at the end of their territory, only to pass us on to the next bird.

I could picture in my mind's eye the summer-evening swallows diving through Duke's legs as we walked to his field; the beautiful vistas of the surrounding countryside and the warmth of the friendships that I had developed.

This gave me a reason to get better. I was going to get well simply to ride Duke again. If you'd told me at the start of the year that my motivation in life would come from time spent with a large horse I'd have thought you were quite mad. But so it proved to be.

By the subsequent Christmas, things had changed. I was staging a good recovery, as was my mother. My father was being well looked after. It still wasn't the kind of Christmas that you see in magazines, but it was a real, genuine Christmas with some honest emotions.

As I contemplated the next year, I knew I really did have something to look forward to, and that was more time with Duke.
Every story has an ending. This one was expected and unexpected simultaneously. It was Christmas 2014. The fire was alight. I was settling down for a quiet evening of TV after way, way too much food. The phone rang. It was the care home. "Come now," they said.

We went, prayed, wept, said our goodbyes. My father died the next morning. I thought I had no more grief in me after 10 years of dementia. But I did. Duke and the woods again provided solace and a sense of perspective. You can't ride in 800-year-old ancient woodland without getting a feeling of eternity and your place in it.

Then this February, I was at work when the phone rang again. This time it was someone from the stables. Duke had been taken ill, they said. There was nothing to be done. The vet was already there. This time I couldn't break the land speed record to get there to say goodbye. He would have been dead by the time I reached the car park. I cried like a woman bereft, which was what I was.

But, though I miss them both deeply, I have real gratitude to both my dad and Duke. My father gave me a love of the countryside and of God. Duke took me back out into that countryside, reminding me of God's love, which, on many days I had found it difficult to experience.

+ My Year with a Horse by Hazel Southam is published by Lion Hudson. It is available in all good bookshops and online from Amazon and Telegraph Books.