New York Times bestselling author Ann Voskamp is also a farmer's wife and mum of seven. Seeing her sister killed in front of her eyes gave her unimaginable trauma. Here she speaks about the beauty and pain of life and how her writing draws her closer to the healing power of God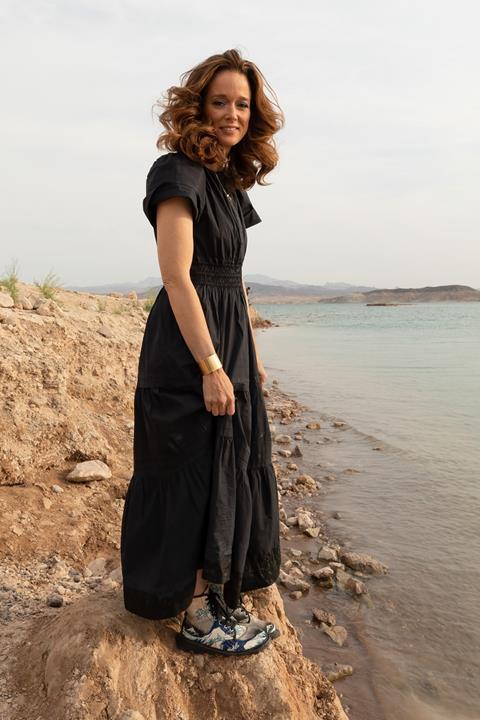 My first vivid memory is from when I was four years old, sitting at the kitchen sink at our farm, when my 18-month-old baby sister, Amy ran across the farmyard after a little cat. A service truck driver who had driven into the yard didn't see her. She was crushed and killed in front of my mama and me. As a little girl, I was terrified to fall asleep at night because terrible, really violent things could happen to people that you love at any moment, and there were things that I didn't want to see when I closed my eyes. So, by the time I was seven, I was hospitalised for ulcers. And then, in my teen years, I was cutting and by the time I was at university, I was having full-blown panic attacks.
Some 40 years later, I can still see the horror in my father's eyes as my mother was screaming at him telling him what had happened. To see my parents so wild with terror made me feel like the world was not a safe place. We weren't believers, so we didn't have Jesus to turn to. I didn't get saved until my first year of high school, however, while we are saved in an instant, growing into our Christian identity and feeling safe and secure in Christ is a process that takes time.
I was 20 when I got married to Darryl and was just finishing my second year of university studying child psychology and education. I had two more years of university and planned on either being a teacher or looking at curriculum development. Then I found out I was pregnant, so ended up taking what I thought was going to be a year leave of absence. But once Caleb was born I thought: "Oh, I cannot leave this baby." I ended up transferring to a university that allowed me to study remotely. I'd have a baby strapped on my back, listening to university lectures while working in the barn, taking care of animals. We had six children in the first ten years. They were hard years; we were so poor. But they were deeply bonding years too as we depended so much on each other.
Home-schooling our children, I tried to read two hours a day to them, and fell in love with books all over again. I started writing a geography curriculum, then I started to journal. I started a blog that wasn't for a platform or audience; it was a way that I could trace the hands of God in our everyday life. Then two authors found the blog and reached out to their agent and said you should ask this woman if she'd be interested in writing a book. I didn't actually intend to 'become a writer'. One Thousand Gifts [Ann's first book] came out of an agent approaching me and saying they'd like to take the stories I was writing on the blog and put them together in a book. That book outlines how I started to deal with deep fear. It is impossible to simultaneously feel fear and gratitude at the same time. When you start to count the ways God loves you, perfect love drives out fear. It was the beginning of me working through the trauma of my early years.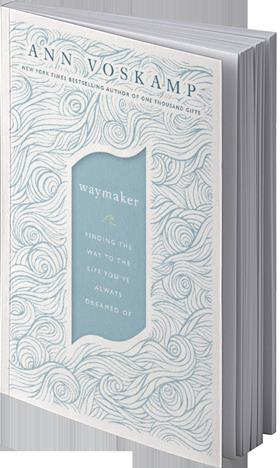 My latest book, Waymaker, tells our adoption story. I met a young woman at a conference who was running a foster home in Beijing, China, for little children who all had serious cardiac issues that would need heart surgery if they were to survive. Their parents in China didn't have the funds for that. For me to see that there were families who were adopting children who were given terminal prognoses, bringing them home into their own hearts, not knowing how long the timeline was going to be, was really reorienting for me. In Christ, could I be part of a different story in which I was no longer afraid of death?
I remember her English name in China was Shalom, and our youngest little girl, who was ten, was also Shalom. When I arrived home from the conference, my Shalom had been given a little sheep hat that had these floppy little ears, and in the very first picture I saw of little Shalom in China, she was wearing a little lamb hat. I was like: "Oh my goodness, the two of them belong together." Darryl and I talked and then we went to the children and asked: "How would you each feel if we considered adopting a child from China who has a palliative heart condition? We would have heart surgeries ahead and someday a heart transplant and we don't know what the timeline would look like." Our son Malachi (then 13) said: "So she's terminal. Well, we're all terminal, right? And she would need to know Jesus. I don't really understand what the issue is." Then, just two days after our file was matched with her file in China, Malachi was diagnosed with type one diabetes. Our adoption agency said we could put a hold on the process but Malachi said: "No. I know why God gave me type one diabetes. So that little Shiloh Shalom Yu Xin doesn't think she's the only one in our family that needs to be helped with health care. I'm so lucky that I get to be the one to tell her that she's not alone."
Much of Waymaker is about my own story, how, in my own pain, instead of turning toward God, and community and relationship, I began to turn inward.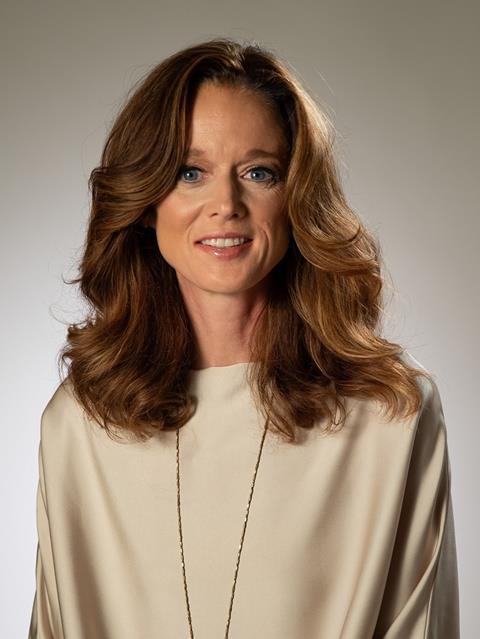 Shiloh had gone through one open heart surgery, and were waiting for news on her second heart surgery. In the midst of breaking my husband's heart in all kinds of deeply painful ways, I turned in towards myself. I withdrew; I didn't want to be hurt anymore. Then I had a uterine ablation, which is supposed to be a 20-minute day surgery, but by the next day I was running a fever, and went back into hospital. Eventually they realised I was in heart failure. As I couldn't sleep at night, I reflected on my life. If I wanted to live a different story, I needed to start to turn in a different direction. At 4am I called my husband Darryl and asked him to come, saying: "I need to tell you where I really am and figure out the way forward from there." So sometimes King Jesus takes us to a place that's deeply painful, but he is a faithful surgeon and it is surgery to save our lives. For me that heart failure experience was profoundly painful – and scary for my family. But it was to turn me. I am profoundly grateful that he wastes nothing; he takes us to wildernesses to restore us.
I had handed in Waymaker, then had the edits returned to me on the day my father was killed.
At the top of every page is the date, April 29. And I got the phone call to return to my childhood farm. In the same farmyard that my sister was crushed and killed in, my dad was also crushed and killed, under the wheels of a tractor. Suddenly, while editing Waymaker it felt like every page was a question: Do you really still believe all of this? Is this all still true? Would it hold me? If it couldn't hold me I couldn't possibly have hoped that it would hold a reader through their own grief and sufferings and trials. What does it look like to live a life where you know that your soul is safe in Christ? What does it look like to still trust God? I was being asked to do that as I worked through the edits. So Waymaker does not come from a trite place; it comes from profound grief and confusion. The story of Waymaker had to heal me first. As I worked through the edits, the story deepened. If anything, I trust his love far more deeply than I did before. Because I had to wrestle out the big human question: "Why does God allow evil and suffering?" This is a world of a million trillion billion ways. I don't know the way this story connects with the way of that story, which connects with the way of another story. The only one who understands and can navigate and orchestrate the ways of all of these stories is the Way – Jesus - himself. I will trust that the Way knows the way all of our stories need to go, because he's writing a far greater story. And he is even more loving, kind and compassionate than I can imagine.
Read Ann's blog and find out about her books at annvoskamp.com

Claire Musters is a writer, speaker and editor. Her recent books include Grace-Filled Marriage and Every Day Insights: Disappointment and Loss. Claire is also the host of the Woman Alive book club and blogs at clairemusters.com
View full Profile