Sinead McLeod shares a thought and prayer, living with a sense of hope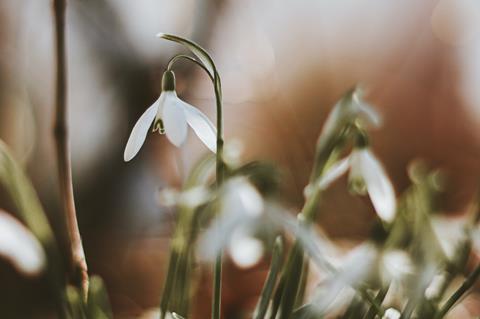 In winter, the quietness of nature symbolises the importance of rest, yet the appearance of snowdrops bravely bursting through the frost-covered ground whispers a promise that warmth is on the way and spring is coming.
I pray for and am inspired by the people of Ukraine; the resilience they have shown sets a precedent that we should all aspire to achieve. If we can embody but a fraction of the courage that they have shown, then we will be able to support one other through these trying times.
Our Lord's presence can be felt through the kind actions of people. Shelters offering warmth and refuge have popped up in communities around the country, showing that the best defence against suffering is the word of God – "Love your neighbour as yourself" (Mark 12:31). Such hubs of warmth are the living embodiment of the second commandment; the light of love shining in the darkness.
Proverbs 3:5-6 says: "Trust in the Lord with all your heart and lean not on your own understanding; in all your ways submit to him, and he will make your paths straight." This reminds us that trust in God is a steadfast remedy, and he will guide us through every season.
And 2 Corinthians 4:18 tells us to: "fix our eyes not on what is seen, but on what is unseen, since what is seen is temporary, but what is unseen is eternal". This scripture is comforting but can also remind us to see January as a time for renewal and ultimate reflection; we are at the beginning of a new year that lands in the middle of winter. So, even though the echo of Christmas cheer is now quietening, we can still live with a deep sense of hope.
God, with your welcoming warmth guide us along this path of life.
Help us to know you, so that we may seek comfort in your truth and kindness.
May we live by your example, guided by the eternal love of your grace.
Bless us all, oh Lord, and bring voice and splendour to simple wonders.
Provide us with courage and clarity on difficult days.
So that, in the dawn of light, we may walk with you forever in unending love.
Amen.

Sinead McLeod is an actress, writer and artist and a practicing Roman Catholic. She lives in South East England with her husband and four sons
View full Profile