Two-time breast cancer survivor Veronica Zundel shares what she thinks about the provocative slogans used on the Smash the Stigma billboards.

Warning: explicit content
The image: two manicured male hands clutching naked female flesh, clearly young but not clearly differentiated – which bit is a breast, which a neck? A young female hand grasping one of the male hands. On one area which is definitely a breast, a neat lumpectomy scar very obviously created with make-up. The text: CANCER WON'T BE THE LAST THINGS [sic] THAT F*CKS ME.
As a revolting pedant, I have to say that the very first thing that struck me was the typo in the slogan. The second was the really rather coy, though undoubtedly meant to be provocative, nature of the image – not even a nipple in sight (which was one of the things that made it hard to work out what was what). And the third was the use of the F-word – not because I find it unacceptable in itself, but because of its implications. Basically, it defines sex as something that is done by a man to a woman, or at least one person to another, rather than a mutual activity. And this is reinforced by the slogan relating it to the way in which cancer 'effs up' your life, so that sex is now seen as comparable to being attacked. This might be acceptable as an occasional fantasy, but it's really not healthy as a way to view lovemaking in general!
As someone who has survived breast cancer twice (though at 49 and 64) I might have found it useful had it been around
If you click on the online image (which is also being used on billboards), you will get to a campaign called Smash the Stigma at https://girlvscancer.co.uk/smashthestigma/, (part of a larger site called 'g_rlvscancer') with another cheeky slogan, this time minus typo. It offers 'a guide to post-diagnosis pleasure', covering not only breast cancer but other cancers which might for instance necessitate the use of a stoma; and a short survey of users to gain information on how people are negotiating intimacy after cancer. Now I'm all for helping women (and men) continue with satisfying lovemaking after cancer diagnosis and treatment, and it's refreshing to see someone acknowledge that younger women get cancer too.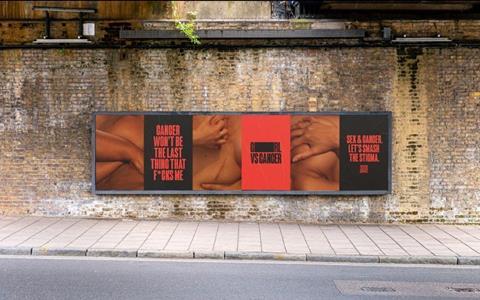 The wider site is full of detail of their campaigns, and short articles about various cancers, the effect of cancer on a marriage, its financial impact, getting pregnant after cancer, carers, what to say to one's friends with cancer. All this is very helpful, and some of the personal testimonies very moving. As someone who has survived breast cancer twice (though at 49 and 64) I might have found it useful had it been around.
I do understand that 'f– cancer' is a great way to express the anger at what has invaded one's life
I did however find the site difficult to navigate – the menu for instance being a series of different coloured and sized circles – and soon got tired of the liberal use of swear words. I do understand that 'f– cancer' is a great way to express the anger at what has invaded one's life, and that 'let's talk s–' a humorous way to approach bowel cancer, and perhaps humour is the best way to handle these traumatic matters (I certainly joke about my 'falsies'). But while this may appeal to young women in general, I wouldn't recommend it to Christians, who might be seriously offended – let alone its implication that sex is essentially all about one's own pleasure, rather than about building a committed relationship. And please, get rid of that typo…