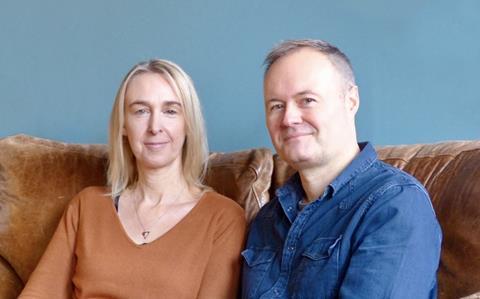 Claire, at one point in your marriage you planned to leave, so what was it that led you to that situation?
We had known each other for many, many years, having grown up in youth group together. Marrying young, and rather unprepared, I think I had a very idealised view of what marriage would be like. The reality was very different because Steve started work in a recording studio not long before we got married and he really wasn't around much at all. I think it was the build-up of year after year of feeling very lonely in our marriage. We tried talking it through every so often, but neither of us could see a way to change things.
Sadly, eventually I found somebody else who understood how I was feeling. It was another guy from our church. When he said he was leaving and asked me to go with him, I put my trust in him and left. That relationship didn't last very long, thankfully (I can say that now, looking back), but it was incredibly painful at the time. That was the impetus for everything happening in our marriage. We then had a very long journey of learning to forgive one another and rebuilding our marriage back from where it had got to.
Steve, how did you find out that Claire was thinking of leaving you and ending the marriage?
It probably wasn't until the door actually slammed and Claire had gone that I fully realised that we had got to that point. For a while I'd known there were deficiencies in our marriage. I just didn't know what to do, so had buried my head in the sand for way too long. I had become complacent in our marriage, thinking: there's nothing I can do about it, so we just have to make the best of it. I had a defeatist attitude, plus a denial of where we were at.
Claire, it must have taken a lot of courage and humility to be able to come back to Steve and say: "Hey, can we make it work?". How did you manage to do that?
It was only a couple of weeks in when the other guy came to me and: "God's been on my case, I've really noticed how I've been giving you a lot more care and consideration than I've ever given my wife and he's told me I've got to go back and show that to her." When the door slammed from that conversation and he was gone, I just crumpled. The first person I rang was Steve, which was probably quite a cruel thing to do. But he had been a close friend since about the age of 12 and we knew everything about each other, so it just happened without me even thinking about it.
Right from that moment, I knew that Steve was in. He was a record producer by that point and he just dropped the session that he was doing and said: "Look, I've got to go and sort this out." He came and collected me and actually helped me move to my parents for a few months. So I knew right from the word go that Steve wanted to fight for our marriage. He knew it was going to be tough, but he was all in.
Everybody in our church knew what was going on now, so actually it was more difficult facing people from church. Although he'd been complacent, I knew Steve loved me. He revealed Jesus' love to me in the way he responded to me right from the word go, but God had to work on him, too. There were issues that he had to deal with, including trusting me again, but I had to work through the hurt and loneliness and the question of whether I could I trust him again. Could I forgive myself for doing what I never thought I would do? But could I also forgive Steve for all those years of hurt and make those steps towards reconciliation? That's what I was wrestling with when I stayed with my parents for a few months…
To hear the rest of the interview click here. You can read more about the journey that Steve and Claire Musters went on with forgiveness and reconciliation in their book Grace-Filled Marriage (Authentic). Their book is being featured in the Big Church Read from 17 May – to sign up to receive the videos and discussion questions they have provided click here.

Claire Musters is a writer, speaker and editor. Her recent books include Grace-Filled Marriage and Every Day Insights: Disappointment and Loss. Claire is also the host of the Woman Alive book club and blogs at clairemusters.com
View full Profile