Liz Earle explains why she is lending her voice to fight climate change and global poverty, and why she is passionate about empowering women around the world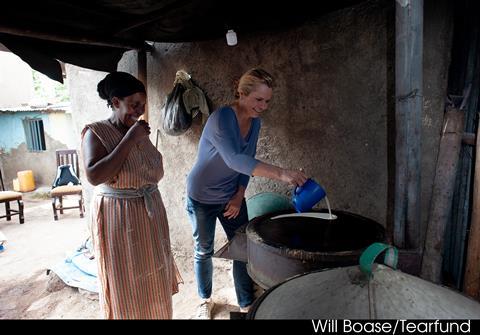 In Burkina Faso, 80 per cent of people rely on agriculture in order to provide an income for themselves and their families. The current climate crisis, drought and lack of resources and support challenge families as they face poverty and teeter on the brink of survival. This is just one example that Liz Earle, Tearfund ambassador, raises when discussing the harsh realities people in underdeveloped countries are facing today.
Becoming an ambassador
"It was when I started to travel to developing countries that I really saw the work of Tearfund in action. I have a home in Kenya. My family have connections in Kenya, and I used to source a lot of botanical ingredients from East Africa [for the Liz Earle skincare brand]."
Tearfund invited Liz to Ethiopia for a first-hand experience and encounter with the people and projects they are a part of. Liz explains what she discovered: "This project was about female empowerment – introducing their savings and loan scheme in villages particularly for women so they could build their own businesses. The women I met were particularly involved in Teff [an easy-to-grow and nutritious seed] farming."
Face to face with the consequences of climate change
Right now, women, girls and families in countries such as Ethiopia and Burkina Faso are suffering from the consequences of climate change and the environmental crisis. Western civilisations' usage of fossil fuels in combination with other systemic practices and styles of living have caused crop shortage and failure.
Tearfund spoke to a woman named Abigael from Burkina Faso, about the effects of climate change on her life: "When it was raining the trees were producing and it was good. We had oxen and other [animals]. With climate change they have all disappeared. Everything is over; we have nothing left. Climate change is the source of all our difficulties. There is no peace. We live in suffering."
Looking towards COP26
Liz shares what she is hoping will come out of the COP26 United Nations climate summit, which starts this Sunday 31 October: "People are talking about relying less on fossil fuels. Well, that's exactly what happens in developing countries. They don't have access to machinery very often, refrigeration and transportation. There's a huge amount we can do, like the Teff growing in Ethiopia, because it doesn't require any of that.
"[We need to] emphasise that you can become sustainable and develop nutritious food and crops with very little infrastructure and irrigation – because water has become a huge global crisis for all kinds of reasons. I think working well in a world that isn't reliant on fossil fuels is a positive focus. It would be great to see a little more of that.
"I'm really hoping that one of the things that we'll see coming out of COP26 is returning to a more holistic, regenerative approach to agriculture. That includes grazing animals on the land. We know grazing animals is important, as they capture far more carbon than they produce, which is important for maintaining the health of the soil."
What we can do
As we approach COP26, let us pray for the decision-makers and individuals with the power to influence both our communities and the communities most of us will never have the ability to visit and know. Tearfund and Liz Earle are wonderful examples of how we can use our varying availabilities and gifts to volunteer on the ground, in administrative roles or at home using social platforms to urge society to protect and preserve Christ and his kingdom, which begins with us stewarding creation well. Find out more about Tearfund's Harvest Appeal here.
What is COP26?
COP26, commonly referred to as "COP", is The United Nations Climate Change Conference of the Parties. The mission of the conference is to bring world leaders together to discuss the current state of the environment, the climate crisis, and how to tackle the global issue.
"The COP26 summit will bring parties together to accelerate action towards the goals of the Paris Agreement and the UN Framework Convention on Climate Change." (COP26)
This year the conference will be held in Glasgow from 31 October - 12 November. "More than 190 world leaders will participate, along with tens of thousands of negotiators, government representatives, businesses and citizens for twelve days of talks." (United Nations)

Macaila is a freelance writer and author of a sustainable and purposeful living blog. She blends her passion for stewarding the earth with her love for storytelling. Macaila often writes on ways we can foster deeper connections, working to integrate Christianity, environmentalism and the arts. Drawing inspiration from the world around her, Macaila hopes to leave her mark, making it better for future generations. Connect with Macaila on Instagram and her website.
View full Profile