Woman Alive's deputy editor, Jemimah Wright shares her encouraging testimony of faith in God's promises was while waited for her husband. Along with some remarkable stories of other women who stepped out in faith before they even knew who their partner was.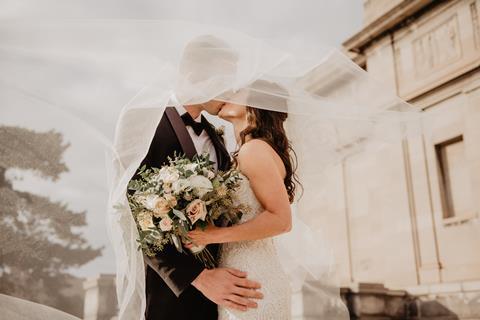 I remember in my late thirties hearing the testimony of how worship leader, Mia Fieldes met her now husband, Joren Dunnavant. Mia was single for a long time before meeting Joran. She had some quite clear promises from God that he had a husband for her, but in the natural there was nothing happening. Some days Mia said she was fine in the waiting. She moved from working with Hillsong church in Australia, to Nashville, Tennessee. However when she was feeling down and lonely, she held onto Hebrews 11:1 "Now faith is the substance of things hoped for, the evidence of things not seen."
Faith is an action. So in faith, Mia went to buy men's aftershave, for the husband she had not yet met. She justified it by saying: "It's for someone!" She ended up buying a few different things, as an act of faith, to remind her soul, and encourage herself in the waiting. I have a friend who did something similar. When she was 40 she brought her wedding dress. She was very single at the time. Then she did something even more extreme. She had to go for an operation, and told the nurse when going for a pre-op meeting, that her husband would be picking her up from the operation, which would be in a few months time. At that time she had not met him yet, but she had felt God say she was going to meet him by the end of the year. She did meet him, and he did end up picking her up from hospital.
In faith, Mia went to buy men's aftershave, for the husband she had not yet met.
Now, you have to be careful who you tell these faith acts too, because many people will tell you you're crazy but during that time, I had a dream. I was standing in front of a big steel immovable door. It was massive, and I was trying everything in my own strength to open it, but it would not budge. Eventually I gave up, and despondent sat on the ground with my back to the door. I then woke up. "That's what it feels like to find a husband and get married," I told God as I got out of bed. "It's impossible."
I went on with my day, but that evening I went to a worship night at a friend's house in London. A girl said she had a word for someone in the room. She said: "I have a picture of a big steel immovable door. You have tried everything in your own strength to open it, and it's impossible. God says: 'It's not by might, its not be power, it's by my spirit.' He will do it, you just have to let go." (Zechariah 4:10).
I was astounded. The girl had described the exact door I had seen in my dream, and God had spoken into my situation, for what felt like the first time. God said it was not by my strength, but he was going to do it. So, I decided I was going to make an act of faith, like Mia and my friend had. I decided to buy something for my future husband. Not to manipulate God, but to declare to myself that I believed he could do it.
I decided to buy something for my future husband. Not to manipulate God, but to declare to myself that I believed he could do it.
I bought a blue linen shirt, size medium. I hung it up on my wall, in my tiny bedroom in London, as a reminder of what God was going to do. But as the years went by, nothing happened. It felt like the shirt taunted me. Fast forward to 2021, I met and married my husband in six months. When we got engaged, I told him about the shirt, and said it was a size medium. He looked disappointed and said it probably wouldn't fit as he was a size large. However when he tried it on, it was a perfect fit. My faith was rewarded!
All this to say, this is not a formula, but God loves our faith! It says in Hebrews 11:6 without faith it is impossible to please God. So if you feel like God has spoken to you about a future husband, and you can't see where he would be coming from, maybe take a step and do something in faith. Strengthen yourself in the Lord, and remember he is able to do immeasurably more than you can ask or imagine.

Jemimah Wright is Deputy Editor of Woman Alive. She has authored three biographies, and most recently is the author of the historical fiction novel Isabella's Voyage.
View full Profile