Pilgrimage is an incredible opportunity for spiritual growth and deeper connection with Jesus. Here, author Daniella Rushton shares the three most important things she learned on her trip to Jerusalem.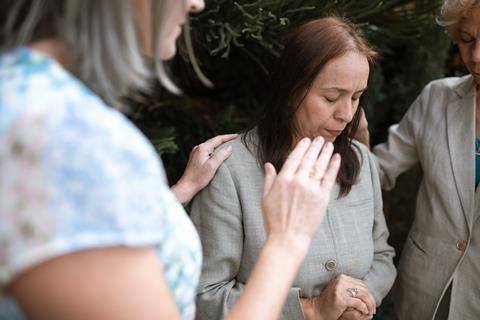 I hadn't thought about the three most important things from our tour, until I was asked to write about it by the team at Woman Alive. Very soon I began to reflect on our ten-day tour and the places we had visited; our cultural time in Tel Aviv. Learning and appreciating the Jewish way of life. Our day trip to Nazareth and my childlike wish to walk in Jesus's youthful footsteps. The daunting yet mesmerising few days of Christ's passion in Jerusalem and lastly our enlightening morning in Bethlehem, in the crypt of the nativity, Jesus's birthplace. All the memories came flooding back, abounding once again. I pondered some more and began to intuitively listen out for God.
1. God comes to us in others
As I prayed and pondered, I realised it was a call for me to dig deeper. I saw how God had come to me in others, prior and during the Holy Land trip. In my husband's suggestions of things to do and in the pilgrims we met. I have since come to learn from this, that there is power in staying alert to others but also in having the wisdom to discern situations. Something I am constantly working on.
2. God's loving correction is constant
If we are gracious enough to stay alert to his grace. The Holy Land, ironically for me felt unforgiving, exposing my darkness, my sins in the areas of life I wanted to wash clean and renew.
Such a holy place shone a spotlight on much needed areas of improvement, on personal areas of my life I now realise I have overlooked. Since returning from the Holy Land, I have been under God's constant correction and find myself willing to accept areas he so brazenly highlights. This self-examination, I have come to realise, began on the very first day of our tour.
3. God wants us to share and spread his word
Surrounding oneself in the beauty of "the word" in the Holy Land created an urge for me to share my experiences with loved ones, family, and friends. I felt an eagerness to report on what I had seen and felt a need to share what wasn't mine to keep. This awakening in my activity to report on my experiences, made me realise the importance of sharing the word of God, as well as using his given gifts to spread his word.
I hope I may use these lessons in all areas of my life, including my fantasy books, fairy tales and poetry. As Jesus told stories in the form of parables, I hope these three lessons will fuel the power of belief in my storytelling, helping me bring my readers closer to him, and thus to God.

Daniella Rushton is a Christian writer of fantasy books, fairytales and poetry, including The Panther Tales Trilogy. You can connect with her on Instagram @thepanthertales.
View full Profile