In the midst of heart-break, Imogen Macdonald heard God tell her to set up a profile on notorious "hook up" dating app Tinder. She was reluctant, but decided to obey… and that's when she met Kyle.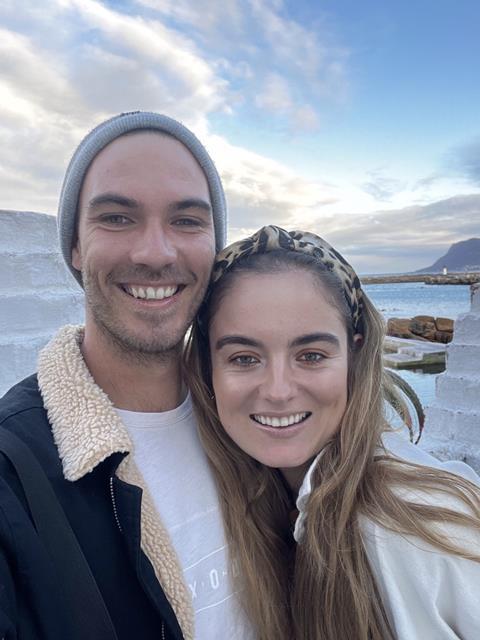 Some of you may be wondering: how did you know it was God calling you to download Tinder? And that's a journey within itself. I was 22. Just finished with university and I was totally confused about whether or not God existed. It can only be the work of the Spirit that this South African girl ended up in Mexico with Youth With A Mission (YWAM).
Six weeks of missionary living passed by and I was still unsure as to whether or not Jesus was real, alive and true. Until one night, I boldly said to God: "If you're real, show one person (me!) on this planet that you are." I was overcome with peace and joy in a tangible way that I knew, that I knew, Jesus was who he said he was. And from then on, my life changed.
I started walking with Jesus. I think it was the following week that we had a teaching on intimacy with God. A policeman from New Zealand flew over to Mexico and taught a group of us what it meant to walk intimately with our God. It was this week that I started the journey of hearing the Lord's voice. It started off with a 20-minute love note in which I tried to hear the Father's heart toward me. It then progressed into conversation. Naturally, I have got it wrong and will continue to get it wrong but, in his kindness, he chooses to overcome my humanity and speak to my soul.
I made sure my email address didn't have my surname so I wouldn't have to change it when I got married.
I have always been romantic. At 12 years old, I made my email address my name without my surname. This was a strategic move, so I wouldn't have to change my email address when I married. However, romantic love did not come easily to me, and I was single until I was 26. That was 14 years of longing, waiting and trusting. I tasted first love, and then experienced heartbreak. I was left confused and questioned God in the suffering of my heart. Right until God spoke to my spirit and told me to download Tinder.
"Tinder! Are you sure God? It just seems so irreligious!" I knew Tinder had a reputation as a "hook up" app. Why didn't God tell me to go on one of the Christian dating sites? It didn't make sense. But with a feeling of peace and excitement, I downloaded the app. Six days went by, and absolutely zip.
On the seventh day, I had a beautiful time of soaking worship. As I returned to earthly realities, I went onto Tinder. Almost immediately I saw a profile of man named Kyle. He was extremely kind on the eye and more importantly and wildly unique for the Tinder world; blatant about his desire for Jesus. His bio read: "God first."
He was wildly unique for the Tinder world as he was blatant about his desire for Jesus. His bio read: "God first."
Immediately, I swiped right. We matched. And we met that evening. Our first date was a church service. And the rest is almost seven months of dating. I see the fruit of his picking. I get to do life with a man whose heart is set ablaze for Jesus. I receive love in abundance. I get challenged to see my flaws and guided to become more like Christ. If I hadn't been obedient to God I wouldn't have met Kyle, as he wasn't on any other sites. He later told me he was about to leave Tinder, but something stopped him, and the next day we matched. Sometimes when God asks us to do something, it seems crazy, but obedience is always the best option.

Imogen Macdonald is studying to be a counsellor as well as starting a locally crafted, eco conscious, luxury candle company called The Vine, based in Cape Town.
View full Profile