Writer and author of Notes On Love, Lauren Windle, shares her advice for those who've made a romantic resolution.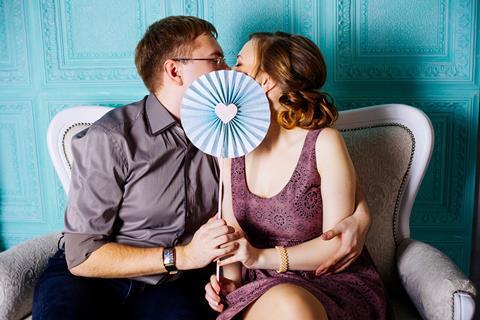 January brings with it the promise of new routines, new habits and the ever-elusive "new you". For some this means shunning the snooze button, others commit to face-planting multi-vitamins every morning and a brave few decide it's time to hit the dating scene once again.
If this is you – I applaud you. I believe God answers prayers, but often not with a lightning bolt, but a strategy. A lot of Christians pray for a partner and then wait, hoping for Prince Charming's car to breakdown just outside their house and for him to desperately need to use their phone to call the RAC. In this fantasy Prince Charming doesn't have a mobile. If you were buying a house, you would pray for sure, but you'd also look on Zooplah. If you wanted a new job, you would pray – of course, but you'd also scour LinkedIn and run some searches on Reed.com. What I'm saying is, God's here. He's in it, but you should probably get moving and see where he takes you.
So here is how I believe you can dip your toe back in the dating pool without losing heart, getting burnt out and actually enjoying yourself.
It doesn't have to be online dating
It may seem like your only option to meet new people is to go online, and in some areas of the country – that could be true. But I've heard a lot of people saying they've "tried everything" when they really haven't. They assume their married friends don't have anyone to set them up with. But they've never asked. They say they're turning up at church events – but they mean their own church's prayer afternoons and home group. They haven't looked at other churches' non-Sunday activities or lectures or socials in their nearby towns and cities. They say they're socialising, but they haven't thought to host their own events. All of these things build your Christian friendship network and therefore your opportunities to date.
Actually ask your trusted married friends to go through their phone book and suggest someone. It doesn't matter if they think you'll fancy them or not – if you've got mutual friends you'll manage to muster up some decent chat for an hour and a half. Next don't just go to your church's events. Check out festivals, weekends away, social evenings, teaching and courses at other churches in your area. Show up and chat to people – not just men. Accept the invite when they say, "some of us are going for a drink after, if you'd like to join?" even if it feels like pulling teeth for the first 15 minutes. And host your own events rather than waiting for others to do it for you. Start by inviting your network (and maybe a few from those other churches you've been attending). Don't worry if there's no romantic interest on the guest list for now, just enjoy a giant chilli con carne and a game of Settlers of Catan – it's what us Christians do best.
If it is online dating, phone calls are your friend
If you do decide that online dating is the way forward, operate an open-handed matching policy but a stringent dating policy. Match with every "yes" and "maybe" you come across. You really can't tell if you will fancy someone from their profile so keep it wide. Exchange a few messages with each match and then suggest that you catch up with a phone call. After a 20-minute chat, you will be far closer to knowing if there's a connection. If there is – set up a date. If there isn't – politely say so and move on.
It's ok to flirt
Christians are terrified of flirting. Will they come across as too forward? Will they show their hand too early? Will they give the wrong impression? I'm not saying to play footsie under the table and lace your conversation with sexual innuendos, but I am saying it's OK to indicate that you're interested with your actions.
Laugh (even when it's not that funny), make eye-contact, make the occasional bit of physical contact (in a PG-13 way). Be playful, tell jokes and offer affirmation. Sometimes people want to ask you out or ask for a second date but they just need to feel a little more confident that they'll get a positive response.
Take the opportunity to tick off your bucket list
Actually showing up to a date is often the hardest part. It's fine once you're there but if you've had a run of disappointing rendezvous', if can be hard work to drag yourself to another. You will have more fun if you make it a double date, why not ask them if they have a friend and say that you'll bring one of yours.
Alternatively, write a list of everything you want to do this year and suggest one of those activities. That way, if the person isn't your cup of tea, you'll still get to try something you've been meaning to check out. That could be a new restaurant, or Go Ape or axe throwing or renting a tandem bike. I put a different quirky date idea at the end of each of my newsletters if it's helpful… but I'm sure you can come up with some fun ones of your own.
Check in with yourself – but not in a cringe way
Finally, make sure you're listening to yourself and to God. If you're tired, it's OK to take a break. You don't have to slam through as many frogs as possible to maximise your chances of finding a prince. That would just be exhausting. Pray, ask God to direct you on who to date, when to date and when to take a step back. Make sure you're taking positive steps to look after your mental health – it can take a knock in the fickle world of swiping left and right. And most of all, don't panic. You're not running out of time because God doesn't run out of time. If you're praying and listening to him, you're where you're supposed to be. And you honestly wouldn't want to be anywhere else.

Lauren Windle is a journalist, author and presenter who focuses on faith, recovery and love. Her debut non-fiction book Notes On Love: Being Single and Dating in a Marriage Obsessed Church (SPCK) is out now.
View full Profile