Finding a partner is a challenge at any age but Maxine Hallett found dating in her 50s to be a totally different ball game to when she was in her 20s. Here she explains how she 'got back out there' and how she found the difficult world of online dating.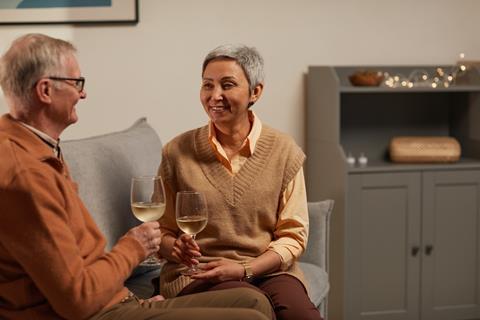 With the realisation that my teenage daughter now needed me less, I began wondering if God intended me to stay single and do life alone. After praying into this, I got the sense that God wanted me to confidently embrace my self-worth. So I decided to dip my toe into the world of dating.
Dating in my 20s, although it felt hazzardous then, was so much easier - hooking up in bars and clubs. Catching the eye of someone you found attractive, dancing, laughing and probably drinking too much. Now the only place to meet a potential partner is through a dating app. I asked myself where to start… Silver Singles? That sounded so old! Plenty of Fish? At least Jesus did provide Plenty of Fish so that could have been a good one to start with. However, it felt quite horrific that my outcome would be determined by the swipe of a finger; left or right.
I feel so young and vibrant inside yet mortified when I catch a glimpse of myself in the mirror! The outer layer does not compliment the feelings of youth that I still hold on to. That made uploading photos a tough experience. I must have deleted 100 photos to get the two and a half decent ones. Then I had the challenge of deciding what I would say about myself. I am a Christian, I like walking, not so keen on socialising in big groups but does being a loner sound appealing? It was such a task. I opted to keep it minimal so that people would have to ask questions to find out more. "I have a whippet, a horse and I am a Christian. Looking for friendship." And sent. It's gone – now to sit back and wait.
I know that it's not a healthy outlook, but I felt pleased with myself and triumphant when my phone started to ping and the messages came in! Sitting there with no makeup on and in my PJs texting strangers – I would not have done that in my 20s! Even my daughter commented on how busy my phone had suddenly become.
I am loveable because God loves me. I like and embrace this woman with her creases and wrinkles.
After some conversations with a few men, I started to feel anxious and worried. Did I really want to start dating again after a decade of being single? Yes, I was feeling confident and thanks to God's work in and through my life, I was probably the best version of myself that I had ever been. I am a child of God and know that I am loveable because God loves me. I like and embrace this woman with her creases and wrinkles. However, I asked myself if I had the headspace to embark on an emotional liaison with another human? I was far too busy, had too many commitments, or was I just looking for excuses out of fear?
I narrowed the conversations down to three men that could be suitable candidates. One was a Christian and did similar work to mine, but I didn't feel any spark or connection. One was a bit too full on but chatty. The third seemed alright but then sent a photograph and it was nothing like his profile picture. Should I compromise on what I would like in a partner? Is this what it is all about when you start dating in your 50s? Should I be telling them in our initial conversations that I have a false tooth, or should I wait until the first date? Gosh what a minefield. I kew what I needed to do, pause, pray, and give it over to God for wisdom and direction.
Should I be telling them in our initial conversations that I have a false tooth, or should I wait until the first date?
I prayed: "Dear Lord, do I start a new relationship having to compromise? We have spent a decade working on my self-worth and wellbeing. You have helped me to become a warrior. There is no compromise when it comes to your love, your time, your patience and understanding. Help me to look for what is important to me and give me the wisdom and strength to walk away from unsuitable matches."
The next morning, I made the decision to come off the dating site even though I only joined a week earlier. Sitting outside the field while feeding the horse, and just before I deleted my profile I got a ping: "Hello, I have got a whippet too!"
We are now two months into a relationship and still navigating and adjusting to our busy lives, adapting and getting to know each other but there has been no compromising. Plenty of laughter and emotions stirring that I had thought were dead and buried. He is not a Christian but is asking me questions about my faith and reading my articles, we still have a long way to go and taking life slowly but enjoying one another's company and feeling good about the future.
Dear Lord, we thank you for new relationships. We thank you that we can share the good news that you are our saviour. As we dip our toes into new waters, we do so with the confidence that all your children have, that you are with us, holding onto us as tightly or as gently as we need. If we choose a singleton life, we are not alone because you walk with us. I pray that you give us the reassurance that we need, the wisdom and the guidance that we seek. Open our eyes Lord and fill us afresh with your Holy Spirit. Amen