Instead of splashing the cash on plastic toys or fast fashion, check out our ethical gift guide for all the best sustainable and forward thinking gifts. With presents for her, him and the tiny terrors, we've got you covered this Christmas.
No one wants to pile their homes up with yet more tat that gets looked at for all of five minutes before it ends up in the graveyard of unwanted presents. But getting the right thing and avoiding wasting both money and the materials and resources that went into the product is tough.
Here are some gift suggestions that will give you a warm glow as you support a sustainable and eco-friendly company and get some gorgeous pressies in the process.
For grown-ups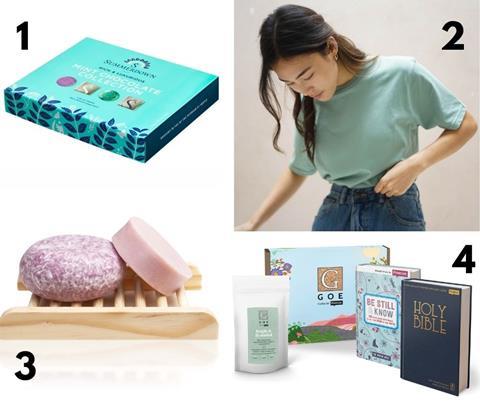 (1) The Ultimate Mint Chocolate Collection, £8.50 - Summerdown
I love Summerdown not only for the gorgeous flavours (they're racking up the Great Taste awards every year), but because they're a family run business. They farm their mint in Hampshire in a slow and sustainable way, describing the mint fields as a 'peppermint playground for wildlife, insects and flowers'. They don't sell on Amazon, choosing instead to opt for smaller boutiques and shops. But you can also order on their website for delivery all over the country.
(2) Sage Green T-Shirt, £9.99 - Yes Friends
Ethical clothes can sometimes be a bit behind on the trends and come with a hefty price tag but new brand Yes Friends tackled both of those with their t-shirts and hoodies. Made from organic Fairtrade cotton, the people making the clothes are paid a fair, living wage. The company has a whole section on its website dedicated to debunking the myth: 'It's expensive to pay living wages.' Plus the colours are dreamy.
(3) Into the Deep Shampoo & Conditioner Bar Home Set, £20 - How about Nope!
These gorgeous shampoo and conditioner bars have no harsh chemicals, aren't tested on animals and all their packaging is bio-degradable. After realising that all hair products either contained chemicals that weren't good for your hair or were packaged in a way that wasn't good for the environment they set about to change that. Plus one of their bars lasts as long as three 250ml bottles - just without any of the plastic.
(4) Garden of Eden Coffee and Bible Gift Pack, £39.99 - Premier Christian Marketplace
Ideal for a loved one who starts the day with a steaming cup of coffee and some Bible time, this gift pack is the perfect ethical, faith-filled festive gift. The pack includes a bag of Bright and Beautiful coffee beans, a Premier Bible and a Be Still and Know Devotional. Each bag of coffee sold not only helps to fund sustainable projects in coffee grower communities but also enables someone in need to receive spiritual and emotional help through Christian helpline Premier Lifeline.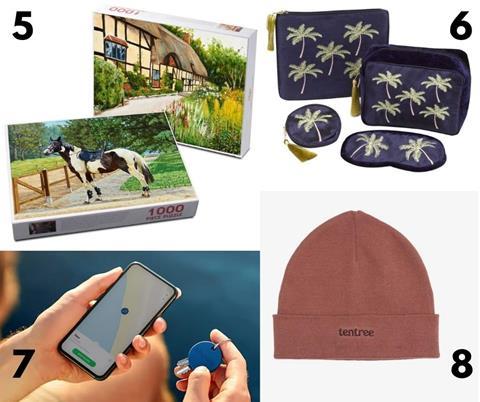 (5) Piebald Horse Jigsaw by Mariusz Maczka, £12 - MFPA
In lockdown I realised the therapeutic benefits of a puzzle. But instead of lining big business' pockets why not gift someone a stunning puzzle from the Mouth and Foot Painting Artists. The MFPA has partnered with more than 800 global artists with disabilities who create stunning artistic designs using just their mouths and feet.
This empowers the disabled community allowing the artists to lead financially independent lives, while giving representation to the disabled community. Plus the pictures are absolutely stunning.
(6) Eye mask, pouch and make-up bag, from £5.99 - Oxfam

This gorgeous set of midnight blue satin pamper products from Oxfam are both gorgeous and ethical. They're handmade in India and commissioned by Delhi-based company Aspiration. They are a Fairtrade group who employ artisans to handmake beautiful products and they aim to improve the welfare of artisans and revive the old crafts of India. The assist people in getting out of poverty and support their craft with interest-free loans, raw materials and education.
(7) Ocean edition key tracker, £26 - Chipolo
Ideal for that forgetful person in your life, Chipolo is a handy keyring that allows you to track your keys. It's made from recycled fishing nets and for every purchase they donate $1 towards the ocean clean up effort. You can use the Chipolo app to ring your misplaced item or double click on Chipolo to find your phone. Plus you'll get a notification on your phone if you've left your keys behind!
(8) Embroidery Kurt Beanie, £30 - tentree
Yet another clothes brand that is nailing it on style and sustainability, I'm loving tentree. This snug beanie is made from ethically sourced materials in a sustainable way. Plus they plant TEN trees for every product sold, their count is up to a whopping 66 million so far but they hope to reach 1 billion by 2030. Their reforestation efforts have regenerated whole communities.
For little ones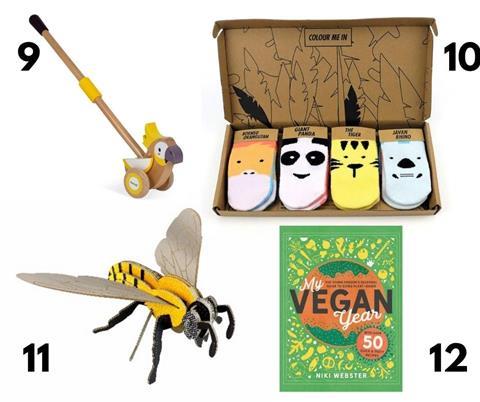 (8) Janod Push Along Cockatoo - In Partnership with WWF, £24.99 - Yes Bebe
This sweet push along toy is great for the very diddy people in your life. It was developed in collaboration with WWF and supports their efforts to protect the environment and biodiversity. The idea is to inspire the next generation and encourage them to stand up for wildlife and the natural world in the future. A percentage of each sale goes towards WWF's charitable activities.
(9) Baby socks, £15 - Critically Endangered
Another colab with wildlife charity WWF, these super soft baby socks help to protect some of the world's most endangered baby animals. For each purchase they help the World Land Trust protect 20 metres squared of rainforest and 10% of every sale goes straight to WWF UK.
(10) Build Your Own Honey Bee, £9.99 - Build Your Own
For slightly older children, you can inspire them to discover and learn with this Mini Builds Honey Bee. It's easy to assemble with slot in piece so no glue or mess. It's made using 100% sustainable cardboard and paper, so is not only fun and engaging to play with, but also eco-friendly.
(11) My Vegan Year: The Young Person's Seasonal Guide to Going Vegan, £14.99 - Waterstones
One of the best things we can do for the environment is cut down on our meat consumption. Well if your (older) children want to try their hand at some vegan dishes, this cook book may be the one. The beautifully illustrated recipes show young people how to create gorgeous dishes with vegetables as well as educating them on seasonal ingredients.

Lauren Windle is a journalist, author and presenter who focuses on faith, recovery and love. Her debut non-fiction book Notes On Love: Being Single and Dating in a Marriage Obsessed Church (SPCK) is out now.