After years of trying to love others and failing, Joyce Meyer learned that her main problem was that she didn't love herself. She shares how God helped her step free from the comparison trap and embrace who she truly is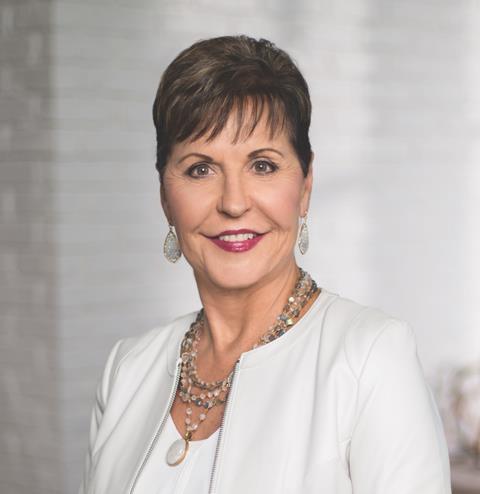 Learning to accept and love ourselves is the pathway to authenticity, because if we reject ourselves and refuse God's love for us, we will not be free to be ourselves. Instead, we will live a life of pretence, choosing to do what we think will make us acceptable to others rather than what we honestly believe we should do. Even though our hearts scream no in certain situations, we will find our mouths saying yes to the things people want us to do.
Let me ask you: Do you love yourself? To love yourself is to accept the unconditional love of God with your whole heart, to see yourself as he sees you, and to rejoice and be at peace with who he has created you to be. I am not talking about loving yourself in a selfish or self-centred way, but loving the unique you that God created you to be. This healthy self-love is not based on what you do right or wrong, but on who you are in Christ. Truly believing that God loves you unconditionally is the foundation for relationship with him, with yourself and with others.
The importance of loving ourselves
No one will love everything they do, but we should all love who God has made us to be. Depending on the translation, the Bible says at least eight times that we should love our neighbour as we love ourselves. It is so significant to God that we love ourselves that he based another of his most important instructions to us − to love others − on this foundation. And he didn't say it just once, but multiple times.
Why is it so important that we love ourselves? First, if we don't love ourselves, we reject God's love for us. Second, if we don't love ourselves, we cannot love God or anyone else. The Holy Spirit fills us with God's love, and he wants us to let that love flow through us back to God and out to others. God's word says that we love him because he first loved us (1 John 4:19). If we have not received God's love, we have no love to give to anyone else, because no matter how much we want to love people, we cannot give away what we do not have.
Experiencing revelation
I spent many frustrating years as a Christian trying to love others and failing until the Lord showed me that my problem was that I had never truly received his love for me.
After receiving this revelation, I spent one year studying, meditating on and confessing aloud God's love for me. At that time, I had a forty-year history of not liking myself, let alone loving myself, so renewing my mind in this area took time. At first, I felt guilty trying to love myself because I was keenly aware of my flaws, but eventually I learned that I could love who I am without loving everything I do. We can all work with God toward positive change in our behaviour without rejecting ourselves or viewing ourselves as a failure because of our imperfections.
For many years, I tended to do what I thought would please other people instead of what I genuinely thought I should do or wanted to do. Since I didn't love myself, I desperately tried to get the love I was missing from people by allowing them to control and manipulate me. I thought that as long as I did everything they wanted me to do, I would have their love and acceptance, but I soon found that the minute I didn't please them, they rejected me. This experience helped me understand the importance of receiving God's love for me and loving myself in a healthy, biblical way.
Believing what God says about you
The Lord makes many other wonderful statements about you in his word, and believing them will change your life. If God − who is perfect − loves and accepts you, there is no reason for you not to do likewise. We usually determine whether or not we are lovable based on how we feel, but our feelings are always changing. Therefore, we cannot trust them to represent the truth. God and his word are truth, and it is impossible for him to lie (John 14:6; Hebrews 6:18). We can depend on him completely.
Pause and reflect
We all need to face our struggles in order to be set free. Take a few moments to ponder these questions to help you face any issues that may be holding you back.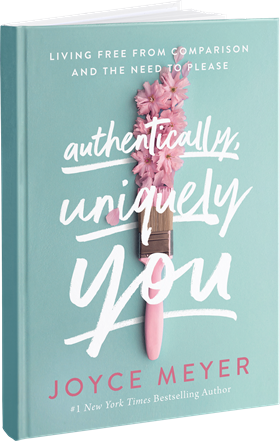 • Do you believe that God loves you?
• Do you love and accept yourself?
• Are you a people-pleaser?
• Are you at peace with yourself?
• Do you fear rejection?
• Do you compare yourself with others?
This is an extract from Joyce Meyer's latest book Authentically, Uniquely You (Hodder & Stoughton).