Lucy Pieterse writes about the two women who equipped her with the tools to walk her seven-year-old through mental health issues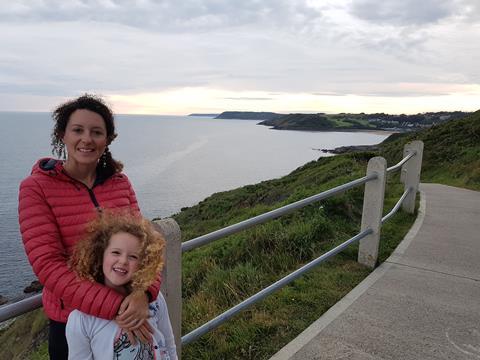 The moment I saw the advert I knew I had to respond. It simply said: "Are you a parent/carer looking after a young person
with anxiety?"
"Yes," I thought to myself, "that's me."
My seven-year-old daughter has low-level separation anxiety. Daytimes are not too bad: school, play dates and ballet lessons mostly go smoothly. But her anxiety really kicks off when I suggest a babysitter for the evening – or on the rare occasion my husband and I plan a weekend away.
This low-level anxiety has grown over the years and, rather than helping my daughter to deal with it, historically I've just cancelled evenings out and given up on babysitters. It turns out this is called 'avoidance'. Meeting up with the incredible duo team, Alice Maynard and Maxie Celliers was a turning point in our story.
Alice and Maxie are wellbeing practitioners. They work for YMCA Exeter and use Cognitive Behavioural Therapy (CBT) techniques and goal setting to build up emotional wellbeing and resilience in children, young people and their families.
"I love working with parents," says Maxie. "I love how we can give them amazing skills that will stay with them. And how the change impacts the whole family.
"It's the most amazing feeling when you finish a case and you know it's made a difference."
From domestic abuse support to empowering young people
Alice and Maxie met working on the Devon domestic abuse support service. Sitting in the sunshine they laugh and joke easily together, but grow serious as they remember the daily work.
"I remember saying to my manager that even if it rained pigs I wouldn't notice," says Maxie. "We were so busy and the hours flew by. It felt really important to answer every single call because you knew that there were so many people that needed help."
They never knew who would be at the end of the phone, and how urgently help would be required. "We were hearing really dark stuff every day," says Alice. "We had to be intentional about self-care, otherwise it was easy to burn out. I was commuting daily for about an hour each way so I would pray out loud on my journey home and try to get everything out of my system."
Alice and Maxie say their faith has shaped their work and given them the desire to help people and make a difference. It was this desire to make a difference at an early intervention stage that led both Alice and Maxie into their roles at YMCA Exeter.
Today, Alice and Maxie work with parents and children aged 5–18 years with low moods, anxiety and behavioural difficulties. The work is hopeful, bringing preventative measures through therapeutic steps.
"Often there's a lot of shame, stigma and isolation attached to wellbeing," explains Alice. "But there is hope. And hope gives people motivation. That's a big part of our work."
Breaking a vicious cycle
So back to avoidance. It turns out that while I was giving my daughter instant relief when I cancelled a night out, in the long-term it was building on her fear.
And who'd have thought that responding to anxiety with reassurance doesn't help your child but can become addictive in the long term?
These were just two of the things I took away from Alice and Maxie's anxiety workshop. But the learning continued. 'Be curious' is my new favourite phrase. Rather than gently reassuring my daughter that everything will be OK, instead I learned that I need to ask questions, such as: "Why do you feel like that?", "What do you imagine will happen?", "Has anything like that happened before?"
The idea behind this method of questioning is to help children balance out their thoughts and to explain in their own words what's causing the anxiety. It sounds so obvious, but I was blown away when I put this into practice.
My husband and I were going away for two nights, which was the first time in four years. My daughter was getting increasingly anxious as the weekend drew near, crying at night and struggling to sleep. I began to think we should just cancel the weekend.
But then we started 'being curious'. I wasn't surprised by any of my daughter's answers to my questions, but I had to constantly remind myself not to reassure her; rather just invite her to share her thoughts.
She cried as we said goodbye and I left thinking we should have stayed at home. But when we got back, my daughter was in a great mood. She happily told us about all the fun she'd had and didn't mention any worries.
I waited until the next day before carefully asking if she'd had any tricky moments. I was amazed by her response. "The first night I was really sad. But I asked myself: 'What am I worried about?' and when I couldn't think of anything, I just decided to go to sleep."
Finding a new rhythm
Alice and Maxie see this kind of breakthrough regularly. Their job as therapists is to work out what the vicious cycle is and how to help a young person to break it. They focus on changing thoughts or behaviour – especially avoidant behaviour. For Alice and Maxie, it's all about taking steps to tackle that behaviour.
The duo have worked with young people who are scared to move on from school to college, empowering them to take that next step into education. They've worked with children and young people who don't feel able to go out anymore, as they are either struggling with anxiety or depression. By the end of the sessions they're going out and seeing their friends. And many families who were adversely affected by the difficult behaviour of one child are now able to take car journeys and spend time together.
Through the wellbeing sessions parents, children and young people are coming away with hope and steps to improve, which has certainly been our experience too.
It's never too early to ask for help
Alice and Maxie share some of their top tips for parents and carers with children struggling with low mood, anxiety or behavioural difficulties.
1. Invest in self-care You'll have more patience and energy for your child if you look after yourself. It doesn't have to take long or be something massive; even just five minutes listening to the birds in the garden can help.
2. Children learn from their parents If you're feeling stressed and overwhelmed model to your children how you regulate and help yourself.
3. Zero judgement If your child is struggling with OCD the thoughts they are having can be scary. Maybe the thoughts are centring around a disaster or about hurting someone – or could be sexualised. Experts understand that these thoughts are not in your child's control so there will be no judgement. Don't let shame be a barrier to getting support.
You can access support through: kooth.com, youngminds.org.uk or contact your GP to find out about local services.

Lucy Pieterse is a freelance writer, wife and mum of two, enjoying the juggle of work and life in the beautiful West Country
View full Profile