We can celebrate the positives that gaming holds for young people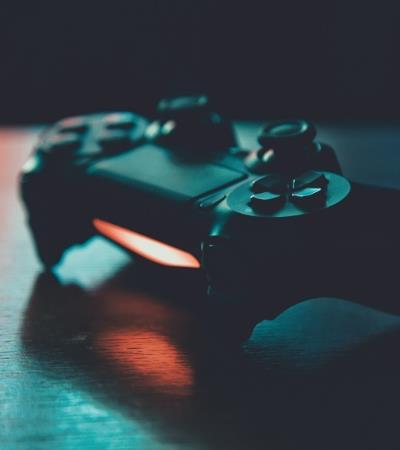 Words: Lucy Pieterse from YMCA Exeter
One cold evening, before the first lockdown hit, I sat in a church hall with over 50 parents and carers of young people. We were gathered to hear Andy Robertson, a national journalist and gaming expert, share research and advice from his new book, Taming Gaming (Unbound).
Building connections
This fascinating evening, hosted by YMCA Exeter, helped parents and carers move away from negative attitudes associated with gaming, and instead to see how they can use video games to help build relationships and connections with young people.
One father travelled 50 miles to attend the event as he wanted to understand how to support his son who enjoys gaming and is on the autism spectrum.
A local, single mum explained how she was "trying to see the good in video gaming". She admitted that she viewed it as a negative waste of time. "I need my perspective shifted," she explained.
Little did we know that one month later the bizarre world of lockdown would hit. This forced us all to increase screen time simply to connect with family and friends.
A recent article in the The Guardian stated that: "The UK video games market hit a record £7bn last year as lockdown fuelled an unprecedented boom in the popularity of mobile games, consoles and virtual reality headsets."
That's great for the gaming industry, but how has this rise in video gaming, particularly among under-18s, left parents feeling? And how can we ensure that as the guardians of young people, we are celebrating their passion for gaming and encouraging them to do it in a healthy way?
Focusing on the positives
Lockdown has seen a significant rise in screen time for children and young people. For many parents I've spoken to, that's left them with a lot of guilt and the feeling that they need to motivate their children and young people to be involved in more 'wholesome' activities – away from screens.
As a result, gaming can feel like a battleground between parents and children. But it doesn't have to be that way.
At YMCA Exeter we're celebrating the art of gaming with our young people because we've seen firsthand how it builds connection, encourages teamwork, reduces isolation and boosts mental wellbeing. It allows for internal processing time and it teaches young people to make life decisions.
"Over 25 per cent of our 62 residents living in supported accommodation have connected with us through gaming since the pandemic began," explains Zac Spencer, YMCA Exeter's community connector. "It encourages sharing over a mutual interest and hobby (just like someone might join a tennis club or community choir). And it's been a safe way for people to talk about how they are feeling."
Embracing a new take on gaming
So how do we emerge from a year of lockdown and help our young people to embrace gaming in a healthy, balanced way?
"Now is the perfect time to sit down with your young person and talk about what they would like their next two weeks to look like," says Zac Spencer. "We've had limited opportunities for a year, but now that we can see friends face to face it's about encouraging a balanced lifestyle with gaming in a healthy way.
"Your young person may be feeling anxious about meeting up with friends in person. They may have lost confidence, or they may be scared of getting sick. But by starting a positive and collaborative conversation, just focused on the next two weeks, you can talk about their passion for gaming and also chat about other things they might like to get involved in."
HOW TO SUPPORT HEALTHY GAMING
These helpful suggestions come from parents and carers.
• Move gaming into a public space
If you're worried about how much time your child is spending in their room, then consider moving the gaming console into a public room. That will help you monitor what is going on, and the language and attitudes they are encountering. It will also provide you with opportunities to chat about what they 're playing.
• Know who they're gaming with
Go through the list of friends they game with together and talk about who each person is. Check if they 're a similar age and if they 're someone they would normally play with.
• Discuss age ratings
This is a tricky area as no one wants their child excluded from a game, but equally you need to know what they 're seeing. Decide on what you're happy with and what the no-go areas are. Discuss the age ratings together and make decisions on what games they should be playing.
Rhi Carpenter, mum of two teenage boys, shares her take on gaming and the impact of lockdown.
When lockdown hit, the rise in time my boys spent gaming felt catastrophic. I felt like they were losing all their God-given skills and just sitting for hours in front of a screen. It set all my alarm bells ringing.
I had to tell myself not to panic and to remind myself that the fundamental part was my relationship with them. If we were arguing then that would ruin the relationship. I had to manage my anxiety and trust God to lead me in my role as a parent.
Throughout this whole year I've learnt that gaming can be wholesome, but there needs to be boundaries put in place. I've also learnt that I need to understand gaming and invest in it.
Gaming has definitely felt like a battleground, especially as I didn't understand that gaming was the way they connect with friends. When I understood it was their way of socialising, my mindset changed. It was the only way they could stop feeling isolated and alone.
There have been some difficult incidents during games, when my boys have got into verbal fights with other players. But that led to conversations about loving your enemies and also telling my boys the truth about how God sees them. We have also seen our eldest son share his faith online to friends.
I think the main thing I've learnt through lockdown is that as a parent I need to trust God to give me discernment and understanding.
HELPFUL INFORMATION
It's been a tough year for everyone, but if you're worried about your young person's low mood, anxiety or behavioural difficulties, it may be time to look for some extra support (see the useful resources at the bottom of this article).
Andy Robertson's book Taming Gaming (Unbound) offers practical advice and insight, alongside gaming recipes to try out with your family.
Over the last year YMCA Exeter launched a podcast all around gaming and wellbeing. You can find 'Skill Check' on Spotify, Apple Podcasts, Anchor and Google Podcasts.

Lucy Pieterse is a freelance writer, wife and mum of two, enjoying the juggle of work and life in the beautiful West Country
View full Profile