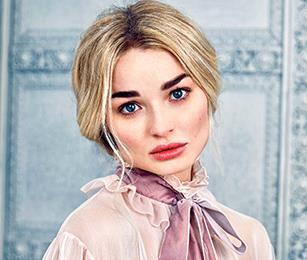 It's hard to overestimate the achievements of someone like Emma Rigby, who has fought her way up the ladder from humble beginnings to A-list fame, with a string of Hollywood movies. From her first major TV role in Hollyoaks, she went on to play lead roles in prime-time TV series Becoming Human, Ripper Street and the critically acclaimed Prisoners' Wives.

"I am not from a family that is in the industry," she explains, "and I am not from a family that had lots of money. Drama training and education didn't exist for me. So Hollyoaks was a huge opportunity and I was very blessed to have received that. And of course I responded to it. When something is presented to you, you take it and you make the best possible use of it."

And that she did. After her British TV successes, America beckoned and, while others have tried and failed, Emma's steely determination to succeed in the world's toughest movie environment took her on a four-year journey that saw her cast in some major film and TV roles, such as The Physician, Plastic, American Violence and the ABC mega-series, Once Upon a Time in Wonderland.

The 27-year-old has worked alongside Hollywood greats Sir Ben Kingsley and Michael Fassbender, Penelope Cruz, Denise Richards, Game of Thrones star Alfie Allen and many more. But for all her success, Emma knew she was struggling. She was feeling estranged from the God whom she grew up with back in St Helens.

"Looking back on the decision to go to America, it was an experience that caused me great fear and anxiety," she says. "I felt very much alone. I didn't have the right support network and there was no one to guide me. That was a dark time for me; my health suffered and I was unhappy. I was in a place of vulnerability.

"I had a four-year period where I chose to move away from my faith, not intentionally, but I think in retrospect that I had to have that vacuum in my life in order that God could fill it with his love."

Realising she wanted to return home, she completed her last job in the US and arrived back in the UK at the end of 2016. She did one or two auditions for prime time UK TV dramas and then accepted an invitation from long-standing friends to go with them to a Christian retreat in a remote Pembrokeshire hillside for a few days. It was a short break that was about to make a huge impression on her.

"I went on this retreat to Ffald y Brenin in South West Wales with some old friends, people who I hadn't seen for many years. At the retreat, I had an experience and was presented with things that were new to me. I had this deep re-engagement with God, and I decided from that moment, my faith was going to be the biggest part of who I am.

"Now my faith is an absolute feature of my daily life. I spend an hour in the morning listening to worship songs, reading, reflecting and praying. I realise life with God is 24/7 and I embrace that. I find that by being alone with him, my faith has led to a real transformation in how I live my life."

Those dramatic four days changed her outlook completely, and Emma says she has peace and perspective on the industry which she loves and which, she believes, will give her so much more.

"I'm extremely driven and I've always felt there is no other option for me," she explains. "At the retreat I was completely cut off from the only world that I have known. We were in a remote area, with no phone signal, and a real disengagement from life. I remember we went on a beautiful walk into the hills. Normally, I would never have the time because I would always be feeling I should be doing something else. My shoes got really muddy and I remember thinking that it was such a joy and a gift to be alive, and to experience God's creation and realise who he is."

As if to affirm his presence to Emma in her life, God immediately blessed her with TV work in a remarkable way and with timing that could only have come from him.

"I was being driven back to London in the car and the wifi signal was slowly returning. I turned on my phone and the first thing I saw was an e-mail from my agent which said, 'Yes, you've got the job'."

That job was playing the lead in the final episode of Inspector George Gently, opposite Martin Shaw. More TV work was to follow, including a major part in the hit TV series Endeavour.

Emma sees these opportunities as God's provision for her and is now looking to the future with renewed optimism.

"I absolutely want to work in the US again in the future. Having worked with (director) Ridley Scott, I want to be doing incredible work with the Hollywood greats: Steven Spielberg, Clint Eastwood, Woody Allen … I want to do work that I love and makes me happy, and that means working with people who are passionate, with people who I am in awe of.
"I guess my ultimate ambition is to win an Oscar because then I can be in a position to make choices. It would give me the opportunity to do things that I really want to do and to connect with a much wider audience, and that is the end goal.

"In the past six months I have changed in every respect because of my faith. I know that I am not going to compromise. Previously, I've done what I have been told to do, rather than what I've wanted to do. In this industry you have a million people with opinions about what they think you should do and, as someone who wants to get on, I listened because I always wanted to do the right thing.

"Now I realise that what others think is not important. The only person who matters and who I answer to is God. I love that he is always on my side. He is for every single one of us. He created each of us uniquely and with him infinite possibilities exist.

"I know I have made so many mistakes, but God has forgiven me. He made me, he loves me and he wants only the best for me. I now understand my true purpose, which was beautifully expressed by Mother Teresa, 'God had not called me to be successful, but to be faithful.' I too strive to serve others in any means I can, always."

Alastair McIver is former editor of Tennis World, former features editor for Tennis Life magazine and regularly published in Tennis Threads magazine. He is currently writing a novel based on his missionary visits to central Asia. Alastair and his wife Sally have two married daughters.