As news outlets move on to other stories, the plight of Afghan women remains precarious. Alastair McIver urges us to check our own responses, seek out truth – and, above all, remain hopeful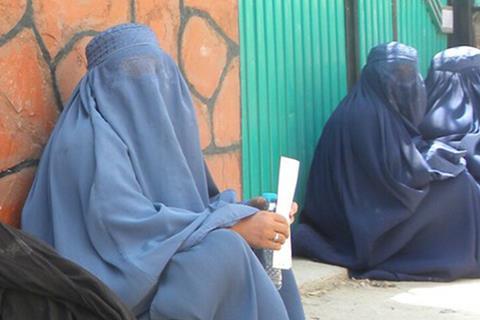 Two months after the American troop withdrawal from Afghanistan, the plight of 39 million Afghans, half of them women, appears to hang in the balance. The TaIiban are in control of government, the economy, security and education. Overnight, the country changed from one of hope to one of fear. News out of this central Asian country has dried up, media outlets have shifted their focus and there is already a sense that the Taliban must be left to get on with governing the country.
Most of the country's leaders, including church leaders, have been forced underground, fearing persecution. Believers live in fear of a knock on the door from gun wielding Taliban militias.
The situation is tragic. Through it all, however, we hear sporadic stories of groups of women continuing to stand up for life, and for their children's futures. I can only admire their courage. But as one who spent many years of my own life in support of those who work there, is admiration my only response?
And if I am struggling with my response here in the UK, what, I wonder, must those believers who live in Kabul, Kandahar or Jalalabad be feeling right now?
Jan Vermeer, who runs the Asian desk for charity Open Doors comments: "Everybody is afraid; each responds differently. Some try to escape the country, others decide to stay where they are and remain secret believers. Others want to escape the country but can't. Others are unsure what to do."
An informed voice
Anne Hampton's writings are informed by her time living as a woman in central Asia, working to support the Church in the region. I spoke with her briefly. It didn't take long for me to be convinced of her authenticity when I read these powerful words of hers from a time when she was living under Taliban rule in Afghanistan (which I repeat here with permission):
"On the street, I'm a free target, freely exposed to groping, sexual innuendo whispered in my ear, stones thrown at me. I am freely seen as no one's wife, daughter, sister, mother, friend or boss. I step inside my gate and remove my chappan and chadar. Now I'm someone's boss. Motherhood returns to me as little steps run to greet me and I receive a kiss from my adoring husband. Now I am free to his loving and gentle eyes, free to once again be under the protective umbrella of being a wife, mother, friend, colleague, boss, niece, sister, daughter, woman."*
She is an informed voice in the midst of global purdah. She speaks out, encouraging us to stay the course and not give up on Afghanistan. She invites us to put aside our own (political) perspectives and to focus on those who live there, and she advises us not to take social media stories as truth but to verify our sources. She denounces, for example, a story (which did the rounds in Christian media within days of the American troop departure), reporting that 200 missionaries were about to be beheaded, as false.
Looking for signs of hope
The message I am hearing is that we must retain hope for Afghanistan.
The August evening before Kabul fell to the Taliban, a baby girl was born into a family of believers. Our western perspective might, perhaps understandably, worry about what future this child has to look forward to. Many of us might fear the worst. Not the parents themselves, however. They see it, according to a local news source, as "a sign of hope that God has not given up on them or their country".
It is surely such faith that continues to speak to us today.
* The full blog can be found here: https://better-than-gold-faith.blogspot.com/2019/02/dr-anna-e-hampton-social-media.html