Alastair McIver explores what lies ahead for British tennis champion Emma Raducanu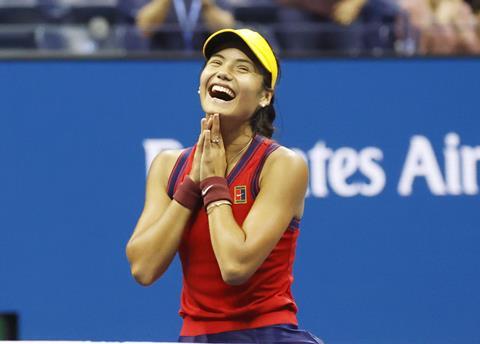 Who reading this, even those who have no affiliation to the game of tennis, could have failed to be mesmerised by Emma Raducanu's journey, which concluded with her becoming the first ever qualifier to win a Grand Slam?
I say 'concluded', but her success, which includes a US Open prize of £1.8 million, marks the beginning of a new stellar lifestyle that has already projected her from obscure anonymity to global stardom.
Disappointment at Wimbledon
Three months ago, Raducanu was just another British tennis teenager, tipped, like so many before her, for success. Then, after a trio of televised wins at Wimbledon that saw her reach the fourth round, the unthinkable happened. After suffering 'breathing difficulties', she was advised by medical personnel to retire from her match against Australian Ajla Tomljanović.
Such a public downfall would have crushed many teenagers, particularly following World No 2 Naomi Osaka's withdrawal from the very event Raducanu was hoping to progress in. Raducanu bravely accepted the medical advice, demonstrating a maturity beyond her years. Her time, she was told, would come. And now it has.
So what now? According to player agent Clifford Bloxham, who knows the Raducanus well, she is well positioned to cope with what lies ahead: "It's not going to be easy, as the level of interest is unprecedented. There is no template, but I think she needs proper management from not too many people…She obviously loves the game and that needs to be her priority; over and above all the things she will be asked to do."
Preparing for a life of fame and fortune
What can Raducanu do to plan for life in the limelight? Let's pray that she:
1. Surrounds herself with wise heads. Raducanu has already acknowledged her parents, Chinese mother Renee and Romanian father Ian – with whom she moved from Canada to London at the age of two – for helping her develop a positive attitude. Such rich, mixed heritage certainly seems to have helped her on her way. She will no doubt build a strong team to help her make decisions based on her own best interests.
2. Plans less now for more later. In many ways, the US Open was the perfect Grand Slam for Raducanu to win. It's the last of the season, and the next – Melbourne in January – is far from her home, in a different time zone. Media attention will level off. She has an opportunity to take stock and prepare for 2022 without overloading the diary. As Iain Bates, head of British women's tennis for the Lawn Tennis Association, says: "There has to be a degree of perspective in that Emma's not yet played a full year on tour…We might need to give her some time to find her feet and develop into a player who hopefully we can watch for many years." Wise words.
3. Allows her body to adjust to the rigours of on-court success. The road marked 'aspiring champion' is littered with sporting casualties. Going back in time to the likes of Americans Andrea Jaeger and Tracey Austin through to more recent retirees like Laura Robson, whose promising career was cut short at 24 with wrist and knee injuries, the tennis casualty ward remains constantly busy. Former British No 1 and current Fed Cup captain Anne Keothavong recognises the dangers. "Probably the biggest problem we have with young players is the number of injuries they sustain from a young age…Emma's got something special, but the immediate concern for me is her competing on a regular basis and looking after her body." The recent acquisition of Will Herbert, former trainer of Alexander Zverev, will help.
4. Protects her mental wellbeing. Attempting a balanced lifestyle for a tennis player is a tall order, as demands on Raducanu's time will be overwhelming. Saying 'no' to invitations will be hard. But Raducanu has proved that, if nothing else, she is determined. She needs to own her agenda, spending occasional time with friends outside tennis and getting some 'me time'.
5. Manages to handle her fame with care. Whether she likes it or not, Raducanu has become a role model for the sport, and for aspiring young women around the world. That tag comes with responsibility. Tennis legend Virginia Wade says Radacanu's Grand Slam win will "do infinite things for British tennis and inspire more young players – particularly female ones – to pick up a racket." It's a heavy weight for an 18-year-old to carry, but as Bloxham says, she is "well adjusted, well balanced, with good values and supportive parents."
Three-times cycling Olympic gold medallist Bradley Wiggins once famously said: "No one told me what would happen after I won the gold medal." This is a dilemma Raducanu and her family will be seeking solutions to right now.
Photo by John Angelillo/UPI Credit: UPI/Alamy Live News - Image ID: 2GJH9C3
Alastair McIver is former editor of Tennis World, former features editor for Tennis Life magazine and regularly published in Tennis Threads magazine. He is currently writing a novel based on his missionary visits to central Asia. Alastair and his wife Sally have two married daughters.
View full Profile