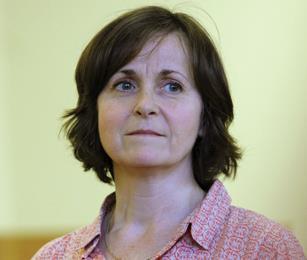 Amanda Root has an impressive career catalogue spanning 30 years and including a number of prime-time favourite TV dramas. Currently on screen in Sky Atlantic's Patrick Melrose, I caught up with her in rehearsals for The Chalk Garden at this year's Chichester Festival.
Amanda says she has always loved performing and is grateful for her parents' encouragement. "My dad was an accountant and my mum had done some amateur acting when she was a child, but she didn't pursue it. That said, they were both very creative and supportive of me going into the profession.
"It all started with me getting involved at school. As a child I was always dancing – ballet, tap and stage – and this progressed into acting. I knew that I wanted to be an actor and did as much performing as I could at school, studying drama at O and A level before joining the Essex Youth Theatre and then going on to drama school.
"I was so blessed to get my first agent, Jeremy Conway, who took me into my early roles. My first job was at Leeds Playhouse (now called West Yorkshire Playhouse) and I want to give due credit to them. Very quickly after that I was auditioned for Romeo and Juliet for the Royal Shakespeare Company (RSC), playing Juliet opposite Daniel Day Lewis' Romeo. I was also lucky enough to be auditioned for Hermia in A Midsummer Night's Dream, and we toured those two shows. Then came the opportunity to play Lady Macbeth, so I was given a fantastic platform upon which to build my career."
TV roles followed, but her big 'breakthrough' moment came when she was approached to play Anne Elliot in the critically acclaimed period drama, Persuasion.
"The 80s was an important decade for me moving into films," says Amanda. "I'd done a fair bit of television before, but I think Persuasion really opened the doors for me. It made me more visible and started me on a path as a 'period drama' person."
A career highlight was the chance to work alongside Meryl Streep in The Iron Lady, the 2011 film about former British Prime Minister Margaret Thatcher.
"Meryl Streep was extraordinary because she was able to go in and out of role at will. During breaks, you would think that she would take herself aside and be very quiet, keeping the accent in readiness for the next scene, but not a bit of it. The iPad came out and she was chatting away in her American accent, joking with people. I was very impressed by that.
"I had a scene with her, and it was literally like meeting Margaret Thatcher and Meryl Streep at the same time, because she was so like her. I respected Mrs Thatcher and I was also in awe of Meryl Streep, so I was able to really play that sense of admiration and wonder that I needed for my part.
"I always feel that I am learning from those who are more experienced than I am. I don't know if people feel that they are learning from me; if they do that's a great compliment. I worked with David Haig last year and enjoyed just watching how he worked. I thought, 'Wow, I must apply that'. I love the fact that there is always something new to discover as an actor."
In an industry that can be all-consuming, Amanda says her faith has been very important.
"I have found that it really helps not to hold acting too tightly," she explains. "Yes, you commit to it and focus on it, but my faith gives me a perspective which I think has been very helpful. If I was always caught up in pursuing attention or getting the best role all of the time, it would be frustrating because the industry doesn't work like that. I am at a place now where I'm just grateful for the roles I'm given and the opportunity to work with people. I enjoy it for the process rather than the product of being famous or the next best thing which, when you are younger, you can focus on too much."
Given her seemingly relentless schedule, it might surprise people to know that Amanda runs a charity for traumatised women called Talitha Arts.
"I have always been interested in how the arts can be used to change lives," explains Amanda. "When you see a great work of art, a painting perhaps, there's a moment when it can just transform something in you. And theatre can do that too. Engaging with the arts can bring out the child in someone who perhaps hasn't had a childhood.
"I believe with all my heart that God created us to be creative and he can engage with us through stories. When you hear a parable, read a poem or see a play, you are being invited to use your imagination and when you do that it becomes much more powerful.
"At Talitha Arts, we train actors, performers, artists and others to deliver therapeutic 'wellbeing' workshops to women in hostels and in recovery."
It's a testament to Amanda's passion and enthusiasm that the charity has grown since its inception in 2010. It became a registered charity in 2015 and now boasts a team of practitioners who deliver therapeutic training and restorative days for women in hostels and dementia homes, in Jersey, London, Birmingham and overseas. It's a process that sees confidence rebuilt and dignity restored to those who have been used and abused, as well as those who suffer from dementia.
The demand has been overwhelming and there is a now a waiting list of homes which have approached Talitha Arts for support.
"My vision is to see the three current hubs grow and for more to develop", she says. "We are a hybrid, just a group of actors and performers, artists and musicians coming together to deliver this. We are unique in many ways because we have these blocks of free time and my hope is that the industry picks up on this approach both nationally and even internationally.
"Eventually, I would like to see the work expand into other areas, such as hospices and prisons, wherever the need is. Our focus is not about working with victims of domestic violence or victims of trafficking or people living with dementia, it's simply about what we can bring to anyone who is vulnerable. So when we do our church workshops, we encourage people to think about what the arts can do to draw people closer to God, particularly for those whose voice has been compromised."
Amanda's work with Talitha Arts has been recognised with a Points of Light Award, an initiative which started in the US and was introduced to the UK by David Cameron. Awarded by the Prime Minister, it came with a personal letter from Theresa May acknowledging her work in the community.
Reflecting on her achievements, Amanda says, "I'm amazed that we have come so far, so quickly with such a gifted and committed team of volunteers and practitioners. I'm looking forward to seeing what God is going to do with it in the future. The challenge for me is to always bring it back to God and make sure that we are doing what he wants, listening to him as we go.
"I am so much happier now, serving God as best I can with the skills that he's given me. I sculpt, I teach people, I can do a bit of dancing and drama and I love directing. I'm enjoying who God has made me to be and being able to use my skills to help others."
Photo: Amanda as Miss Madrigal in The Chalk Garden at Chichester by Catherine Ashmore

Alastair McIver is former editor of Tennis World, former features editor for Tennis Life magazine and regularly published in Tennis Threads magazine. He is currently writing a novel based on his missionary visits to central Asia. Alastair and his wife Sally have two married daughters.