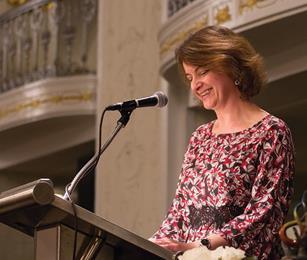 People find themselves in Parliament for many and varied reasons. For Rutland-born Elizabeth Berridge, the call into politics was as a direct result of her relationship with God.
"It was a lightbulb moment," she recalls. "I was on a YWAM mission trip in Ghana. Landa Cope from the University of the Nations in Hawaii was speaking on 'spheres of influence' and I knew, I just knew, from that moment on that politics was going to be a part of my life. I had no idea how or when or where I would enter into the political realm, but I knew it would happen."
All of which must have seemed a bit daunting for a 17-year-old East Midlands girl away on a mission trip in Africa, a teenager who, until that moment, had not even thought aspirationally about her life.
It was the legal profession that seemed to be drawing Elizabeth, and her passion to attain a law degree took her to Emmanuel College, Cambridge, for four years before heading to the Inns of Court School of Law in London. From there she moved to Manchester and spent nine years at the Bar as a practising barrister.
Her parallel political aspirations led her to fight one general election back in 2005 in the 'safe' Labour seat of Stockport, a 'no-win' contest which saw her defeated by the current sitting Labour MP Anne Coffey.
That didn't put her off though, and in 2006 she became Executive Director for the Conservative Christian Fellowship (CCF), based at Westminster and founded and headed up by Tim Montgomerie and former fellow barrister turned MP, David Burrowes.
She established and grew the CCF until 2010 when suddenly, and seemingly out of the blue, her moment arrived. She was invited by the newly elected Prime Minister David Cameron to become a life peer in the House of Lords. Was it a shock for her?
"Well, as a Christian, I knew that it was the Lord's plan, but it was still an almighty shock! Never for one minute had I thought about the House of Lords as a place I could serve," she says. "This was taking my life into a different orbit and I took a few weeks to think about it.
"I think that what we had achieved with the CCF, particularly my work in connecting with, and hearing from, the black and ethnic minority church in this country, was something that was lacking in the party as a whole, especially in opposition. And coming up to an election, Mr Cameron knew that the Church, and particularly the thriving black church community, was an important but neglected constituency.
"But we in the CCF knew the community, the issues that they faced on race disparity for example, or knife crime, poverty, jobs and so on. Many Conservative MPs knew little about the sterling urban church work of people like Pastor Agu, Bishop Aldred or Bishop Webley and others. But we did and I was meeting with them on a regular basis."
It was out of these bridge-building relationships that her calling arrived. How did it feel?
"It was a jaw-dropping moment," recalls Elizabeth. "I had just returned from holiday in the Outer Hebrides, when I received a call from the PM's Chief of Staff, who asked if I had heard from the boss! I had assumed, for a split second, that he meant 'had I heard from God on my way into work?' But he assured me that it was the Prime Minister who had been trying to contact me. Me!
"Anyway, it all became top secret and the PM's political secretary advised me that there was some paperwork to be done and it had to go to the Appointments Commission, so I didn't talk about it too much with anyone other than my nearest and dearest, or seek too much advice. But I did ask myself what it meant biblically."
Today she co-chairs the All-Party Parliamentary Group for International Freedom of Religion or Belief and Project Director of the Commonwealth Initiative for Freedom of Religion or Belief, a work that has generated recognition from all of the major parties and traction with international colleagues.
Now, seven years on, did she expect to make such an impact in such a short space of time, especially as she was one of the youngest female peers when she entered the Lords?
"I knew when I received the call that my life was being kicked into a different universe from what I was expecting, and I knew I had to do something with it. How could I build on the work and contacts that I had established during my time at the CCF and make a contribution to the House of Lords? Encouraged by Lord (David) Alton, I chose to devote much of my time to the (at that time) unacknowledged Article 18 of the Universal Declaration of Human Rights, which recognises the responsibility of signatory countries to make known and legal the rights of their people. And that is why we set up the All Party Parliamentary Group for International Freedom of Religion or Belief."
Today, that work is recognised and being acted upon in many governments around the world; and among many international gatherings, Elizabeth was on a speaking platform with Chancellor Angela Merkel last year.
Notwithstanding such responsibilities (which in addition include her work with Black, Asian and minority ethnic (BAME) communities and the Church of England Ecclesiastical Committee), how does Elizabeth cope with working daily in a predominantly male environment?
"It was strange. It felt like it was very much a man's world when I entered the Lords for the first time and it was quite challenging. Some of my older colleagues went to university in an era when women weren't admitted, so they didn't know how to engage with me as a younger female. I was their daughters' – even grand-daughters' – generation and it was hard for both me and them. But mostly it has been fine and many peers who are older than me – Peter Hennessy, for example, who wrote a textbook I used at A level – have become advisers and friends."
Her faith has been a constant bedrock on Elizabeth's journey and she actively seeks spiritual grounding to help her with her work and environment.
"My vicar, Charles, at St Michael's, Chester Square, is very supportive and I have an accountability group. I believe that it is very important to root myself in a local church. I also appreciate the regular services in the chapel under Westminster Hall and I am part of a prayer triplet with House of Lords colleagues, so I try to keep close to God in that way."
If you're a reader with a passion for supporting our parliamentarians in prayer, add Elizabeth to your list.
"Prayer is foundational to my work and I couldn't do what I do without the prayers of others," she says. "I genuinely want to thank all of those who pray for me and my colleagues."

Alastair McIver is former editor of Tennis World, former features editor for Tennis Life magazine and regularly published in Tennis Threads magazine. He is currently writing a novel based on his missionary visits to central Asia. Alastair and his wife Sally have two married daughters.