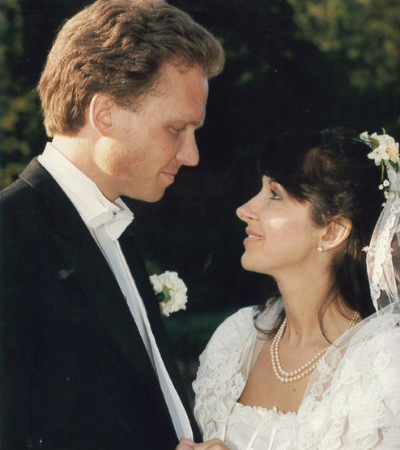 I met Gordon in 1984, once through a friend and then again at Holy Trinity Brompton in London. He was from Colorado and was going back home, but asked me to write to him. We ended up writing to each other several times a week. He visited again in Easter 1985, and then I travelled to see him in Denver.
Before Christmas 1985, Gordon came over to London, and whisked me off to Paris. He proposed under a Christmas tree, and I said yes straight away. Gordon is a very kind and generous man, which was important to me. We discussed our age difference once, and that was enough for him. He knew what he wanted!
God does the impossible
We married in June 1986 in Notting Hill, during the hottest day of the year. We tried straight away for a baby, but sadly none came. Eventually, after six years of trying, the doctor confirmed there was nothing else they could do, as it was impossible for us to have children.
After we heard that news, we went home and sat in the garden. I remember Gordon's prayer: "Lord, thank you that we are loved by you, and we have each other. It is the most important thing that You are in our lives. The medics have said it is impossible for us to have children, and we will let it go, but we would love to have a baby, and we know that nothing is impossible for you."
Two months later I was pregnant naturally! I was 43. It was an easy pregnancy, and Josh was born in 1992. He is a gift and a joy to us.
Relationship break down
Over the years Gordon had difficulty finding and keeping jobs. He got more and more stressed by this, which made life very hard. We seemed to be going through the same cycle of heartache and pain, and I didn't see an end to it. We tried marriage counselling, but we couldn't find a way through. I was so desperate, that I felt divorce was our only option.
We ended up divorcing in 2002, and Gordon moved back to America. He would still come over every Christmas and summer and we would have holidays together with Josh.
We remained good friends, and I never dated anyone else. Gordon had a few girlfriends, but said he always compared them to me, and they never matched up.
Changed and restored
In 2004 I enrolled on the year-long Charis Bible School online course. It was full-on and I was also working 10am to 5pm every day, but it completely changed me. I got a new We seemed to be going understanding and revelation of the word of God, and was filled with the Holy Spirit. I started preaching in my local church and, although it terrified me, when I was actually speaking I felt like I was doing what I was supposed to do.
In 2016 Gordon also did the Bible School course. I went to visit him in Denver in 2017, and we drove to the grounds of Charis Bible School. It is surrounded by beautiful gardens and a bridge. While we were both standing on the bridge, Gordon asked me to marry him, again. "I don't know; will you give me time to think about it?" was my response.
He agreed, and it took me two years to be sure. My only hesitation was selfish. I had got used to being alone. It's a big decision to share your life with someone and I needed to be honest with myself while deciding if I was ready.
In March 2019 I called him up and asked: "Do you still want to get married?"
He said yes, and I told him I thought I was ready now.
We married again in my garden on the 17 August 2019, surrounded by 90 of our friends. Josh, by this time 28, did a speech, telling everyone his dream had come true – his parents were back together!
Firmer foundations
Second time round our marriage is built on a deeper understanding and friendship. I am so grateful God bought us back together; it was only really possible by both of us putting him first, and taking a year to seek him and study his word at the Charis Bible College.
God is the God of redemption. Gordon and I have had a second chance at marriage, and it has been God's grace that we have been together during the pandemic and lockdown.
He does all things well!
Gordon adds…
I believe the principal cause of our divorce was my inability to have continuity in my professional career. It resulted in financial pressures, which in turn led to great frustration and discouragement on my part. Gilly had always been very supportive with encouragement and love throughout our marriage, but we both just got too weighed down with the stress and strain of it all.
It would be honest to say that the financial and work pressures served to distract my attention away from the Lord as well.
Shortly after the divorce I moved to the US in an attempt to find employment. It was very difficult to leave both our son, Josh, and Gilly, but I had to find a way to provide for them. After several months, I got a job, which turned out to be a stepping stone to other great jobs.
Also, after our divorce one thing remained intact between Gilly and myself – our friendship, regardless of what part of the world I was living in at the time.
In 2016 a near-death event happened to me when I was hit by an SUV. The driver drove through a red light while I was crossing a street at an intersection of a busy street in Houston. Seven of my ribs were broken and I was a bloody mess when an ambulance took me to a hospital ER. I could easily have been killed, but instead I realised that this was the point that the Lord was speaking to me seriously. While convalescing for about six months I enrolled in the online Bible college course that Gilly had raved about a few years earlier. This really served to get me back on track with the Lord, and eventually led me to proposing to Gilly in 2017 at Charis in Colorado.
Words by journalist and author Jemimah Wright. Jemimah writes 'real-life' features for women's magazines and shares miracle stories to encourage your faith on Instagram @Walking_As_Jesus_Walked