As another athlete withdrew from the competition she had worked so hard to reach, we tackle the question some have been asking: did Simone Biles 'play the mental health card' in Tokyo?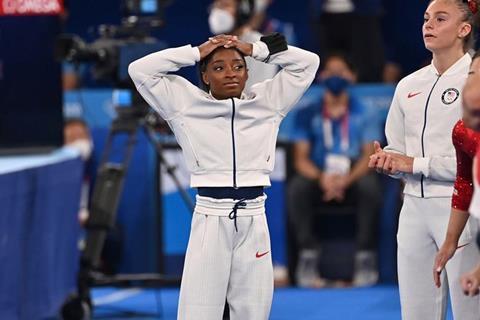 Simone Biles's decision to withdraw from the Tokyo Olympics was described as a 'joke' by Piers Morgan, who asked his Twitter followers: "Are 'mental health issues' now the go-to excuse for any poor performance in sport?" The controversial TV presenter suggested that Simone was afraid to admit she had simply performed badly and that "kids need strong role models, not this nonsense". So was she 'playing the mental health card', or did she do something brave and inspirational by putting her mental wellness above the world's expectations?
No stranger to adversity
What many people don't know is that 24-year-old Simone Biles has overcome many major hurdles to get where she is. Here are just five of them:
1. She was brought up by her grandparents as her mother was battling serious substance abuse issues.
2. As a young, black, female gymnast, Simone has experienced a great deal of discrimination over the years. Having recently seen the racist abuse levelled against England's black footballers and tennis players Serena Williams and Naomi Osaka (who pulled out of the French Open for mental health reasons and received a barrage of criticism herself), it should come as no surprise that Simone has come up against it countless times in her career, particularly in a majority-white sport. But she has defied her critics time and time again.
3. In 2018, Simone revealed that she had been molested by former team doctor Larry Nassar, who is currently serving a 60-year prison service for his crimes against at least 265 young women and girls. To make matters worse, the sport's governing body reportedly knew about his crimes and covered them up.
4. Simone's brother Tevin Biles-Thomas was arrested and charged with murder after a New Year's Eve party shooting in 2018 that left three people dead. He was acquitted in 2021 but Simone has publicly spoken of her shock and her aching heart for the victims and their families.
5. Simone is said to have suffered 'the twisties' at the Tokyo Olympics – a condition that causes athletes to lose their spatial awareness – which, in addition to all the media pressure she was under, may explain why her performance was not up to the usual standard. Had she continued to compete, experts believe she might have caused herself serious physical damage.
No nonsense
Let's not forget that Simone has trained really, really hard to get where she is. It's no coincidence that she is the most decorated female gymnast in US history, having won 31 World/Olympic medals. She has even perfected her own special move known as 'the Biles': a double-flip with a half-twist. No amount of 'playing the race/gender/mental health card' would have enabled her to soar to such impressive heights.
Having been sexually abused as a child, this young woman could have put her life on hold as she struggled to come to terms with what had happened to her. She could have ended up with substance abuse issues like her mother or in trouble with the law like her brother. But, instead, this incredible young woman has held her head up high and fought tirelessly to protect other young athletes from abuse at the World Gymnastics Centre set up by her parents, where she trains herself.
The right kind of role model
In Tokyo, Simone bravely put her mental health before personal achievement, a decision that should be lauded, and one that opens the door for others who are struggling to do the same. And let's not forget that she returned to the arena to cheer on her fellow athletes, despite the personal battles she was facing. She has also spoken openly about her faith, and how it helps her work through her failures as well as successes. This young woman is just the kind of role model the world needs…inside the arena and far beyond it.
Photo credit: Alamy