As Childhood Cancer Awareness month draws to a close Jess George shares how her faith was tested when her son had cancer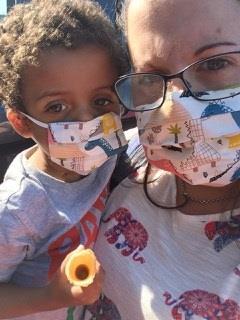 August Bank Holiday weekend, 2020. My husband and I were sitting in A&E, our then two-year-old son Evan in pain on the bed between us. We had debated about whether his complaints of stomach ache over the weekend were serious enough to warrant seeking medical advice, but with it being a bank holiday we couldn't arrange a GP appointment. We decided to ring 111, who sent us to A&E as a precaution. I remember thinking this was routine. It was probably a stomach bug or something time would fix.
Dark times
A few hours in A&E and several routine tests later, a doctor came into our room to explain that he suspected our son had a swollen spleen. Usually indicative of something else, he told us to prepare for "something more sinister". I don't recall all the examples of what he classed as sinister, but I do remember the darkness of the room and not knowing what to do or how to react, and feeling that surely this was a mistake.
I remember thinking these were the moments in testimonies when people prayed and that we should probably do that. I did pray. The prayer was short, but I made a choice in that moment. A choice I found myself having to repeat many times over the weeks and months that followed. A choice to give the health and wellbeing of my son to God whatever the outcome.
My faith struggle
There were moments early in his diagnosis of stage three Wilms tumour when I was angry with God. I struggled to reconcile the loving God I knew, whom I thought had answered my prayers for a healthy son, with the God who had created my son with cancer growing in him since conception. I remember feeling so annoyed at my dependence on God and my inability to carry everything a cancer diagnosis meant without him.
There were times when I didn't know how or what to pray. I knew what we needed to pray for, but most of the time I didn't have the energy or solitude to do that. It was at these times that I relied on the prayers of others. I am so thankful to all those who regularly prayed for us. We, and particularly Evan, were carried on those prayers.
God was there
By the grace of God, Evan finished his treatment never having been rushed to A&E with a fever, never needing a feeding tube, never being sick after chemo and never losing all his hair. At no point was the success of the treatment guaranteed; we knew that God was with us and that all we could do was trust him.
Choosing to put my trust in God didn't mean I wasn't worried or stressed, or that I didn't try everything I could to get Evan to eat and stop losing weight (yes, this meant jam doughnuts for dinner and countless chicken nuggets). For me, it meant not being frozen by fear by all the possible outcomes of treatment or potential viruses he could pick up leaving the house. It meant trusting God with Evan's life and being confident that he would take care of my son whatever happened.
I'm pleased to say that Evan is now cancer-free, but our reliance on God remains. I find I have to remind myself to trust God, though, particularly every three months as we approach scan day, and through the anxious time when we're waiting for his results to come back…praying it will be good news.
Jess and her husband are site leaders at a thriving multisite church.
If you have a child suffering with cancer, visit childrenwithcancer.org.uk for information and support. If you would like someone to talk and pray with you, Premier Lifeline is a confidential telephone helpline offering a listening ear, emotional and spiritual support from a Christian perspective. It is open 9am to midnight every day of the year: 0300 111 0101