Prolific Royal Horticultural Society (RHS) gold medallist Sarah Eberle has created a garden that restores the soul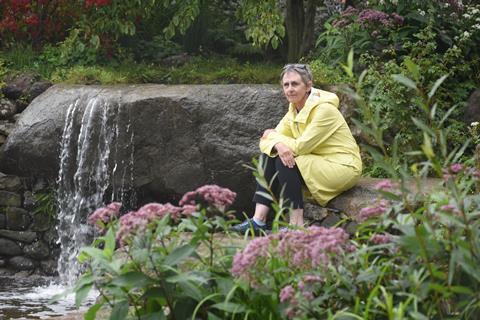 RHS Chelsea Flower Show was steamrollered by COVID last year, leaving the nation's gardeners in mourning. After all, what is summer without Chelsea? For award-winning garden designer Sarah Eberle, the previous 18 months had been taken up with creating a unique Bible Society-commissioned Psalm 23 garden. It was a huge blow when the show was cancelled.
Chelsea returns!
Fast forward to 2021 and Chelsea's back – taking place in September for the first time and buzzing with even more energy – and Sarah's Psalm 23 garden is finally on display.
Response to the garden has been extraordinary, perhaps because its message has never been more relevant. COVID has devastated many people's lives, but just like the words of the psalm it represents, Sarah's garden restores and refreshes.
The Psalm 23 garden is the first Christian-themed garden at Chelsea, and it seems Chelsea visitors are falling in love with its message. Many have remarked on the peace they feel looking at it.
"I am absolutely over the moon," comments Sarah. "The response we've had from everybody is that it touches their souls."
Be still and know
Based on Dartmoor, a landscape that has brought great solace to Sarah, the garden breathes serenity. In an allegory of life's journey, climbing a twisting rocky path brings visitors to a resting place in the form of a huge, cantilevered granite rock from which water cascades. The abundance of native plants includes an ancient thorn tree, ferns and moorland grasses, and sheep poo is scattered on the rocks for extra authenticity. It's a place to be still.
"I designed it to be a garden where the more you look, the more you see," Sarah explains, "and the more it means."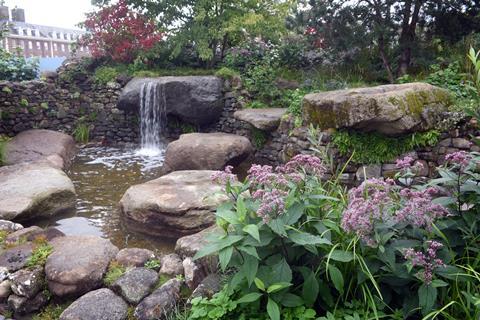 Embracing the Chelsea ethos in her bright floral dress, actress Sally Phillips was Bible Society's guest for the day and movingly read Psalm 23 to those gathered, including journalists, members of the public and dignitaries.
Sally found that the garden touched her at a deep level: "I have a son with special needs and there's been a feeling of being behind a waterfall; that I'm in a different space to other people. They look at us as though we're having the worst possible life, but that's not how it feels being under the waterfall. You're protected by the overhanging rock."
A message of hope
Sarah has won many gold medals for her gardens, but this year's was extra special because the show's reopening symbolised hope being restored.
Paul Williams, CEO of Bible Society, praised Sarah's achievement: "I'm just so delighted that after all this effort there's been such a positive response to Sarah Eberle's design."
He and Sarah hope it will inspire many communities to create their own Psalm 23 gardens, where people can draw apart from their frenetic lives and find peace.
Resources to create your own Psalm 23 community garden can be found here.
Clare Blake is a freelance writer and author. She loves to write inspiring stories about real people encountering God.
View full Profile