Premier Christian Radio's director of content, Charmaine Noble-McLean was awarded a Fellowship by The Radio Academy during this week's Radio Academy Festival. We honour her contribution to radio and hear exclusively from Charmaine about why she loves this particular medium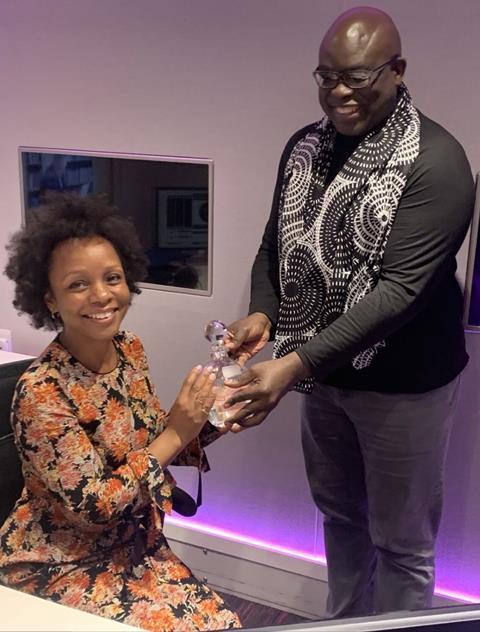 Charmaine Noble-McLean was awarded one of four new Fellowships by The Radio Academy, which honoured her with its highest accolade for a lifetime of dedication and passion to radio and audio. She was awarded her Fellowship by Radio Academy Fellow Paul Chantler and Premier Gospel director Muyiwa Olarewaju, OBE.
Since joining Premier Christian Radio 23 years ago, Charmaine climbed the ranks from volunteer to PA to the CEO before becoming a presenter, producer and programme controller. As content director she has driven the Premier brand to a global multimedia operation, adding two spin-off stations along the way.
Premier CEO Peter Kerridge remarked: "It is an honour to work alongside Charmaine, who has devoted her career to helping develop Premier Christian Radio to its impressive status today, which has an audience of 1.2 million. Charmaine has also been instrumental in producing digital content that supports and engages audiences in their community. This work has been particularly important since the pandemic. I can't thank Charmaine enough for her incredible work for the company and for our audience worldwide."
Helen Thomas, chair of The Radio Academy, said: "I'm thrilled to welcome Charmaine as one the newest Fellows of the Radio Academy. She has contributed so much to the industry over the years and it's wonderful to be able to recognise and celebrate her achievements."
Charmaine on the power of radio
We caught up with Charmaine to hear how she was first drawn to working in radio: "I really love the power of storytelling, whether through the pages of a book or at the knee of an elder, like my late dad; sharing their tales of growing up in distant places, making characters come to life. I think that's why radio and I bumped into each other, and we liked what we had to offer.
"When I was younger I wanted to be like Trevor McDonald or Moira Stuart and tell everyone about important things. My audience was my little brother, who had to put up with me reading articles from the Daily Express and Daily Star!
"I've done a few things while at Premier, including a stint in TV, but I love the power of radio and storytelling through conversation. God has taught me so much about his richness through his people – diverse, from different places, expressing love and worshipping the one true God in different ways. I really feel privileged to have been exposed to what his kingdom people really look like.
"I am a bit of a mum to my team and I'm not apologising for that. I want to see them do well in whatever they do, and know someone is cheering for them, but know me well enough to feel they can trust me when we have to deal with difficulty."
How does she manage such a busy job alongside her real-life family?
"I have the most amazing husband. He is such a great dad to our three sons, and don't tell him, but he's also really funny and a real support. Like most people we have our moments, but the cord that keeps us is a deep love for each other and God. We know we have to give and take, and I think that's what has helped when there are challenges."
Charmaine is much more comfortable out of the spotlight. On her award, she commented: "This honour from the Radio Academy does blow my mind, as it's not something I have ever thought about. It's humbling, as I know those who are radio professionals who have done so much more than me. I can't think too much about it, other than, if this helps to bring glory to God, to encourage someone to consider there is another way with Jesus, I'm content with that."