Alice Corrie, technical and communications officer for Climate Stewards, spent this week at the climate summit – and is more convinced than ever that much of the change needed will have to come from us
My week at COP26 has brought me face-to-face with the reality that climate injustice is intrinsically linked with many other social injustices; the forefront of these being poverty, racial injustice and gender inequality.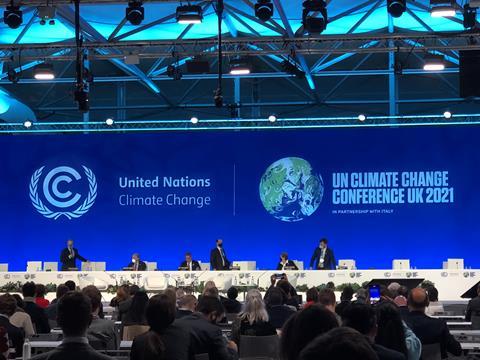 I heard the pleas from indigenous communities (which steward 81 per cent of the world's biodiversity) for COP26 to cause real action to protect their land and their ways. This week they've talked about their own country leaders not listening. They need COP26 to do something. COP26 can't be a failure, as many are calling it. It isn't just "blah, blah, blah"; it's their only hope of having their voices heard.
The need for climate finance
My ears pricked up as more than 100 countries pledged to end and repair deforestation, and to reduce methane emissions by 30 per cent, by 2030. But there is still so much unsaid, uncommitted and unimplemented on climate finance.
As a Christian in the Global North, the lack of climate finance breaks my heart. I am taught by Jesus to take care of the most vulnerable and marginalised in our world, yet we are among those causing the most harm. We are causing loss of homes and loss of life all over the world and most especially in the Global South.
Closing commitments need to be real
As COP26 draws to a close, so many decisions hang in the balance. The strength of language included in the final documents will determine the level of commitment, which are crucial in both limiting warming to 1.5° and aiding those on the front lines of the climate crisis.
WWF global and climate leader, Manuel Pulgar-Vidal, called for COP26 to be a stake in the ground, leading UN countries into a new chapter of credibility in following through with promises. But how can countries who need financial assistance trust that it will be fulfilled when the $100 billion a year promised in 2009 is yet to materialise in full? We celebrate the above-mentioned commitment to end deforestation, but it's worth remembering that a global agreement to end deforestation by 2020 was made in 2010.
The next few hours matter. There are already rumours of losing hope in COPs and questions as to whether future summits are worth the time if serious commitments to the 1.5° warming limit are not upheld. Current commitments add up to a 2.4° warming, with untold devastating effects. Time is running out.
We need to be the change
The UN is a powerful collaboration but attempting to renovate systems that are built on oppression by those very same systems is a hard task. Ultimately, change for a better world is based on Jesus' principles of grace, mercy and love, which don't come from the political powers at play in our world. A lot of change will have to come from us. From the private and NGO sectors, and from us as individuals.
Going forward, let's vote with our wallets. Let's use our voices to challenge our MPs and the brands we love. Let's educate ourselves, our friends and our families. Let's make sacrifices for the benefit of others. Let's pray for our brothers and sisters around the world, for our leaders and for banks. Let's pray for the wealthiest to do what is right with their money. Let's walk in step with Christ by loving our global neighbour, recognising that our living God is working in and through us, giving us strength, determination and grace.

Climate activist Alice is the technical and communications officer for Climate Stewards and a member of the Young Christian Climate Network. She has a master's in Mechanical Engineering from the University of Exeter and uses her knowledge for the benefit of people and planet. Alice loves sport, cooking plant-based food and leading children's groups on a Sunday. Find her on Instagram @alicemcleodcorrie and her food on Instagram @thisplantbasedwonderland.
View full Profile