As many of us grapple with feelings of disappointment, uncertainty, fear and rejection, author Anne Le Tissier encourages us to pray with confidence, peace and faith in God who is for us, and not against us.
Military coups. Child brides. Genocide. Floods. Famine. Torture. Killings… the annual round-up of the year's top headlines begins to hit our newsfeeds, assaulting ears, eyes, hearts and minds with its endless stream of death, degradation, suffering, pain, injustice, fear, inequality and deprivation.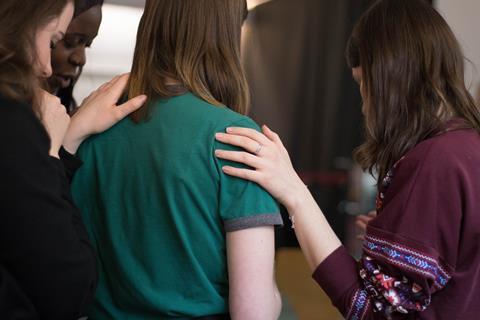 Some of us pray but the problems feel too huge to make any difference. Some of us want to pray but struggle to know how. Some of us feel too overwhelmed to pray. But praying is God's gift to us. We can pray with Him, not just to Him, as His Spirit helps and guides us. And it's the same for the headlines of our own stories.
Slandered. Infertile. Still birth. Divorced. Unemployed. Debt ridden. Grieving. Lonely. Afraid. Convicted. Ashamed. Unwell. We pray but our words seem to evaporate into the ether. We want to pray but feel too crushed, confused, exhausted, guilty or inadequate to believe prayer can make a difference. Be encouraged. God wants to inform, shape and empower our prayers with qualities of His character and faith-building promises. In turn, we gain wisdom, guidance, comfort, reassurance, insight and power, to transform our own hearts as well as what we pray for.
For example, the headline: 'Rejected'. We're reeling in its wake of shattered dreams, a painful divorce, financial concerns, an uncertain future, loss of identity or even the loss of a home. However, God reminds us of His truth that our times are in His hands, not in the hands of the person rejecting us or the circumstances we find ourselves in.
His plans are to care for and provide for us, and give us hope for our future. These are foundational promises to personalise and proclaim in prayer, while keeping an open heart to how God will choose to respond.
Or perhaps our personal headline reads: 'Afraid. Anxious. Fretful. Worried.' Scripture is full of truth we can pray with believing hearts, helping us encounter God's peace and security whatever the cause of anguish. '…surely I am with you always…' is my go-to promise. There's no greater truth to know than that God is with me. It instils peace, comfort and confidence, because God with me will give wisdom and endurance as needed, or will overcome and dispel whatever triggered my fear. 'Do not be afraid' God keeps reminding us. Let's allow His gentle urging to shape our outlook and responses as we speak His lifegiving words to our soul.
Another headline might read, 'Slandered. Shamed. Misrepresented. Humiliated.'
This has been one of my headlines too. Nursing my hurt and embarrassment I was tempted to pray 'against' my perpetrator. But God nudged me to be transparent with Him, letting Him search my heart and motives. Was there a hint of truth in what had been said? Did I also have need to confess and seek forgiveness from God and from those who'd hurt me?
This isn't our personal battle, it's our prompt to prayerfully yield to God's grace for ourselves and those who've hurt us.
Whether we sense ourselves innocent or convicted, God asks us to slander no one. Not even those who've hurt us. To refrain from retaliating, even if it's imprudent to continue trusting them. God's way is to be gentle, unargumentative, considerate, courteous and humble towards everyone. This isn't our personal battle, it's our prompt to prayerfully yield to God's grace for ourselves and those who've hurt us, extending it to others in prayer and in practice. It's a prompt to seek His specific word that we can pray, proclaim and depend on for the outcome, absorbing its truth with unzipped hearts to receive His reassurance. God will shed light into murky, deceptive situations. God will enable us to stand confidently against malicious schemes. And God will shape our responses which negate false allegations.
Finally, there's the headline that leaves us too overwhelmed to pray.
You'll know what it is if it's yours. For me, it was while trying to support my alcoholic brother. At times like these, God steps in on our behalf. We hold a situation in our heart and mind before Him, even cupping our hands in front of us if that helps, then ask His Spirit to intercede. Scripture tells us He will hear our sighs, see our tears and feel our pain for ourselves or those we pray for, and will pray in accordance with His will. And in that time of focused awareness of God with us, we gain peace.
These are just a few examples, but I hope these principles will encourage you to pray, whatever your headline, with confidence, peace and faith in God who is for you, and not against you.
Anne Le Tissier loves to disciple others in their ongoing walk with God as an author, preacher and conference speaker. She has written a number of books but also writes daily bible reading notes, blogs and articles. Anne also enjoys hill walking, growing her own veg, chatting to her chickens and sharing quality time over meals with friends. You can find out more about her work or connect with her on social media through her website www.anneletissier.com.