Singer Bria Jean Valderrama and her husband Robby struggled to know how to tackle the division in the Church and wrestled with the question: 'What is Church for?' Until God gave them an answer which then inspired a song.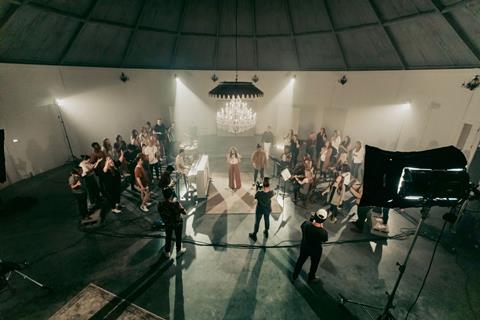 In 2020, our hearts ached as we saw the political division and racial realities here in the United States undermining the unity of the Church and causing so much pain for people we loved. Whether the topic be Donald Trump, Brexit, Black Lives Matter, or vaccine mandates, our generation has become defined by what divides us, and, tragically, the Church has become known more for what we are against, than what we are for. As a new generation weighs the pros and cons of identifying as "Christian", we as Church leaders must learn to answer a crucial question: What is the Church for?
A careful reader may notice that this question can come across two important ways. Firstly; the question of existence: "What is the Church [here] for?" aka "Why does the Church exist?" Does the Church exist solely to prevent others from going to hell when they die? Or is there a deeper purpose for our existence?
The Church has become known more for what we are against, than what we are for
Second is a question of endorsement: "What is the church for (as opposed to against)?" Are we against sin simply because sin is bad? Or are we against sin because we are for a greater story that those outside the Church might be invited into?
As we wrestled through these questions with God, his answer came to Bria in the form of a song lyric: "Communion. Not just with You Lord, but with each other." In that moment, we began to realise that communion with God and neighbor is what the Church is for. Months of prayer, study, and songwriting ensued, and I became more convinced than ever that.
God's heart not only longs for us to be in right relationship with him for eternity, but also with one another today in the here and now. Our prayer is that this new song, Communion, moves the Church, and our world, closer to this reality.
His answer came to me in the form of a song lyric: "Communion. Not just with You Lord, but with each other."
After writing this song, our next step was to assemble a team to bring it to life, and we knew exactly who to call. We have known Tamar Chipp and her family for years, and they have become like family to us here in Tennessee. The Chipp's are black, and us Valderrama's are a blend of Caucasian and Asian, so our kids are growing up like cousins in a beautiful kaleidoscope of color. When there's a racially-related news headline, our families talk. So when it came time to record and film this song as a declaration that communion with God and neighbor is possible, we wanted our sister Tamar standing with us.
As you listen and watch, may you sense God's desire for communion with you. From that place, may we be a people who pave the way for our generation to walk in the communion Jesus gave his life for. Our world needs it now more than ever.
Communion ft. Tamar Chipp can be found on Bria Jean's album Live At The Silo, available everywhere now. Watch and listen to Communion on Spotify, Apple Music, YouTube, and more.
Bria Jean is a Nashville-based worship leader and songwriter whose songs Teach Me To Obey and Communion are sung by churches around the globe. She is available for podcast interviews, magazine interviews, and live appearances. Follow her on Instagram at @itsbriajean.
View full Profile