Modelling exposed me to a wonderful world of fashion and I still love clothes but hate any attempt to trick us into buying in excess disguised as a "bargain". We deserve better and so does the earth God gave us to protect.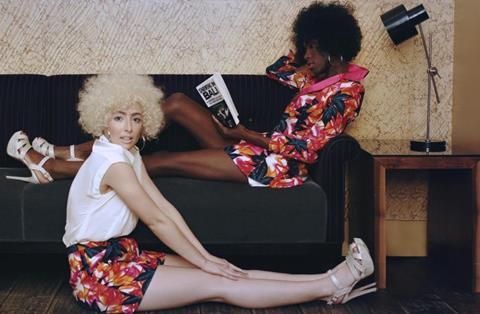 As a model and recovering shopaholic I am all too aware of the date this rolls around each year and have previously spent hours in fretful anticipation as websites crash during the manic buying that takes place in an annual pilgrimage over the next few days.
If you're blissfully unaware of where it originates, "Black Friday" is the colloquial name for the Friday after Thanksgiving and traditionally marks the start of the Christmas shopping season in the US. Many shops offer highly promoted sales at discounted prices and often open early and/or continue to Monday ("Cyber Monday") or for a week ("Cyber Week"). Here in the UK, we've bypassed the day of thanksgiving and jumped onto the sales frenzy. In fact, in 2021, the fashion brand Pretty Little Thing offered a baffling 100% discount and this year they are advertising a 99% discount and calling today Pink Friday.

In view of the calls to throw away "fast fashion" and to be conscious of the world we live in, the message from most Christians is always to boycott sales and throwaway fashion culture but often leans – dangerously, in my opinion – close to boycotting fashion and clothes altogether. I'm not on board with that. Nature itself is full of natural beauty that is echoed in the design of the clothes that are made all over the world for both practical and impractical purposes. The fashion designer Roberto Cavalli is reported to have said, 'I think God is the most fantastic designer.' I have no idea whether the Italian, known for his exotic animal prints, is a Christian or not, but he is unarguably right. So how can we actually enjoy fashion without any guilt?
With London being the fashion capital of the UK, many of the innovations in the industry originate here, but a recent movement by two fashion professionals has recently opened in the South West of England which believes you can be fashionable and sustainable. Mimmo Studios is a women-owned brand claiming to reinvent retail and they have the right idea about sales; they don't do them.
they have the right idea about sales; they don't do them
Their manifesto reads:
Retail is trending towards online, but we think there's a lot to be said for the bricks and mortar experience where customers can appreciate the quality and craftsmanship we promote in a tangible way, and we think it's important that the space feels welcoming and unpretentious so that we can cater to customers from all walks of life.
What we do differently
Sometimes the decisions we make as a business don't seem to make much sense - but there's a good reason behind everything we do. MIMMO Studios is built around supporting local business and proving that a business can be viable in the modern age without having to endlessly chase growth.
No discounts or sale / we don't want people to buy because of a false sense of scarcity, or because something is cheap. We want to encourage the conversation around thoughtful consumption. We also choose stock which is timeless in design and isn't led by trends, so we don't feel the need to 'get rid' of it after one season.
Limited runs of stock / we buy from small, super local suppliers who have limited capacity, so we buy small amounts at a time with the aim of selling out. This means our products are special, and don't end up in sale as we don't have anything left over.
No international shipping / we want people to shop within their local communities, and don't think international shipping is necessary because of the carbon emissions associated with it. If you like something we sell on the website, but don't live in the UK, we'd encourage you to find a craftsperson local to you who might sell something similar.
No free shipping / we want people to consider what they are buying before they buy it, make sure it's the right size, or contact us if they have any questions. There's a lot of carbon output associated with returns. Plus we find this helps build relationships with customers as we can have real conversations with them about our pieces.
So if you're a Christian that loves fashion and is feeling conflicted about Black Friday, Pink Friday, Cyber Monday and all the other sales that seem to happen every other month in the UK, please don't feel guilty about wanting nice things. But equally, don't fall prey to the panic buying that happens during sale time. It's not worth the emotional or financial guilt that may come later!
You can visit Mimmo online or in person at Montpellier Walk, Cheltenham, Gloucestershire. Mimmostudios.com
If you are looking for high quality second hand bargains, head to Curate & Rotate, the pre-loved fashion resale platform for those who want to shop or sell independent and contemporary brands, emerging designers and minimalist vintage all in one place. Curateandrotate.co.uk
Most brands also now have "pre-loved" lines including Project Earth at Selfridges, Reflaunt at Net a Porter and Pre-Owned at Zara so if you are particular about brands, do check these out.

Tola-Doll Fisher is the creative director and editor of the Premier Woman Alive brand. Tola is also the author of 'Still Standing -100 Lessons From An 'Unsuccessful' Life' (SPCK).
View full Profile