Devon-based Lucy Grimble has led worship at venues as large as Wembley Arena and The Royal Albert Hall and her fourth album, Between the Shadow and the Sun, was released in October. Here she speaks with Jemimah Wright about how she moved from being a private worshipper to leading others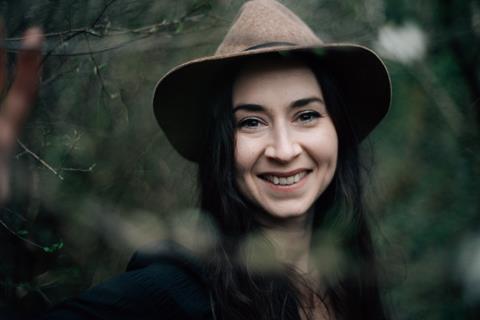 JW: Could you tell us a bit about your background?
LG: I was born in North London, and my parents were believers. I'd say faith was a massive part of my childhood. My dad read the Bible to me and my older sister every night, and we would pray together as a family.
JW: How did you come to faith – was there a particular moment when it became real?
LG: When I was eight the Toronto Blessing* happened, so our little sleepy suburban Anglican church suddenly experienced this move of the Spirit. Services would go on late into the night. It was a sort of eyes wide-open moment, and I encountered the Holy Spirit for myself. But it wasn't until I was about 16 that I made the choice for myself to follow Jesus. I had that realisation that I can't just inherit faith from my parents.
JW: You went to Cambridge to read geography; you must have been very academic, but what were school and university like for you?
LG: Academics was a huge part of my upbringing. My parents are both very academic. From the age of four I played lots of instruments and was in orchestras and choirs. I was the music scholar at school, so I played the flute, piano and recorder and was in a jazz band as well. I spent half of my school career in the music department!
I actually found university really hard. I loved studying because I'm quite a geek, but I found it really hard spiritually. I came out of university with this sense of dread, feeling quite lost.
I remember being in a church service and saying to God: "I'm just really not hungry for you, but I want to be hungry for you. That's all I can give you right now. I'm really sorry."
JW: After you graduated you went to Bethel School of Supernatural Ministry** for a year – what was that like?
I'd gone to one of the top universities in the world, had job offers and master's degree offers on the table, but had absolutely no peace inside
LG: I was not in a good headspace when I left university. Even though I'd gone to one of the top universities in the world, and I had job offers and master's degree offers on the table, I had absolutely no peace inside. It was all identity stuff, like low self-confidence, struggling to believe that the future could be good. My sister had been to Bethel, and came back from her first year there. Some of her friends from Bethel came and stayed at our house. I was so blown away by them. They were just so kind to me; they'd prophesy over me, and encourage me.
One night, my sister asked: "Have you considered doing Bethel?" It was a light bulb moment. Two weeks later I was on the plane to California. It felt like an intervention from God. The whole first year at Bethel is about identity and growing your understanding of who you are in Christ. It was exactly what I needed at that critical point in my life.
JW: At this point was music in the background; were you fixed on a career in the corporate world?
LG: I ended up going into financial PR for ten years. I came back from Bethel and took on an unpaid internship at a PR agency. Two weeks in, one of their junior account managers left and they asked if I would apply for a permanent position. So it was a 'right place, right time' situation. At that point, I would never have had the confidence of actually going into music.
I loved to worship; I would just sit on my own at the piano and worship. That was always how I connected with God the most. So privately, worship was a huge way I connected with God, but publicly I wasn't leading worship.
JW: What was the transition from corporate PR to leading worship?
LG: I came back from Bethel in 2009 and joined a church called Commonwealth Christian Fellowship, which was an amazingly dynamic, hugely creative church. Their worship pastor sidled up to me one day, and asked if I liked to sing.
I was just in awe of their worship team. It was a majority Black church with powerhouse gospel vocalists and I was like: "Well, I could never do that; that's not my voice. I've got a really little voice." But the worship pastor said: "I'd love you to join the team and come along to rehearsals." As the months went on, I started to lead. I lead worship for the first time when I was 23.
JW: What was that like?
LG: I was shaking from head to toe! It felt so significant, and that I was meant to do it, but it also felt like the scariest place you could put me.
I don't love the limelight. I don't feel particularly natural in front of a crowd. I'd much rather be behind the scenes and in a support role, so I've had to really lean on God.
JW: At what point did you feel led to concentrate on music full time?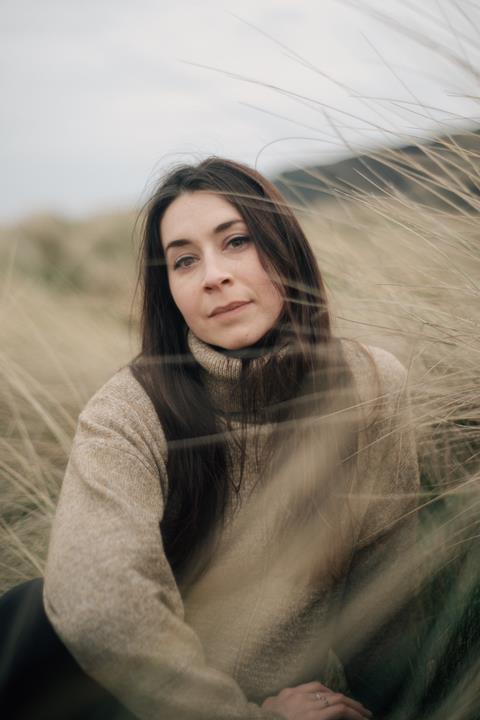 JW: I went full time into ministry at the end of 2018. I got connected with the David's Tent guys, and was invited to lead worship at David's Tent [a summer festival where Christians gather for 72 hours of non-stop worship]. Doors then just started to open, and I had more opportunities to lead worship. I absolutely loved it. The weekends would be spent leading worship, and then back to my desk on Monday morning. As the years went on, it felt increasingly like there was a split happening, and I had to choose.
In 2014 I recorded my first EP, so it wasn't just that I was leading worship, I was writing songs. The urge to write was so strong. I went on to do three more albums before I left my job. I had a growing sense inside me that this is actually my calling. I'd always downplayed it, but I think there was that internal switch where suddenly I realised: "This is what I'm meant to do."
I'd much rather be behind the scenes and in a support role, so I've had to really lean on God
JW: Your most recent single is called 'Perfect timing'; can you share the story behind it?
LG: Sometimes it's God who accelerates stuff, or he opens doors that you don't feel ready for. I've not really heard that sung about. It's normally: "Oh, God, why are you making me wait so long?" I was given opportunities that felt way too big for me so I'd written the song, then we brought it into the album process. My husband, Tom helped to rework it. After getting married in 2022 we worked on the album together. The song became our shared song because we were in this one-bedroom flat in Brockley, trying to make this album with no space and looking for a place to move to out of London. I was thinking: "How are you going to do this God?" We were down on holiday in Devon, and Tom found our home on Rightmove. We had such a huge sense of peace about the house, even though there are so many things that need doing to it. In many ways it is quite an overwhelming project. From winning the auction to moving in took just a month. The song came out the day that we got the keys, and I was reminded again of the 'suddenly' moments when you feel like you're freefalling, but you simply have to lean in to trusting God.
JW: How did you and Tom meet?
LG: We met in the winter of 2019. My flatmate, Molly arranged a 'sing for your supper' dinner party. Everyone had to sing a song, read a poem or share something else around the table. Tom and I actually sang Psalm 23, which has become the song for our marriage. It was a really sweet thing. We sat next to each other at the dinner, and got on so well. We went on our first date in January 2020, and got married in 2022.
JW: Now you're in Devon, what's next?
LG: We want our home to be a place where people can come and worship, rest, create and build community. So the focus of the next few years is developing our house. I'm going to keep writing songs and I've been toying with the idea of teaching more. I went to Holland last month to teach songwriting, and I'm going to Lithuania in January.
JW: Can you tell us more about your latest album?
LG: The album is called Between the Shadow and the Sun. Previous albums have been much more congregational and worship focused. This album is me sharing testimony. I started to write it in lockdown from a place of wrestling. I would sit on my balcony every morning, read the Bible and reflect. The consistency of the sunrise spoke to me so deeply. I started to reflect on scriptures around light and darkness and how Jesus is described as the light of heaven. In Revelation there will be no need for light because Jesus will be the light himself. It's all about learning to trust in every season of the soul. The opening song is called "Ready for the Dawn", which was the first song that I wrote on the album. And the last song is "Now and Forever" which I wrote from a poem. I was in Dorset looking at this beautiful valley as the sun was setting and fog was rolling in. It's a song about the eternal beauty of God, and the fact that he is a mystery; we will never, ever understand all of him.
JW: Writing testimony necessitate being vulnerable – what was that process like?
LG: So many times, I said: "I just can't do it" but Tom would say: "You can, this album is important, you have to do it." I would have given up many times, because I felt I should be writing songs that people can sing at church. Personally, I was feeling in a more fragile space. This album was written from weakness, which actually I think is really beautiful, because we all need to hear that side too. I really hope it feels like empathy.
*The Toronto Blessing refers to a move of God that swept across the world, starting in the Toronto Airport church. It was characterised by a deepening sense of God's love and outward signs such as shaking, laughter and falling to the floor.
**The Bethel School of Supernatural Ministry is a ministry school based in Bethel, California, that teaches students to live a supernatural life in the presence of God, grow in character as well expectancy to see God move powerfully through signs and wonders.
Find out more about Lucy and her music at lucygrimble.com

Jemimah Wright is Deputy Editor of Woman Alive. She has authored three biographies, and most recently is the author of the historical fiction novel Isabella's Voyage.
View full Profile