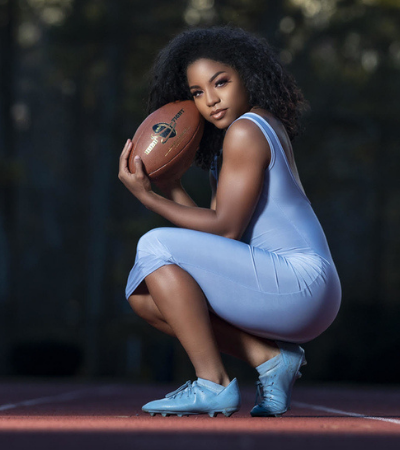 I was born in South Carolina and raised in Houston, Texas. I grew up with my parents and three brothers, one of whom is my twin. We all loved sports.
Growing up, I remember God and prayer being important in our family. My parents worked long hours so they hired a nanny to take care of me and my twin. Her name was Ms Cynthia. She talked about God constantly and took my brother and I to church. Ms Cynthia brought me to faith at six years old and since then I've always had a heart for God. I believe she put me on a path that saved me; I don't know who I would have ended up being if I hadn't met Christ at that age.
One of my earliest experiences of the power of prayer was when, aged seven, I was diagnosed with scoliosis. The doctor told my mum I would need surgery and would never play sports again. Mum went home and prayed for me and decided not to proceed with the surgery. To date, I've never had any issues.
Struggling with body image
As I pursued my athletic career, I went through a period where I struggled with my body image up until college. I have an athletic build and at the time I wore my hair in braids. I felt very masculine. I would wear sweaters a lot, even in the summer, to cover my upper body. I would ask my mum if I could have surgery to reshape my shoulders, but my mother would always affirm me by telling me how beautiful I was.
I finally overcame my insecurity when a friend dared me to take off the sweater I was wearing over my summer outfit. "If you receive one negative comment," she said, "you never have to show your upper body again". So I did, and the whole day people complimented me on the way I looked. That finally changed my mindset. There is power in hearing someone tell you that you are beautiful as you are.
Experiencing the highs – and the desperate lows
I loved running track and dreamed of being an Olympian. My brothers were into football so I would join in playing with them. People started to notice I was really good at it. After college I decided to explore football and signed up for a flag football tryout. After the first practice the coach wanted me on the team. I played, broke some records, and ended up getting a lot of attention on social media.
I was then recruited to play rugby, and up to 2019 was on the Olympic journey hoping to make the USA team. Then I got injured. My body was burned out and depleted. It was such a test of my faith. I cried for about two months and hardly ate or saw my friends. I was devastated. I couldn't understand how God would let me get so close to my dream and not make it. It was the first time in my life I had a spiritual battle. I didn't know who I was anymore or what I was supposed to do.
Learning to surrender
I called my mum and she told me that she understood I was hurting, but I had to give it to God. He clearly had a plan for me, and, while it might not be rugby or the Olympics, he would not have brought me this far to leave me.
That night I got on my knees and told God: "I give you the reins of my life". I woke up the next day and felt so much lighter. I was hurting but there wasn't anything I could do other than try to figure out what to do next.
Exactly two months later, I received a call from Lupe Rose the owner of Women's Football League Association (WFLA). She told me she had been watching my career and wanted to make me a deal. That's how I became the highest-paid female footballer in history. I guess you never know what God has planned for your life.
Encouraged and inspired
My mum is my best friend and my manager. When I have felt like everything was falling apart and no one believed in me, she was always there, believing in me more than I believed in myself. Anything I wanted to do she would help me to achieve it. From the start of my career back in college she helped me launch my brand, Queen of Abs, when she saw how popular my workout posts were on social media. My business has now grown to encompasses my sponsorship deals, endorsements, fitness DVD, fitness talk show, clothing line, my shoe company TRONUS, and much more.
Now I want to use my platform to inspire young girls with a positive message that if you work hard and stay consistent you can achieve what you want in life. I know how it feels to have setbacks and always be the one trying to get 'there', but now I see that God was in it. That's why I'm motivated to tell my story.
My faith is expressed in the choices I make. God is who I turn to in tough times, my faith is what kept me out of trouble during my school years, and I always credit God with my achievements. I believe when people walk in their purpose they will receive everything that is meant to be theirs. My focus now is my team taking home the Championship in 2021.
As well as being a professional American football player, Santia is a published author, fitness model, TV personality, social media consultant, public speaker and TV host.
You can connect with Santia Deck via social media:
Instagram: @trackbaby001
Facebook: Queen of Abs
Twitter: Santia_Deck
Website: queenofabs.com
Images: Jeffrey Moustache