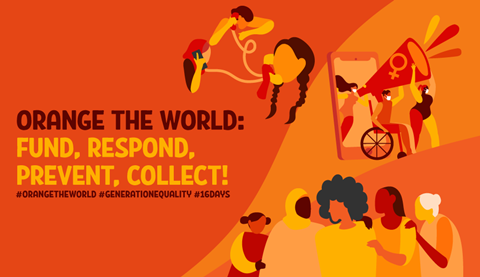 "The colour orange symbolizes a brighter future, free of violence. It also serves as a means of demonstrating your solidarity in eliminating all forms of violence," explains UNESCO. The campaign is currently in the middle of a 16-day stretch and will culminate in a celebration of international human rights day on 10th December.
Christian women in danger in South Asia, meanwhile, are standing out for a different reason than what they wear. In countries where speech is suppressed, they draw attention to themselves simply by uttering their beliefs. And the consequences can be extreme.
Shamim Bibi was a young wife and mother when she answered a threatening knock on the door in her home in Pakistan in 2012. She had refused her neighbour's attempts to convince her to convert to Islam. Now she was paying the price. Her neighbour had reported her for committing blasphemy. Under the Pakistani Penal Code, there is no need for substantiated evidence to prove such a charge. The only witness necessary is the complainant who has heard the derogatory remarks.
Shamim spent eight months in prison. She was cut off from her family. She was punished as a criminal. Aneeqa Anthony – an allied lawyer of global human rights organization ADF International – fought tirelessly on Shamim's behalf, eventually winning justice and restoring her freedom. Aneeqa's efforts meant more than she could have known. Shamim developed cancer a short while after her release, and passed away in Spring this year.. She was able to spend her final years with her husband and family, raising her daughter to share the same faith and convictions for which she had sacrificed almost everything.
Shamim is not the only woman to face persecution for her beliefs. The case of Asia Bibi made headlines in 2018 when her death sentence for blasphemy was overturned by the Pakistani Supreme Court. Asia had been accused of making derogatory statements about Islam. She Spent eight years on death row.
Her acquittal was a landmark ruling, sparking violent protests. Despite the government receiving significant international criticism for her treatment, she was kept in custody and not allowed to leave the country for several months after her sentence was overturned. She eventually found her freedom in Canada.
As members of the most persecuted faith group in the world, these women face discrimination on multiple fronts. The possibility of officially "converting" a Christian to Islam through forced marriage makes teenage girls especially vulnerable. 14-year-old Maira knows this. She isn't wearing orange today. She's in hiding. She escaped her abusive abductor – but not before he blackmailed her, abused her, and forcibly married her. The Lahore High Court initially ordered that she be returned to her captor. Her lawyer Sumera – also associated with ADF International – is working to have the marriage certificate annulled. They wait for news regarding her appeal.
About 1,000 women and girls from religious minorities are forcibly married and "converted" in Pakistan every year.
It is estimated that one third of the world's population suffers from religious persecution in some form, with Christians constituting the most widely persecuted religion. Government restrictions on religious freedom have reached their highest levels globally. Yet this demographic has received sparse attention from the international community. Women of faith receive no special focus within UN Women's 16 day campaign against gender-based violence.
Christian women bravely use their voices to speak up for their beliefs and say "no" to those who would forcibly convert them. It's time for more of us to speak up for them. For those boldly wearing orange this week, remember the plight of the faith-filled women in hiding throughout the Christmas season. No one should have to choose between their freedom and their faith.
Lois McLatchie writes for ADF International, a faith-based legal advocacy organisation that protects fundamental freedoms and promotes the inherent dignity of all people.?