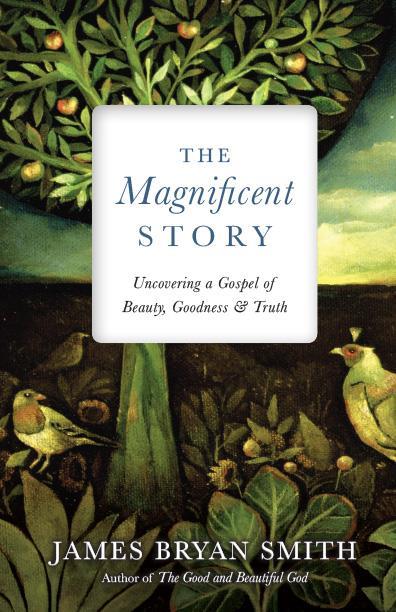 With Amy Boucher Pye
The Magnificent Story: Uncovering a Gospel of Beauty, Goodness & Truth – James Bryan Smith (IVP, ISBN 978-0830846368)

Do you find that September feels like the start of the year?
If we don't have schoolchildren returning to their studies, perhaps our holidays have come to an end as the days turn noticeably shorter. Activities start up again at church and we may adopt a healthy-eating plan. It's a good time to feature a book to help strengthen our spiritual lives.

I came across James Bryan Smith's devotional book Hidden in Christ in 2013, and recommended it widely. I love how he brings Colossians 3:1–17 alive, and how he embraces a view of the Christian life as one of abundance and joy as we live in the kingdom of God.
Thus I was excited to see that he has another book out, called The Magnificent Story. In it he charts how, as Christians, we live by stories – and the Story – even if we're not always aware of this propensity. What he hopes is to persuade people – not just in their minds but also in their hearts – that the most magnificent story to live by is one that is beautiful, good and true. In short, the story of God's love poured out for us as recounted in the Bible, history and as exhibited in people.

In exploring God's – and as given by him, our – magnificent story, Smith looks at the Trinity and how God invites us to participate in this mystery; the incarnation, death and resurrection of Jesus; and what we believe the Bible says about the end times.
The lens through which he explores these themes are three 'transcendentals' which exist now and into eternity – beauty, goodness and truth.
He shows how all things that are good are beautiful, and how truth is woven into reality. Beauty may stop us in our tracks – for instance, a stunning sunset that paints the sky with shades of reds, oranges and pinks can take our breath away. But we're left wanting more, and in the end, only God will satisfy. For beauty points us to something greater – that is, God.

I benefited from reading this book, and think it could be helpful for bolstering our Christian faith, especially when read and discussed in a small-group context (there are exercises after each chapter and a small-group guide at the end).
My two little quibbles were first, whether a critique about evangelicals applied more specifically to his context Stateside rather than in the UK (that is, those who emphasise salvation as praying a four-point prayer, and manage their goodness through how many wrongs they've done versus rights).
And second, I felt he could have quoted others less, as the many quotations became distracting.
But on the whole, one to pick up for encouragement and strengthening as we resume our more regular activities.