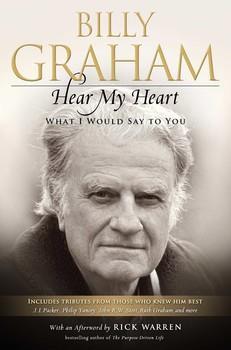 Graham wasn't perfect, but the world would be a different place without him, says Amy Boucher Pye ...
As the introduction to Hear My Heart notes, Billy Graham shared the Gospel with more people than any other preacher in history – he shared the Gospel with more than 200 million people in person and to millions more via television and video. He was involved in US presidential inaugurations and gave feedback to the Queen about her Christmas message. When he died in February at the age of 99, the news made the headlines around the world.

With Billy Graham so influential in the Church for so long, Christian publishers had been gearing up with publications to celebrate his 100th birthday in November. And now they are releasing books to mark the legacy of one who shaped evangelicalism in the 20th century. Hear My Heart brings together articles from the man himself on the things that concerned him most – not only what he believed about being a Christian, but also his thinking behind some of his decisions and initiatives, such as why he started the US magazine Christianity Today.
The book contains these key thoughts from Graham, but also tributes from some well-known evangelical Christians, two of whom died before Graham (John Stott and Richard John Neuhaus), and an afterword by Rick Warren.

Being true to the heart of this evangelist, the book's first section outlines how to become a Christian and how to grow in one's faith. The focus then turns to such topics as the power of the Gospel, how to confront racism, and the importance of evangelism. What I found most powerful and poignant, however, was his short chapter called What I Would Have Done Differently. Graham said he should have taken more time to study and prepare, and to preach less. Also, that he'd missed too much of his children's formative years because he was travelling so much.

I found the tributes interesting and heartening. For instance, the eminent scholar John Stott said that study was key to Graham's ministry, citing his extensive personal library and his diet of regular reading (in contrast to Graham saying he regretted not enough study). Rick Warren shared seven lessons he learned from Graham, including how to have a global vision.
But I found the piece by Ruth Graham (his daughter), most engaging. She admitted that she didn't see him much growing up, but that she treasured his letters from when he was away. And that when she returned home after her second failed marriage, fearing a harsh reception by her parents, she instead found him waiting for her on the driveway, and wrapping his arms around her as he said, "Welcome home". (I wished, however, that hers wasn't the only tribute by a woman.)