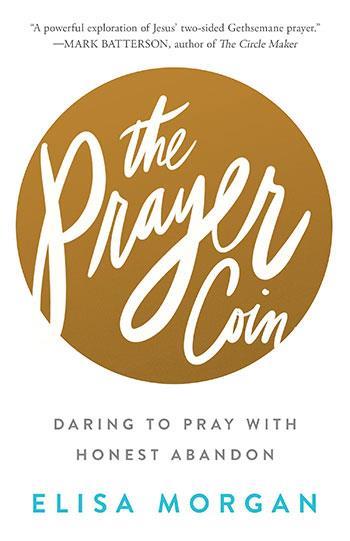 "Prayer is like a two-sided coin, minted in the heat and pressure of life, and spent in the bent-knee of practice." So says Elisa Morgan in The Prayer Coin, an engaging and challenging book with a simple practice that isn't easy, writes Amy Boucher Pye.
She takes the idea that Jesus, in the Garden of Gethsemane, prayed both "Take this cup" and "Not my will" in one single sentence, and she forms that idea into a two-sided prayer practice.

On the one side of the coin – take this cup – is our honest laying down of our dreams, feeling, hopes, and emotions before God: "Honest prayer searches the dark crevices in my cranium, ejecting the truth and laying it open for dissection. For examination. So I can see what it is I really want or don't want."

On the other side of the coin – not my will – is our relinquishment, our surrender, our abandon: "What if it's when we pray in deep distress, overwhelmed with sorrow, risking the vulnerability of wailing out to God our deepest longings and wants and desires that we experience our utter humanness before him? The pain. The struggle in all its reality. About our kids, our money concerns, our marriages, our health, our jobs, our churches, our addictions, our woundings?"

Elisa shares how to pray this way, with the one side of "honest" and the other of "abandon," through stories from the Bible, quotations from theologians and, most powerfully, from her own experience of engaging with the practice.
She preached at her church at the beginning of the year on this new venture, inviting others to join her. Little did she know that the very next month, she'd be facing a family crisis, separated by thousands of miles from her loved ones, wondering how in the world she could lay down her concerns honestly before God, abandoning herself to his mercy.
I couldn't put her book down while reading this account of prayer forged in the fire of crisis, of faith developed in the furnace.

I also loved her inclusion of the often overlooked third side of the coin – the edge. This, she says, is intimacy with God. That is, as we flip from honesty to abandonment in prayer, we deepen our intimacy with God.

For many, September feels like a time of fresh starts, with the leaves beginning to change and the kids going back to school. Why not try implementing a new practice during this month, instead of as a New Year's resolution? I love Elisa's suggestion of buying a new journal and writing "Take this cup" on one side of the page with the corresponding "Not my will" on the other.

Do share with us if you take up this challenge, and how God's worked through it in your life.