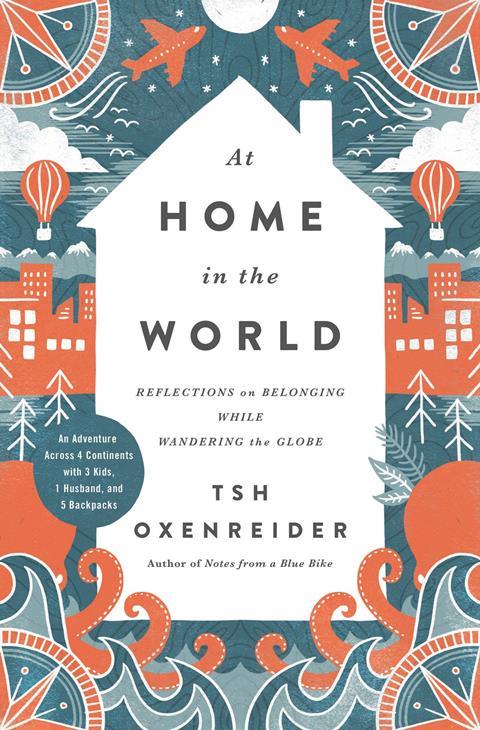 Welcome! We're glad you've joined us to discuss all things books. Here and in the Facebook group we love to make a cuppa and talk about the latest books we've read – why we liked them, what we gained, or why we wanted to throw them across the room in disgust.
I look forward to hearing what you're reading!
Amy Boucher Pye
This month I'm reading…
At Home in the World by Tsh Oxenreider
(Nelson, ISBN 978-1400205592)
Home – it's an evocative word. We search for home, long for it, and spend a lifetime making it. The theme pulses through my first book, Finding Myself in Britain – a subject I didn't expect to emerge so strongly. I guess my need to make a home in a country other than the one I was familiar with, pushed me to consider what it meant to have a home. And to ponder who is our ultimate home.

Which is why I had probably higher hopes for this month's selection than other readers might have. Although Tsh Oxenreider writes on the theme of home, she doesn't quite hit the sweet spot for me. I also wanted to love Jen Pollock Michel's new book, Keeping Place: Reflections on the Meaning of Home (IVP), but its dense exploration of the theme didn't hold my attention. I hold out my hope for Jo Swinney's book Home: The Quest to Belong (Hodder), which comes out next month (look out for her article next month in Woman Alive).

With this proviso, let's look at At Home in the World, in which Tsh recounts her family's year of adventure in travelling around the world. Not many families with three children aged four to 10 sell their house and strap on backpacks while heading to a dizzying number of countries.
They start in China, overwhelmed by sensory input and jetlag, and move steadily west, through countries including Thailand, Australia, Uganda, Croatia and Turkey, where they had lived for some years previously. Their final stop is in the author's beloved England before returning home to America. That is, whatever home meant as they didn't have a home to return to!

Although the author ponders what it means to long for home alongside a parallel wanderlust to explore the world, I wished for more of her thoughts on this subject. And I especially wanted to hear more of her spiritual background and her search for faith and our Homemaker. We hear snippets here and there about how she and her husband are between churches, considering a switch to Anglicanism, and how she sees a spiritual director in Thailand, but I felt she could have delved into this theme more.

Where her narrative shines, however, is the evocative picture she creates of the sights, sounds and smells of the countries they visit. The reader can feel the warmth of the Ugandans who welcome them sacrificially, or the drenching spray of the Victoria Falls in Zimbabwe. I found especially moving her recounting of going back to the little town in Turkey where she met her fellow-American husband. Hers is a book to read if you'd like to engage in some armchair travels.