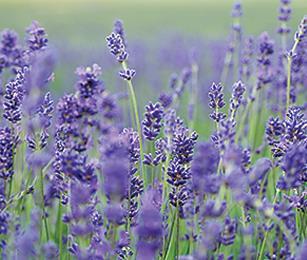 Lavender is ideal for pots and can even be grown on a balcony, as it thrives even if you forget to water it. As long as it is in the sun, it's happy.

Its fragrance is a delight – try edging pathways with lavender plants and as you brush past them the refreshing scent is released into the air.

And lavender attracts butterflies and bees – so planting lavender makes a valuable contribution to bio diversity, essential for protecting the environment.
In the home

At the end of summer the lavender flowers can be cut and dried. Simply snip off the stalks and arrange them in vases. As the colour fades, it's time to shake off the dried buds and tip them into bowls to make pot pourri. Just rub the stalks gently to loosen the flowers.

I enjoy making pretty lavender bags to use in the linen cupboard and wardrobe to deter moths, but you could simply fill paper bags and use them in the same way.

You can also refresh your carpets by crumbling the dried lavender in a food processor, scattering and then vacuuming up. Leave some out of sight around the edges of the carpets to keep moths away.
For health and beauty

Lavender's aroma is relaxing and sleep inducing. A pop sock filled with oats and lavender added to a warm bath is the ideal way to unwind at bed time.

Lavender is the perfect ingredient for home made skin oils and cleansers, but they are best made from lavender oil, which can be bought from health food shops and suppliers.

But first, a few words of warning. Lavender oil is an essential oil, which means it is highly concentrated and must be diluted. Always carry out a patch test (a tiny drop) in case of an allergic reaction; and of course expectant and pregnant mothers should follow medical advice.

To make a gentle and effective cleansing facial oil add four drops of lavender essential oil to 40ml of coconut or olive oil. Caster oil or rose hip oil, which are lighter, can also be used. It may sound rather odd to use oil as a cleanser, but when oil is massaged into skin, dirt and grease are lifted and mix with the cleansing oil. After using upward strokes on your neck and face, simply wipe away with a damp cloth – leaving your skin fresh and glowing.

It's not advisable to mix your own moisturising daytime facial oil because it would not contain a sun protection factor, but you can make a really luxurious night oil by adding two drops of lavender essential oil to 40ml sweet almond oil.

A tiny bottle of lavender oil may seem quite expensive, but it will last for a very long time and has a variety of uses. I always keep a bottle handy and like to add a few drops into bath water and also on pillows for a restful sleep. It's also useful for freshening up lavender products when their fragrance has faded.
Lavender in the Bible

Lavender isn't mentioned by name, but we know that nard – which we find in the Song of Solomon and was used by Mary to anoint the feet of Jesus – is similar in many ways to lavender. Some people believe that nard, or spikenard may even have been lavender.

For myself, lavender represents peace – and in the most practical way. A few years ago I took over a vegetable patch which had a path running alongside it where people insisted on walking their dogs. The vegetables growing on the plot needed to be protected and I wanted to avoid confrontations with the dog walkers.

Building a fence around the site wasn't possible, so I planted lavender bushes all the way around the edge and, as they grew and spread, they soon formed a hedge, protecting the food growing on the plot.

It is a joy to work on the vegetable patch with the fragrance of lavender filling the air and bees and butterflies all around the bushes. And now there is an endless supply of lavender flowers for crafts, gifts, beauty and home.