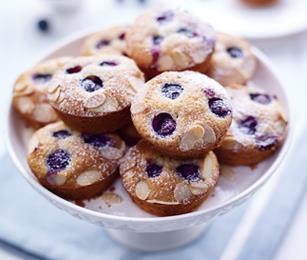 What you need
Prep time: 15 minutes
Cook time: 25 minutes
Makes 12 friands
Ingredients
140g unsalted butter, plus extra for greasing
35g plain flour
100g ground almonds
125g icing sugar
4 large egg whites
½ tsp almond extract
36 blueberries
6 tbsp flaked almonds
Here's what you do
• Lightly grease a 12-hole non-stick muffin pan and set aside. Preheat oven to 180C (160C fan).
• Heat the butter in a small pan on a medium/high heat until the butter foams and turns a golden brown. Immediately remove and pour into a small bowl.
• In a large bowl, mix together the flour, ground almonds and sugar. Add the egg whites and almond extract and mix together until smooth and fully combined. Cover the mixture and refrigerate for an hour before baking.
• Divide the batter evenly between the prepared muffin pan, top with three blueberries per friand and scatter the flaked almonds around the edges.
• Bake in the pre-heated oven for about 25 minutes or until golden brown around the edges and a little paler in the middle.
• Allow to cool for a few minutes before turning out onto a wire rack to cool completely.
The cakes will keep for up to three days in a sealed container.
Find more delicious recipes from www.berryworld.com