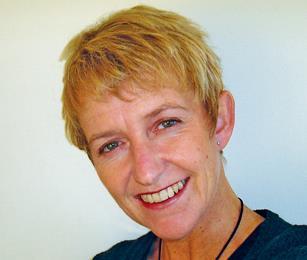 Don't let failure or wrong choices hold you back. Like David, you can discover that God offers second chances, says Anne Le Tissier

Ancient but homely, rambling stone walls led us up into the shade of a terebinth tree, gazing east from the hilltop over a colourful patchwork of crops. Yellowed grass heads swayed in the breeze while crickets sang in the afternoon sun, and beneath us, migrating black and white storks drifted low across swathes of red poppies.

Adullam can be a beautiful place if you have the time, space, and peace of heart to cherish its treasures. But when David first fled to that ancient town (1 Samuel 22:1), his mind was focused elsewhere.

Halfway between Philistia's Gath and David's hometown of Bethlehem, Adullam (meaning 'refuge' or 'sealed-off place') had once been a royal Canaanite city. Close to the town was a prominent hill, famed for its numerous caves piercing the soft chalky rock; perfect shelter for homeless travellers – or hideouts for the fleeing fugitive.
A cave of despair
Burying himself alive in the depths of one such cave, David waited to see what God would do with him (see 1 Samuel 22:3). His pleas to God during this dark phase of his life were recorded in a number of Psalms which we've studied recently, one of which reveals David's desperation while hiding alone in that cave: "I cry out … I pour out … all my trouble … my spirit grows faint … no one is concerned for me … I am in desperate need … set me free from my prison" (Psalm 142). It's a melancholic lament and cry for help, revealing how powerless, alone and vulnerable he felt.

It has been helpful in recent months to consider the detail of David's journey 'downhill', both geographically and spiritually, knowing that he later turned back to God. But we cannot ignore that for some time, David was stuck in his dark prison of self-loathing, despair and bitter recrimination for his foolish behaviour.

And to add to his intense strain he probably nursed a wounded pride, knowing that he, the famous warrior who had killed Philistia's thousands, had overnight transformed himself into their object of scorn and contempt. One can only imagine how he berated the way he had masked the true nature of God's faithfulness and power, giving cause for the Philistines to gloat that his God was unable to sustain him through difficult times.
A cave of hope
What a relief that God is a God of second chances, as scripture often confirms.
Jonah rebelled against God, deliberately choosing to race off in a direction opposite to Nineveh, the town to which God had commanded him to take a message of warning. But God delivered Jonah from his mistake, landing him inside the belly of a great fish! What a suffocating stink and darkness he must have faced within that deep-sea rescue, and yet, he saw the treasure that it was: God's deliverance and redemption – offering him life and a chance to start again (Jonah 2:1–10).

Peter, the rock-like character through whom Jesus said he would build his church, denied his Lord, and in desperate despair, found himself right back where he had started; fishing. But Jesus came to him, cared for his physical needs, reassured his emotional trauma, and recommissioned him for divine service (John 21:1–17).

David let the pressure for survival and the fear of his enemies take his eyes off the faithfulness of God. Reacting to his feelings and circumstances, he made decisions that betrayed God's promises, seeking to help himself by his own methods, rather than relying on the One who would provide for his chosen, anointed, future king.

But, just as God's unseen hand stirred the heart of Philistia's ruler to release the madman fugitive (1 Samuel 21:14–15), so God's truth reached into the darkness of David's cave with the treasures of Adullam – the beauty of forgiveness, restoration, purpose, and above all, God's continued presence.

I often wonder if, when David emerged from his hideout, he would have sat beneath a terebinth as I did with my husband, looking out across the terraced crops, marvelling at the migratory birds and delicate dancing of field-flowers. Perhaps he closed his eyes to warm his face in the sun, lying back in the white chalk dust as the cricket concerto washed over his fragile heart; while God used Adullam's beauty and music to minister to his soul.
Learning from David
Two quotes often seem to cross my path: "Never be defined by your past. It was just a lesson, not a life sentence" (anon) and "Make failure your friend and teacher". Too often, however, we get stuck – imprisoned – in the mistake. We might feel unforgivable, or that God could never trust us or use us again, and that we will never know the sweet intimacy of Christ's close presence as we had in the past.

But we only fail when we do not pick ourselves up again – and if we trust in God's promises, then we are assured he will always be there to help us to our feet. (For example, Psalm 37:23-24; Isaiah 41:10; Psalm 63:8;145:14).
Adullam could have been a final burial place for all David's hopes and dreams, to serve God faithfully in the way that he'd been anointed and called to do; a place of feeling afraid that his enemies would find him, a place of loneliness and a desperate bid for survival. But it proved to be a place to experience personal renewal.

David cried out to God as his psalms from this period testify (see 34, 52, 57, 142); he focused his attention back on the reality of unseen eternal truth, rather than the temporary circumstances of today. And although for a period, David had spurned God's protection and provision, he recognised his mistake and devoted his heart and life back into God's grace.
The lessons David learned were vital in preparing him to be king; to trust in God's promises rather than panic at circumstances, to wait for guidance rather than rush headlong with his own foolish ideas, and to humbly remain dependent on God for everything his life and purpose required.

Whether because of difficult times or foolish choices you now find yourself in your own 'Adullam', I pray that David's story will inspire you to let God use what has happened to help you strengthen and grow.


For Further Reflection

+ Where is your 'Adullam' – the place you look to for security? What 'cave' do you retreat to when you feel hurt, afraid, rejected, misunderstood, unfairly treated, stressed, passed over, ignored, ridiculed, a failure?

• Your cave may be a place; in your home, the park, your town, your work, a pub, café or fitness centre.

• Your cave may be something you do; nursing your wounds with comfort food, drink, retail therapy, or immersing yourself in a re-run of a favourite TV series.

• Your cave may be a way that you think; replaying negative words about yourself or potential ways you could express your anger and frustration at someone.

Caves may appear to give short-term comfort and security, but they are just that – temporary; and sometimes do more harm than good. But Psalm 46 reminds us: "God is our refuge and strength, an ever-present help in trouble" (v1). Will you turn to him, be still before him, ask his forgiveness, trust his love, purpose and grace, and receive him with an open heart?

+ What pressures or fears are you facing? What do you tend to succumb to?

• How do you let stress or fear turn your eyes away from God, your refuge, provider, guide, comforter and true source of security?

• Somewhere in his cave, God's light penetrated the darkness of David's soul, reminding him of his purpose – that he had been chosen and anointed to be Israel's king, and that God had not said or done anything to change that. David may have shifted his focus onto people and events that seemed to say something different, but God's character and purpose remained the same. What has God promised you – in his Word and/or to you personally? Take time if you can, to return to that promise, to reflect on it, pray on it, and immerse yourself in its truth.

• Or perhaps you now feel unsure whether God ever promised it in the first place. If so, ask: "Lord, did I hear you right? If I did, then please confirm it again, and help me to wait and trust you for its fulfilment."

Jesus said, "Ask and you will receive, seek and you will find, knock and the door will be opened to you" (Matthew 7:7). Gideon asked for God's confirmation more than once ­– so can you (Judges 6:36–40).

+ Open your eyes to the beauty of Adullam

• Adullam isn't just a place to escape to. Nor is it a place to imprison you in your mistakes and failure. Adullam is a place to let God take your hand, help you back to your feet, and restore you to his path for your life. What does God want to teach you? Are you willing to see your past as a place to move on from, wiser and more prepared for the future?

Take a moment to thank God, your Redeemer, for his faithfulness. "I am the Lord your God who takes hold of your right hand and says to you, 'Do not fear; I will help you' … though he stumble he will not fall, for the Lord upholds him with his hand" (Isaiah 41:13; Psalm 37:24).