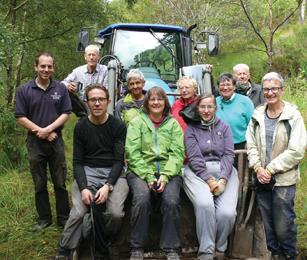 Saturday
We've finally arrived! Our minibus from Inverness took us through amazing scenery and now we're settling in to the upper floor of Inverewe House, Wester Ross, our home for the week. There are 10 of us – seven women and three men – all volunteers on this Thistle Camp, run by the National Trust for Scotland.
It's my first camp, but most of the others are old hands. Music teacher Alison, also a church organist in Northumberland, has been on nearly 20 camps, including some in England run by the National Trust. She and Marianne, from Germany, met while volunteering on Iona in 2010 and are roommates this week.
I'm sharing with Barbara and we have a beautiful view of the garden and loch. Over dinner, we discover that in the 1970s we lived a few streets away from each other!
Sunday
After breakfast, we meet Inverewe forester, Aidan, and have a safety talk before heading for the shelter belt – trees that protect the sub-tropical gardens. A previous camp helped remove diseased larch and we drag branches down the slopes for burning.
Ann and I work and chat. Her husband died a few years ago – I've been widowed almost a year – and her stories about cycling trips, monitoring bats and volunteering are really inspiring.
In the evening we join holidaymakers and locals for a programme of classical guitar music in the estate's café.
Monday
I'm an early bird, off exploring at 7am. Inverewe was named UK Garden of the Year in the BBC Countryfile magazine awards and I've got it to myself! The colours are vibrant in the early morning light. I'm reminded of God's creation everywhere I look.
The rest of the day is spent carrying logs across a heather-covered hillside. It's clearing the area for new growth and will keep estate workers' homes warm in winter.
After dinner, some of us walk to a bird hide overlooking the loch. We see herons and ducks, as well as a beautiful sunset.
Tuesday
Today we begin making a spur path on the outskirts of the estate. Ann shows me how to dig a soakaway to keep the path dry.
At lunchtime we visit the weekly market in nearby Poolewe for coffee and a browse through the stalls.
Returning to Inverewe, the packed car park shows how popular the gardens are – attracting visitors from all over the world.
Wednesday
A day off and some of us visit Gairloch, enjoying views across to Skye. In the afternoon, assistant leader, Richard, leads five of us on a walk through countryside that's in complete contrast to the palms and exotic plants at Inverewe.
No time to rest – there's a ceilidh in Poolewe, raising funds for the youth football club. Lots of dancing to a great band, plus an amazing buffet.
Thursday
An early morning walk takes me to the jetty where visitors from cruise ships sometimes arrive, then it's back to sorting rubble for the path. We get lots of thanks from walkers, especially when they realise we're volunteers.
At night, Aidan joins us for dinner at the Myrtle Hotel in Gairloch. Lots of chatter – hard to believe just days ago most of us had never met. Graeme gives us NTS cards for a year's free entry to properties and discount in Trust shops as a thanks for volunteering.
Friday
The path is finished by lunchtime, just in time for a photo before the rain starts. It's the perfect afternoon to finally look round the ground floor of the house. "Have you come far?" the guide asks. "Just from upstairs!" In the evening we attend a special preview for Inverewe's adventure travel film festival.
Saturday
After cleaning and packing, we start our journeys home, emails exchanged and photos promised. We've worked hard, had fun and made a difference. I've loved my first Thistle Camp – where will I volunteer next?
Interested in a working holiday?
Visit www.nts.org.uk for information about Thistle Camps across Scotland. For details of National Trust Working Holidays in England, Wales and Northern Ireland visit www.nationaltrust.org.uk