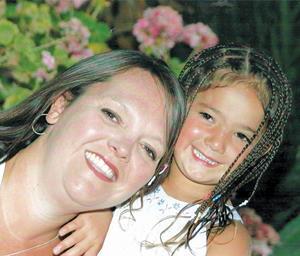 'God restored my life'
Christian nurse Jaki Karaata was looking forward to the birth of her baby when she received some devastating news. She tells her story to Jes Basra
Jaki, 44, attends Emmanuel Pentecostal Church in Dartford. She was 35 weeks into her pregnancy when she found out that an apple-sized tumour was growing behind her eye.
She had been feeling increasingly fatigued and experiencing a blocked nose and ears, but when she went to the doctors, they dismissed her symptoms as simply pregnancy related. Jaki did not pursue the matter any further, until one evening she was watching television and suddenly saw what she describes as "black cotton wool" over her left eye. "I tried to blink it away, but it wasn't going, so I just went to bed and didn't think anything of it." But, when Jaki woke up the next day, the black aura was still visible. "That's when I thought it was something bad," she says.
Jaki went to her local hospital, where she was given many tests, but they all returned normal. However, one doctor noticed that her eye was swollen and recommended she visit an optician.
"I couldn't read the letters on the wall at all, but the optician just insisted that I had a lazy eye. I knew the optician was wrong – it was just not an acceptable answer."
The next day, Jaki was sent for an MRI scan and that is when she received the news that a 7cm mass was growing behind her eye. After the initial shock of hearing such terrible news, Jaki says she felt remarkably at peace. "I don't remember thinking I would die. I was scared, but I never for one minute thought that I would die," she states confidently.
Jaki's main concerns were for her unborn child, her daughter Delan, aged six, and her husband. Having previously suffered two miscarriages, this pregnancy was especially important to her; but again, she says she had a feeling of peace about her dire situation. "I felt so close to God," she says. "I felt as if I was being carried by him. I knew that Jesus was with me the whole time."
In August 2010, Jaki was admitted to the renowned King's College Hospital in London for a caesarean and biopsy, which were scheduled for the same day. She is amazed at the standard of provision that God had granted throughout the whole ordeal. "God was looking out for me the whole time," she says, smiling.
She learned later that she had suffered two massive haemorrhages in theatre, which her doctors said surely would have killed her. However, she believes God's mercy and grace were upon her. "The Lord was so gracious to me. I wasn't anybody special who deserved it, but he delivered me when I cried out to him." Jaki's son Ramon was born on 6th August, and she was given time to spend with him before the operation which would remove her tumour.
In October of the same year, Jaki was admitted once again to King's where a revolutionary new operation was performed to remove the tumour through her nose. Once again, God provided for her needs. "If I had lived in another part of the country, I would have had to have a craniotomy which would remove the tumour by making an incision in my skull. That would have been even more dangerous. This new operation was less risky, so I believe the Lord really made a way for me."
Being surrounded by Christian friends also helped Jaki during this traumatic trial. "I had a lot of support from my family and people from the church," she says, gratefully. "My friends were praying for me when I had the operation. They said they felt like they really had to battle in prayer against the devil's schemes."
Even in hospital Jaki was surrounded by people who encouraged her. "My midwife was a born-again Christian who would come and pray in my room with me. God even sent other ministers who were visiting their own parishioners to pray for me. These were people who didn't even know me! I felt so incredibly blessed."
Staring death in the face had a profound effect on Jaki's life and strengthened her faith in Jesus. "The whole experience made me think about eternity like never before. The choices that we make down here on earth are going to determine how we spend eternity. It really gave me a fresh and vivid outlook on life and death."
Jaki's faith throughout her ordeal made an impact on those around her. "People said they couldn't believe how strong I was, but my strength came from God and my faith was in him – even my doctors knew it. My Christian friends said that my faith encouraged them, and my non-Christian friends, who had never been interested in God, even started to pray for me!"
After escaping death, Jaki wants to tell others to seek God earnestly. "What I want to say is this: don't take this life for granted. I never thought something like this would ever happen to me. I'm an A & E nurse, and I've seen life slip away so many times, but I never thought that mine would be in danger like that. We shouldn't worry about storing up things for ourselves in this life because this life is just an instant compared to what eternity will be like. Don't take God for granted."