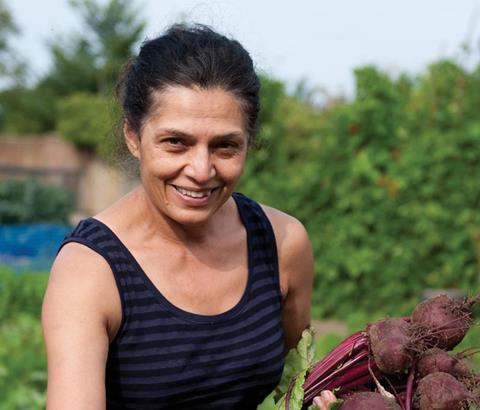 We started a community allotment
A challenge by the vicar of a small Surrey village has borne fruit – literally – with the Grace & Flavour community allotment scheme. Founder member Su Johnston tells Claire Saul how the project took root

"Having studied pastor Rick Warren's 40 Days of Community programme, my cell group at St Mary's church in West Horsley was challenged by our vicar to come up with a practical idea that would help the local community.
Shortly afterwards, I heard a radio feature about a community who were growing all their own vegetables, which sounded ideal. So, spring 2008 saw us viewing a three-acre, derelict walled garden which, though leased, belonged to the National Trust. It had 30 years worth of fly-tipping, brambles and nettles at head height. You couldn't actually see the walls, but we just knew it was the right place for us.
And so the seeds of Grace & Flavour were sown, a name which reflected the origins of the challenge, but also perfectly described our goals. We embarked on the complicated process of setting up the project, which included recruiting a steering committee to develop a business plan, fundraise and seek out available grants.
There were some obstacles along the way, but every challenge gave our cell group a genuine opportunity for a new connection, or helped us readjust and improve our plans. None of us were gardeners, but we worked tirelessly, backed up by consistent prayer support and an early tradition of tea and cake at every opportunity!
At first, I wondered why God had given us this task when we were so ill-equipped to actually do it. I soon realised that that is precisely what brought people to Grace & Flavour; they were genuinely needed.
Last year we planted our first crops, which included everything from broad beans to beetroot and strawberries to sage. It was so exciting when the first shoots came up and thrilling to think about what our first crops represented. Run as a co-operative, we now had 140 members, ranging from teenagers to pensioners, supported by national organisations down to the local parish councils and individual villagers.
Some members continue to be here every waking moment, some only once or twice and others not at all, so there are different amounts of discount on the price of our produce, reflecting the level of individual input. Early on in the project we also made a commitment to distribute 10% of our crops amongst those in our community who cannot easily access fresh fruit and vegetables. Everyone now calls this 'The Tithe' and it has been a real success, not just in the delivery of fresh produce, but also in forging personal links with locals and local organisations too.
Not every member is a Christian - far from it - but our aims and principles are clear and transparent, and some have already taken the opportunity to ask how and why a belief in God is connected to setting up a community garden. The open conversations and friendly questions provide a gentle opportunity for us to share our faith, without feeling we are being too pushy.
I prayed one day for an opportunity to talk to one person about the Lord and got it, a direct 'Why?' The very next day, that young mother came to church with her family. Encouraged, I started to pray for more, but woke up one morning soon after with a very clear sense that this whole project, every last ounce of effort, every plant, every seed, every brick may be about one, just one, lost child. My Father in heaven cares so much about each one of us that he may have had us build this whole project as an elaborate door into the kingdom for just one of his children - and if that is true he will open that door when the time is right.
The project has been incredibly encouraging in terms of people participating, regardless of personal faith. There is a whole cross section of local residents involved, from younger members coming here during study breaks to retired members who work here during the week. One lady can't bend down properly but comes and makes the teas; another will deliver cakes for everyone to enjoy. Some people didn't know a plant from a weed, but were happy to be pointed in the right direction by more experienced members.
Some members help with administration, others offer their career skills. New friendships have been forged and other social networks extended. It has helped to unite the villages of East and West Horsley too, with parish councils, church members and residents all working together.
We will soon have raised beds so that the elderly and infirm can participate and, when the remaining areas of debris are cleared, we'll set aside an area for families. Local youngsters have already created scarecrows for us and we plan to organise sowing and bird watching activities.
There can't be many community schemes which have such broad-ranging appeal and how many can claim to work together in the same way? For me, community fixes everything. This is my own personal soapbox and I get really, really passionate about this aspect of Grace & Flavour. Whatever your personal faith, it is about knowing and caring about the people around you. When you get community, everything else falls in behind it.
In many ways, Grace & Flavour has reflected the growth of my own faith, which has strengthened steadily since my family and I moved to Surrey and I found in St Mary's a church and a leader who were very welcoming and deeply challenging.
I'd originally been taught a strong but formal relationship with God, having been brought up a Catholic and educated at a convent boarding school. While I have never seriously doubted his existence, I'd previously found the Church to be stifling, rather inflexible and dogmatic. A church such as St Mary's with strong teaching and rich encouragement, actually made me do something for God.
I started a habit with Grace & Flavour that I wish I had begun a long time ago. Each time I sat down to work on the project I started with a specific prayer - that if what I was doing was not God's will, he would close a single door so that I would see clearly that I was heading in the wrong direction. Instead, my path has been filled with coincidences, fortuitous meetings, provision, funding, wonderful people, and more humour than you would believe. The more specific my prayers, the more obvious the answers.
Once I knew for sure that I was walking where God would have me walk, I began to rejoice in this project and I became unstoppable. And that's why, every time I go to our community garden you'll find me, at the age of 49, actually skipping into the garden beaming "Morning Lord!"